Configuration guide for Yoast SEO
This article will guide you through all the steps you need to take to configure the Yoast SEO plugin on your WordPress site. You'll find information on both the free Yoast SEO plugin as well as Yoast SEO Premium.
Learn more about the Yoast SEO plugin!
Not sure what settings are best for your site? Check out our free Yoast SEO for WordPress plugin training. It will teach you to use all the great features of Yoast SEO to their full potential!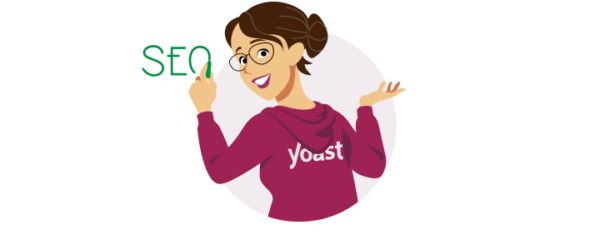 Where to find the Yoast SEO settings
After you have installed Yoast SEO free or Yoast SEO Premium, you will have a new menu available to customize your SEO global settings. The plugin also adds SEO settings at the post, page, and taxonomy level.
Log in to your WordPress website.

When you're logged in, you will be in your 'Dashboard'.

Click on 'Yoast SEO'.

On the left-hand side, you will see a menu. In that menu, click on 'Yoast SEO'.


In this article, we'll go through all of these menu items, see what they are for and how you can optimize them for your site.
General
Dashboard
On the Dashboard tab, you'll also see a heading called Problems, which shows all the issues we've detected that affect the SEO of your site. You'll also see a heading called Notifications, which shows all the notifications from the Yoast SEO plugin.
First-time configuration
In the First-time configuration tab, you can configure Yoast SEO, so that you can get the most out of it. We advise you to go through the steps when you are just starting out with the plugin. But, you can also do it at a later time, or edit some of the data you've already entered.
With this configuration, you'll use the power of our cutting edge indexables technology to set up your site and get it ready to be found and displayed in the search engines. That's why, in the first step we ask you to optimize your SEO data. If you have a lot of content, optimizing your data may take a while. Still, you can safely move on to the next steps while the data is being optimized. If the data optimization is not complete when you are done with the rest of the configuration, you will need to wait for it to finish.
In the First-time configuration, you can also describe your site and your social profiles so they may get a chance to be included in Google's Knowledge Graph.
Settings
General
Site features
In the Site features settings, you can disable and enable the following features within Yoast SEO for your entire site:
Site basics
In the 'Site info' section, you can set the basic info for your site, such as the name of your website, an alternate website name if you want to, the tagline, a separator, and an image. There is also a section called 'Site preferences'. Here, you will find two toggles. By enabling the first one, you make sure that only editors and administrators have access to the advanced settings in the Yoast SEO sidebar. The second toggle enables you to opt in or out for usage tracking.
Site representation
Here you can indicate whether your site represents an organization or a person. We make sure to transform this information into structured data search engines can easily understand. As a result, they might be able to display your content better in the search results.
Site connections
The Site connections settings allow you to verify your site with different tools. The tools of Baidu, Bing, Yandex, and Google give you feedback on how your site is doing in their search results and tell you how these search engines are perceiving your site.
Content types
By default, you will see three items in the Content types settings: Homepage, Posts, and Pages. If you have additional content types on your website, for example, product pages, videos, or courses, you will see them here as well.
Homepage
This page consists of two sections: Search appearance and Social appearance. Here, you can determine how your homepage should look in the search results, or on social media. By default, Yoast SEO generates an SEO title and a social title for your homepage based on the template of variables you see here. You don't have to change the template, but if you want to, you can. In addition to the titles, you can enter a meta description and a social description. And you can upload a social image.
Posts
With the first toggle, you can decide if your posts should appear in the search results. You will see the Search appearance section and Social appearance section here as well. However, the templates for social media are only available if you have Yoast SEO Premium. If you scroll down, you will find the Schema settings for posts. At the bottom of the page, we have two more settings. Do you want to show the Yoast SEO sidebar and meta box in the post editor? Then enable the toggle. If you have Yoast SEO Premium, you can add custom fields as well.
Pages
The settings for pages and other custom post types are very similar to the ones we've already discussed.
Categories & tags
In the settings for categories and tags, you can determine whether you want search engines to show these pages in the search results. You can also alter the templates of the SEO title, meta description, and social appearance templates for these taxonomies.
Advanced
In the Advanced settings, you'll find several menu items that allow you to further optimize and customize your website. Let's explore these settings.
Crawl optimization (Premium)
The first menu item is called 'Crawl optimization' and you only have access to these settings if you have Yoast SEO Premium. Basically, this is a long list of toggles you can use to remove things you don't want and to prevent search engines from crawling stuff they don't need to. All these toggles are disabled by default, because you have to decide for yourself what's useful for you to keep and what's not. In the end, the goal of this cleanup is to make your site more efficient and to reduce your carbon footprint.
Breadcrumbs
Yoast SEO offers an easy way to add breadcrumbs to your WordPress site. If your theme supports Yoast breadcrumbs, the settings on the Breadcrumbs tab will be available. Here, you can determine what your breadcrumbs will look like.
In addition, the breadcrumbs block in Yoast SEO lets you add breadcrumbs to individual posts and pages. All you need to do is add the block to the post or the page, and it's done! If you want to learn more about it, head to the release post where we explain how the Yoast breadcrumbs block works.
Archives
In the Advanced settings, you will find menu items for three different types of archives: author archives, date archives, and format archives. You will recognize the Search appearance and Social appearance sections we've discussed earlier. But, you will see some additional toggles at the top of the page as well. The first toggle allows you to disable the archive altogether. If you don't want that, you can also decide not to show them in the search results.
Special pages
Here you will see some default templates for your internal search pages and your 404 error pages. Feel free to make changes to the template if you like.
Media pages
In the settings for media pages, you can determine whether you want to redirect attachment URLs to the attachment itself. When you upload an image to WordPress, that image gets a URL that becomes available. WordPress also automatically generates an entirely new web page, containing just that image: a so-called attachment URL. These attachment URLs are quite empty and because of that, it's better to disable them, and redirect them to the media item itself.
RSS
These RSS settings exist because, unfortunately, there are scraper sites that republish content from other sites without their permission. If they republish your content, they usually don't link back to your site. This leads to duplicate content in the search results and because of this, the scraper site might outrank you with your own content.
For that reason, Yoast SEO has the functionality to add links back to your site at the end of each blog post. This shows search engines the original source of the article, and this will make sure you will show up as the first result for your own content.
Integrations
Yoast SEO integrates with some tools that can let you do a lot for your site's SEO. Currently, you'll find the following integrations:
Recommended integrations
Schema API integrations
Plugin integrations
Other integrations
Tools
Warning: This section may require advanced WordPress experience and, in rare cases, may cause problems with other functions of your site. Use with caution.
On the Tools tab, you'll find the following tools:
If the Existing Yoast SEO Title field in the Bulk editor is left blank, this means that there is no custom title for the post or page. However, it doesn't mean that it doesn't have an actual SEO title output, as it should fall back to the SEO title template you've set in the Content types settings, so make sure you've set a default title template!
Related articles:
Premium
On the Premium tab, you can learn more about our premium plugins or view your activation status.
Workouts (Premium)
Having a site requires continuous work, just like you do, so you can keep in shape. That's why we created the Yoast SEO workouts! They make it easy to help you keep your site SEO fit, so you can keep or increase your rankings!
Redirects (Premium)
Yoast SEO Premium can help you with creating and managing redirects. On the Redirects tab, you'll find a redirect manager and an overview of all the redirects you've created.
Related articles