How to optimize your content with the Yoast SEO sidebar
With the settings in the Yoast SEO sidebar, you can make sure your content has all the necessary elements required to rank in the search results. For example, its settings help you optimally use your keyphrases, write readable texts, include relevant internal links, and get your post ready for social media. And there many other things to consider when getting a post ready to rank. The more you optimize it, the better its chances to appear at the top of the search results.
Yoast SEO helps you tick all the boxes required by search engines and users. In this article, we'll go through each of the settings in the Yoast SEO sidebar. If you cannot see the sidebar, click on the Yoast icon in the upper right corner, and the sidebar will appear.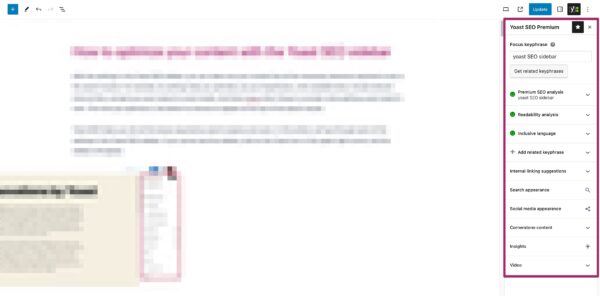 The Yoast SEO (Premium) sidebar settings
Focus keyphrase
The first thing you can do in the Yoast SEO sidebar is set the focus keyphrase of your post. That will enable the plugin to do a full SEO analysis of your post and give you feedback on your keyphrase use.
To learn more about the focus keyphrase read:
Readability analysis
With the readability analysis in Yoast SEO, you can make sure that your texts are easy to read! The analysis includes a lot of factors that we chose based on extensive research. Each part of the analysis contains clickable links that take you to a relevant, informative article on yoast.com that can help you with the issue. And here is the best part: the feature is available in many different languages!
The feedback contains three levels: Problems, Improvements, and Good Results. The most pressing issues you need to solve are in the Problems section. If there are any improvements you can make, it is advisable to consider them as well. Of course, we don't forget to give you credit for the good results either!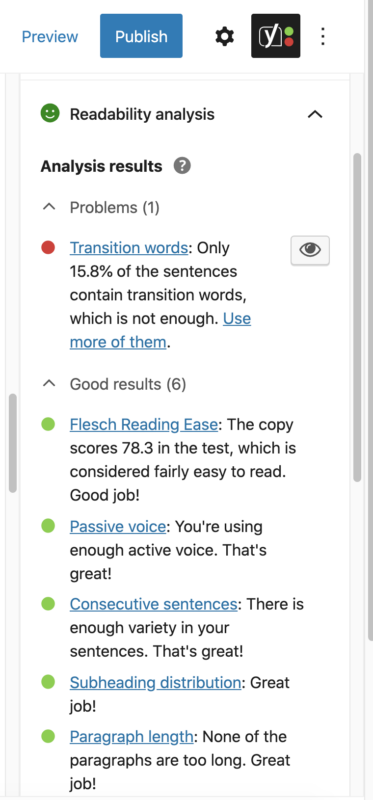 Read more: How to use the readability analysis of Yoast SEO »
SEO analysis
The SEO analysis is about the key elements you need to include in your post in order to rank. If you do not set a keyphrase, the SEO analysis bullet will be grey (see image below). Of course, to get the best out of it and make sure you rank, we strongly advise you to include the focus keyphrase.

Keep reading: Premium SEO analysis: As smart as Google »
Related keyphrase (Yoast SEO Premium)
In Yoast SEO Premium, besides the focus keyphrase and its synonyms, it is also possible to add a related keyphrase and a related keyphrase synonym. The plugin will still consider your focus keyphrase as the most important one. So, the analysis for the related keyphrase will be less strict than the focus keyphrase one.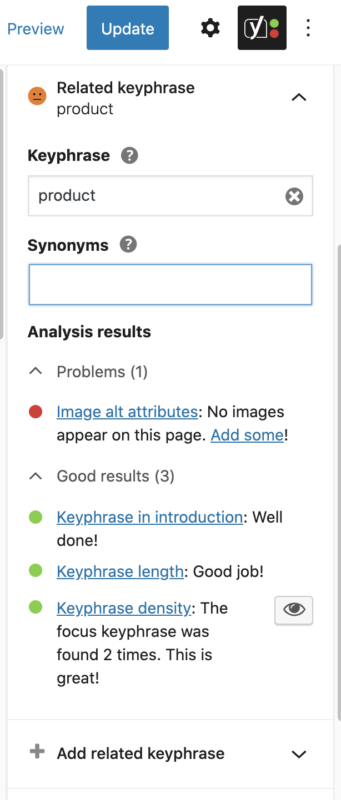 Read on: Why you should use synonyms and related keywords. »
Internal linking suggestions (Yoast SEO Premium)
The internal linking suggestions are a feature available in Yoast SEO Premium. They make it easy for you to get an overview of your related posts and link them together. As a result, you improve your site structure and make it easier for your audience and search engines to find your content.

To learn more about internal linking read:
Search appearance
A snippet is the first thing people see on the search results page. If you write an inviting title and give people an informative meta description, the chances that your snippet gets clicked increase. Luckily, you can control what your snippet looks like with the Yoast SEO Search appearance feature! The preview lets you see your mobile and desktop results, giving you even more power over your snippets.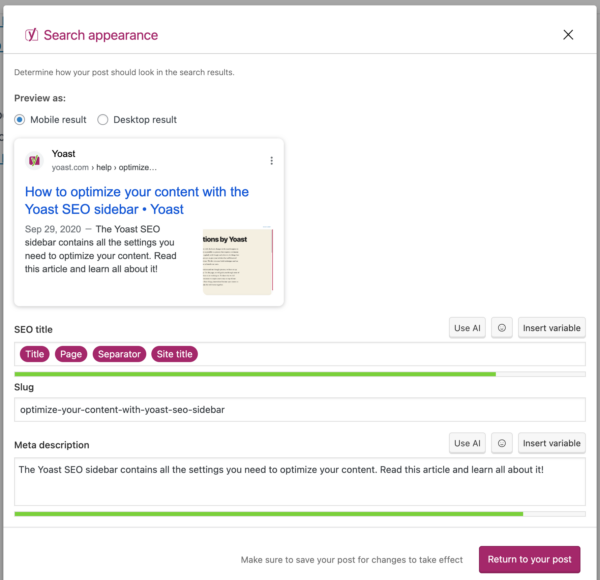 Want to know more about editing your snippet? Read:
Social appearance
Did you know that you can control what your posts look like when they get shared on social media? Yes, even if someone else shares them, you can determine beforehand how that post appears in social media feeds. How? With the Social media appearance tab in the Yoast SEO sidebar! Click on the tab to open the editing pop-up window. In the Social media appearance editor, you can set a title, image, and post description. In Yoast SEO Premium, you also get a visual preview of what the post will look like when shared on Facebook.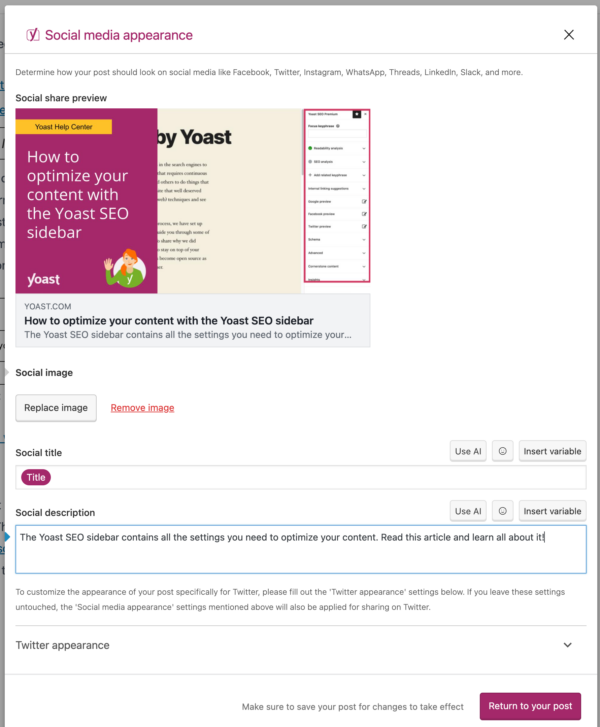 Keep on reading: Social previews in Yoast SEO Premium »
Eager to learn more? Read:
Schema
One of the most significant innovations in Yoast SEO is the Yoast Schema graph. This graph automatically describes your pages to search engines. That makes it possible for you to get rich results for your content. By default, Yoast SEO describes your Pages with WebPage schema and your Posts with Article schema (and WebPage schema). If you think that your content needs some other schema type, you can set that with the Schema tab!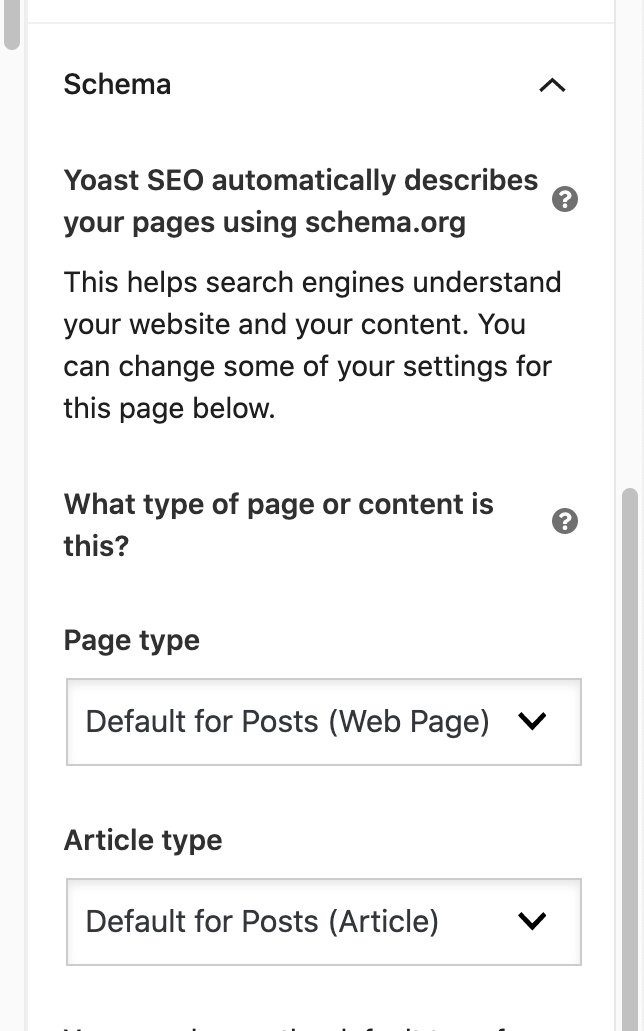 Want to learn more about Schema.org? Take our Structured data for beginners course. And, check out these articles:
Advanced
The advanced tab in the sidebar lets you control how the post you are working on gets indexed. By indexing the post, search engines can show it in the search results. If you want to block the post from appearing on the search results pages, you can do that in the Advanced tab. The settings also allow you to decide whether search engines follow links in the posts, add advanced meta robots tags, and set a canonical post. By default, this feature is only available to site administrators. Yoast SEO also lets you allow other users access to the Advanced tab.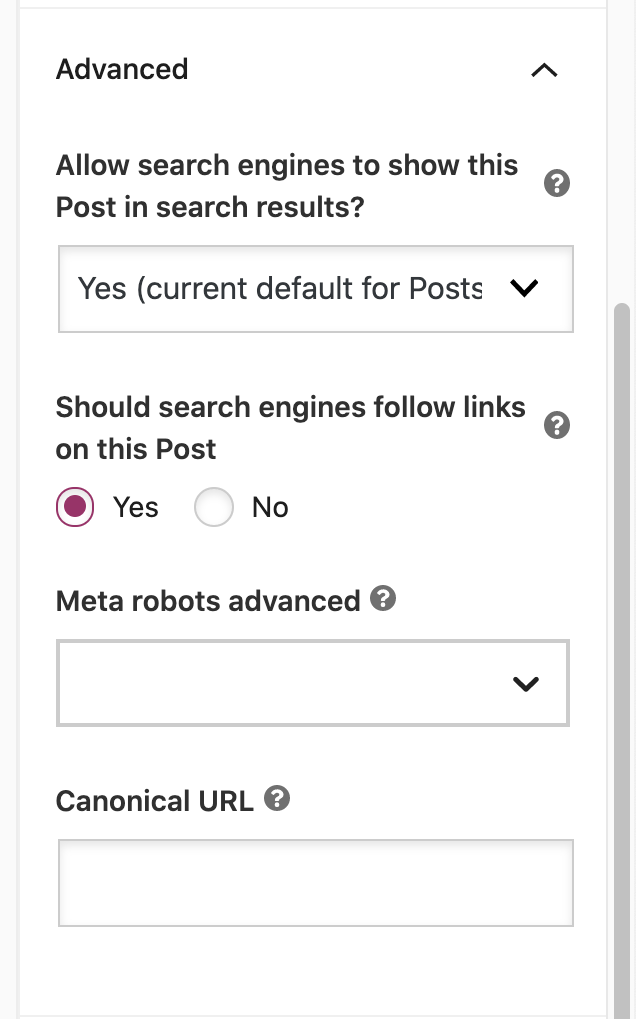 Learn more about indexing with these articles:
Cornerstone content
Your most complete posts containing all the crucial information you want to rank with are called cornerstone content. For example, we have many ultimate guides on yoast.com that we consider to be the backbone of our website. Do you have such articles on your website? If not, you should consider writing some!
When you set a post as cornerstone content with the Yoast SEO settings in the sidebar, a few things happen. First, we adapt the SEO analysis and make it stricter, so it fits the needs of a cornerstone article. In Yoast SEO Premium, we also give priority to cornerstone articles in the linking suggestions. Finally, to make sure your cornerstone content doesn't get stale, we include a stale cornerstone content filter.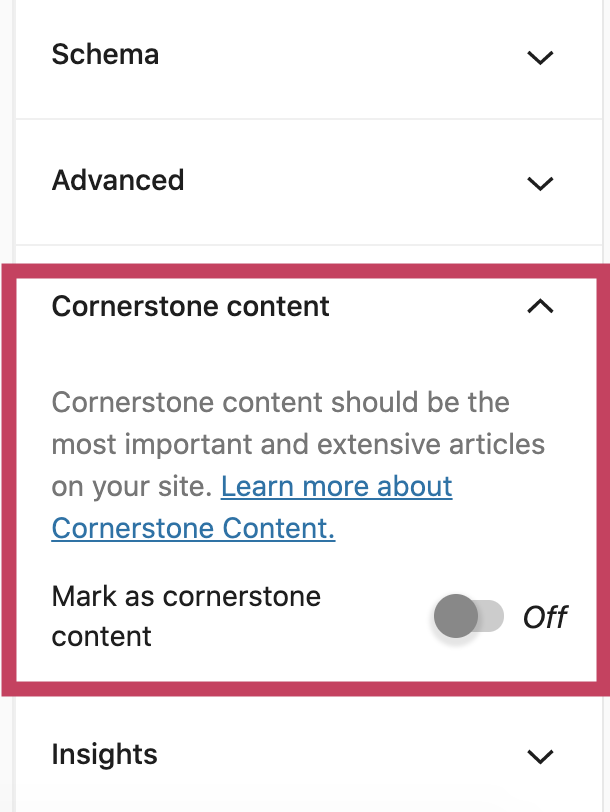 Read more: What is cornerstone content? »
Insights (Yoast SEO Premium)
The Insights tab in the Yoast SEO Premium sidebar gives you an overview of the words that occur most frequently in your content. This feature is there to help you make sure your content is focused on the words you want to rank for. It would be a shame if you are trying to rank for "SEO", yet you use that word only a few times in your text. You can prevent that with Yoast SEO Premium!

Keep reading: How to add focus to your text with Yoast SEO insights »
Related articles