Premium SEO analysis: As smart as Google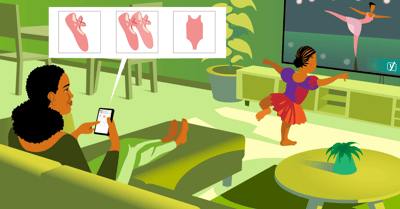 Yoast SEO Premium comes with a great functionality that will help you write SEO-friendly texts. We put a lot of work and care into developing it, and the software and our techniques are really smart and advanced. So, at Yoast, we're very proud of our Premium SEO analysis. But why do YOU need this? Will it help you? What's in it for you?
Google is smart; we need to be smart too!
Google can read texts. It can figure out what a text is about. In the old days, you could stuff your text with keywords to make sure people would find you. But over the years, Google has gotten way smarter and stopped liking keyword-stuffed content. Those kinds of practices make your text a terrible read. Google understands that. So content stuffed with keywords does not rank high anymore. You'll need to create high-quality content that's pleasant to read and helpful for users. Using synonyms in your content and writing about related keywords make it pleasant to read and more helpful, and, therefore help you with your SEO!
For instance, if you search for [shoes for dancing], Google shows you results for [dancing shoes], [ballet shoes] and [hip hop shoes] and other types of dancing shoes. The exact focus keyword is not as important as it used to be. In order to optimize a text, you need next level text optimization. You need to include different word forms (plurals, different word order) synonyms and related keywords.
A [shoes for dancing] search shows these results in Google: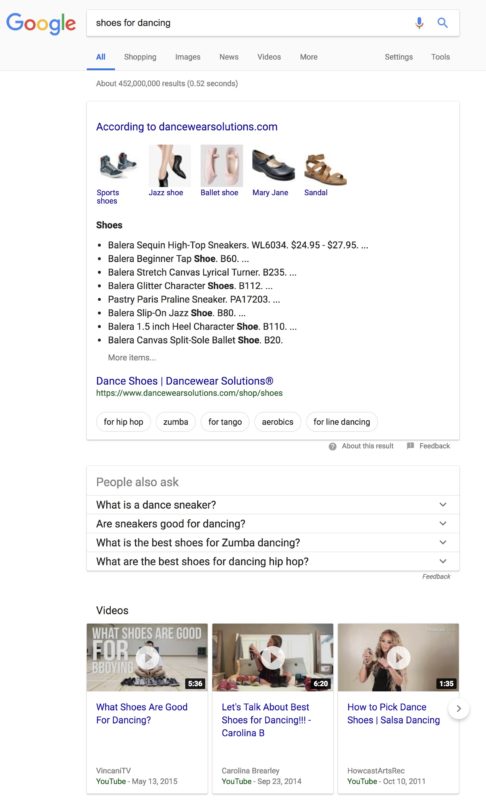 If you scroll down you'll see these 'regular' search results: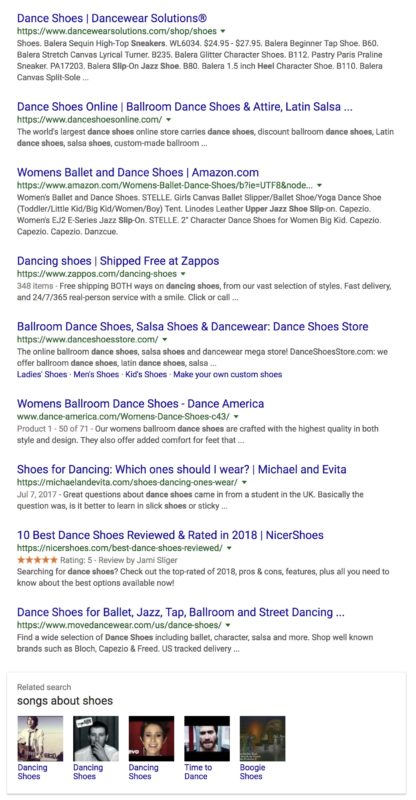 And a bit further down, you'll find these related searches: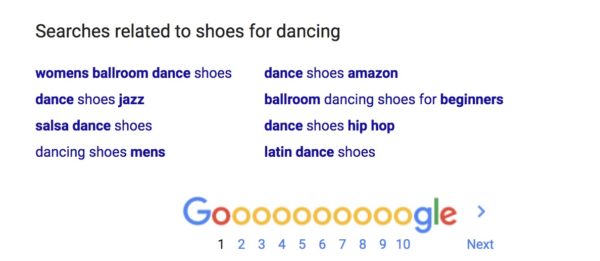 Premium SEO Analysis: Word forms, related keyphrases, and synonyms
If you optimize your post in Yoast SEO, you'll be asked to fill out your focus keyphrase. That's the search term you want to be found for the most. The focus keyphrase will remain very important. People actually search for that specific term. They expect it to pop up in the search engines and are most likely to click on results with that term.
In the Premium SEO analysis (when you're writing in English, German, Dutch, French, Spanish, Italian, Portuguese, Czech, Russian, Polish, Swedish, Indonesian, Arabic, Hebrew, Turkish, Norwegian, Slovak, Greek, or Japanese), our plugin automatically detects whether or not you use different word forms of your focus keyphrase. If you're optimizing for 'dancing shoes' for example, our plugin will recognize 'dancing shoe' as well.
Besides recognizing the different forms of your keyphrase, we also help you with keyword research! Using multiple keyphrases in a post can significantly help your rankings. We make it easy for you to find related, high-performing keyphrases. Just click the Get related keyphrases button below the Focus keyphrase input field.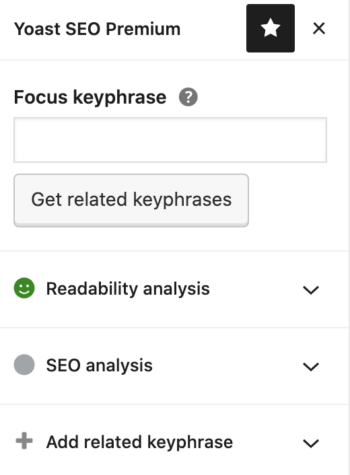 That will give you access to the integration we've built in cooperation with SEMrush. So, you will need to have a SEMrush account and connect it to Yoast SEO Premium. But don't worry. We'll guide you through the process, and you'll be done in a few steps. After that, you immediately get access to plenty of data on related keyphrases to your focus keyphrase straight in the WordPress editor. In Yoast SEO Premium, you can also add related keywords from the list of suggestions to the SEO analysis with the click of a button.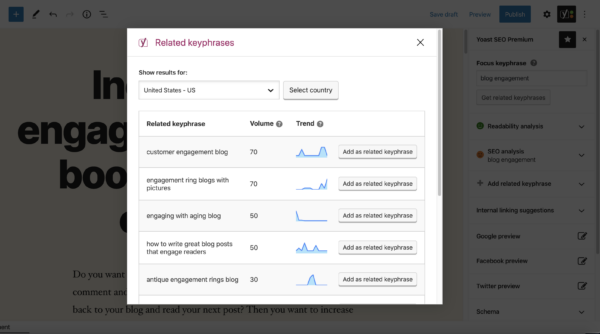 Besides the keyphrase suggestion, we also let you add up to four related keywords manually by clicking the Add related keyphrases button in the sidebar or the meta box. And there is more! In Yoast SEO Premium you can even add keyphrase synonyms and make your content super engaging. It's super easy too. Just add your synonyms below your focus keyphrase in the Yoast meta box. Our Premium SEO plugin will help you to write a text that is optimized for Google in 2022!
Why in Premium?
Our free SEO plugin will help you to write an awesome, readable and SEO-friendly text. If you want to go beyond that, you'll need to go Premium. We're trying to create software as smart as Google is. That takes a lot of smart and talented people, a lot of effort and resources. We are now able to recognize different word forms in English, German, Dutch, French, Spanish, Italian, Portuguese, Czech, Russian, Polish, Swedish, Indonesian, Arabic, Hebrew, Turkish, Norwegian, Slovak, Greek, and Japanese, and we're planning on making it available in many more languages.
Taking your SEO copywriting to the next level
High-quality content is now more important than ever since Google have rolled out their Helpful Content Update. The number of online competitors is ever-growing. And with social media referral traffic going down, organic traffic is more important than ever. In order to outrank your competition, you need a kick-ass website with high-quality content. Take your SEO copywriting to the next level.
*We've recently introduced a new feature to Yoast SEO – the inclusive language check. It helps you to eliminate non-inclusive words and phrases from your text. If you write more inclusive you're opening up your content to more people. Check it out!*
Coming up next!
Event

December 09, 2023

Team Yoast is at Attending, Organizing, Sponsoring WordCamp Ahmedabad 2023! Click through to see who will be there, what we will do, and more!

See where you can find us next »

SEO webinar

12 December 2023

Learn how to start your SEO journey the right way with our free webinar. Get practical tips and answers to all your questions in the live Q&A!

All Yoast SEO webinars »