Werken bij Yoast?
Bij Yoast barsten we van de plannen en ideeën. Het kan altijd anders, we zoeken altijd naar verbeteringen. En daar hebben we jou bij nodig!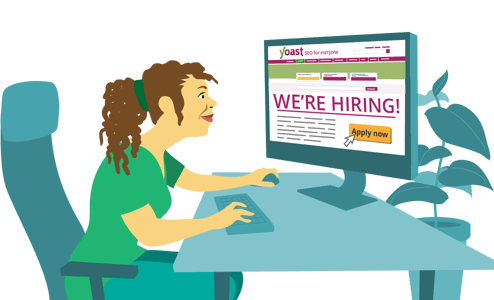 Wereldwijd gebruiken inmiddels meer dan 11 miljoen websites onze Yoast SEO software. Daarmee zijn we een van de meest invloedrijke SEO bedrijven ter wereld. Wij zijn altijd bezig met de verbetering van onze producten; die maken we graag nog sneller, nog makkelijker en nog aantrekkelijker om mee te werken. We halen daarnaast enorm veel energie uit het delen van onze kennis.
Yoast is hiring, ook in coronatijd!
Solliciteren in coronatijd is natuurlijk hartstikke spannend. Daarom legt Marieke van de Rakt, onze CEO, in dit filmpje even uit hoe onze sollicitatieprocedures nu werken en wat er gebeurt als je in dienst komt.
Wil je meer weten over hoe het is om te werken bij ons in coronatijd? Bekijk onze pagina Working at Yoast during the COVID-19 pandemic (in het Engels), inclusief onze korte documentaire! Als je meer aan het denken bent over hoe dat dan na corona werkt, lees dan hoe we denken over hybride werken.
Yoast groeit hard door dus we verwelkomen je graag!
Op het moment hebben we vacature(s):
---
Open sollicitatie
Bij Yoast zijn we altijd op zoek naar enthousiaste, gedreven mensen die ons als bedrijf willen helpen groeien. Of je nu een fantastische developer bent, een geweldige SEO, of gewoon denkt dat jij een goede aanvulling bent voor ons team, stuur ons dan vooral een mailtje. Zet daar een goede motivatie in en stuur je CV mee. Tot snel?
---
Benieuwd hoe solliciteren in coronatijd gaat? Bekijk deze video van onze CEO Marieke van de Rakt!
Over Yoast
Bij Yoast optimaliseren we websites. Niet één klein stukje, maar alles. We maken websites gebruiksvriendelijker, we zorgen dat je er makkelijker doorheen klikt, we maken ze sneller en betrouwbaarder. Met andere woorden: we zorgen dat je website werkt. Voor de eigenaar en de bezoeker. Bijkomend voordeel: als je dat allemaal doet, wordt je website beter gevonden.
---
---