Yoast SEO for Shopify
Improve the SEO of your Shopify store
Increase organic traffic to your online store
Get instant technical SEO improvements
Actionable guidance on how to optimize your content
Immediately increase your chances of rich results
24/7 live chat & email support
$19 / per 30 days (free 14 day trial)
---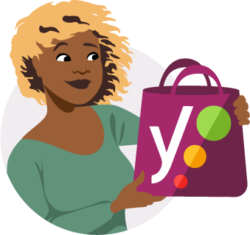 What does the Yoast SEO app do?
Yoast SEO makes doing SEO for your online store easy for everyone. It gives you the tools and guidance to do SEO yourself. Let us worry about your technical SEO so that you can focus on other aspects of your business. With multiple integrations with Semrush*, Judge.me, Ali Reviews, Loox, Opinew, Weglot, Langify to help you get more out of the online store.
What our users say

I've tested a few SEO apps over the years and I can now confirm that Yoast SEO for Shopify is the ultimate SEO app in the market. What I particularly like about this app is its ease of use and their customer service; their response time is quick and efficient. On top of that, I have learnt world class holistic SEO practices from their SEO courses available at Yoast Academy and got great results! If there is any app you want to install for your online success or invest in to learn SEO; make it Yoast SEO because you will be killing two birds with one stone. My only complaint is that I wish they had launched Yoast SEO on Shopify sooner as it would have saved me a lot of time, effort and money that I had wasted trialing other apps trying to achieve what I achieved with Yoast SEO within a few months of being committed and dedicated to the app. Definitely recommend!
Abida Nasreen – Heat London

The support from Yoast is first class and the app gives meaningful feedback you can immediately action to improve SEO. I have attended a one-day conference with awesome speakers, some webinars and I find their blogs very readable and informative. As a complete beginner on SEO, the Yoast app has really made a difference and given me confidence. The red, amber and green bullets are brilliant, especially as they come with useful advice and links giving further detail. I tried a couple of other SEO apps available via Shopify first but neither was anywhere near as good as this one. Thank you!
Hilary Hall – Jiggery Pokery Embroidery Kits
---
7 benefits you'll get from using Yoast SEO for Shopify
Read on to find out exactly how Yoast SEO helps you rank higher in the search engines. Let's see how Yoast SEO can help you win in the search engines.
#1 Create high-quality content that ranks in search engines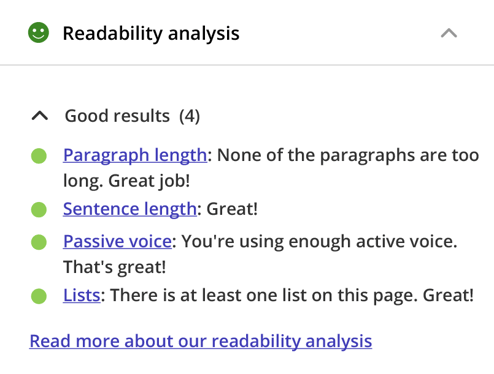 Get real-time feedback for all your content from the Yoast readability & SEO analyses. Follow the green, orange, and red traffic lights, and be sure that your content is easy-to-read and optimized for search engines.
Yoast has analyses is tailored to each content type in Shopify; product pages, blog posts, blogs, pages & collection pages. 

Optimize the SEO title and meta description of all your content. 

These analyses are available in 20 languages. 
*English, Dutch, German, French, Russian, Italian, Spanish, Swedish, Portuguese, Polish, Arabic, Hebrew, Hungarian, Norwegian, Turkish, Czech, Japanese, Greek, Slovak and Indonesian
#2 Easily optimize your content for desired keywords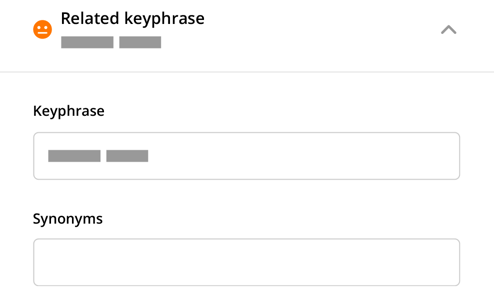 Get guidance in how to best add keywords to your content without keyword stuffing. Just as search engines, Yoast SEO recognizes related keywords, different word forms of your keywords & synonyms, so that you can use these in your content too.
Write more naturally and prevent keyword stuffing;
Reach larger audiences with your content by adding related keyphrases & synonyms;
Always be certain your content is optimized for the correct keyword.
#3 Increase the CTR of your search results with rich results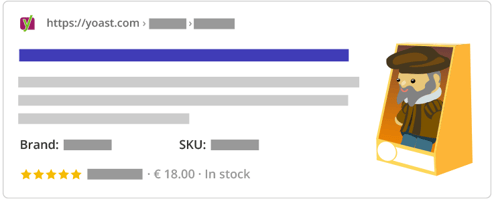 Start boosting your organic traffic with rich results! These are a great way to stand out in the search results and are necessary for beating your competitors. Yoast SEO automatically generates rich structured data / schema.org output (in JSON-LD) to increase your chances of rich results. 
Generates schema (JSON-LD) for; Product, Organization, WebSite, WebPage, BreadcrumbList, Article, and Offer;

Yoast SEO has integrated with Judge.me, Loox, Ali review & Opinew to output AggregateRating schema;

Add the Yoast SEO BreadCrumb block in Shopify themes 2.0.
#4 Yoast takes care of your technical SEO automatically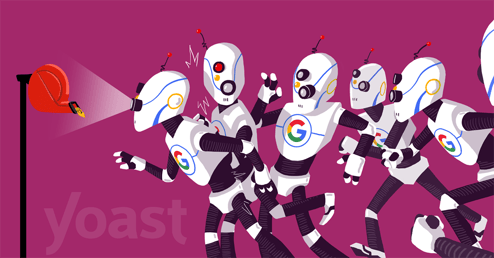 Our SEO experts stay up to date on all the latest SEO best practices. This means that you never have to worry about your technical SEO again, and let Yoast do that!
The latest best practices for meta robots directives, setting indexing controls, or how open graph and SEO tags & settings work together.

Yoast SEO automatically removes conflicting code in your theme files and outputs its code cleanly, which results in improved site speed and fewer SEO problems.
#5 Easily control and optimize how your search results look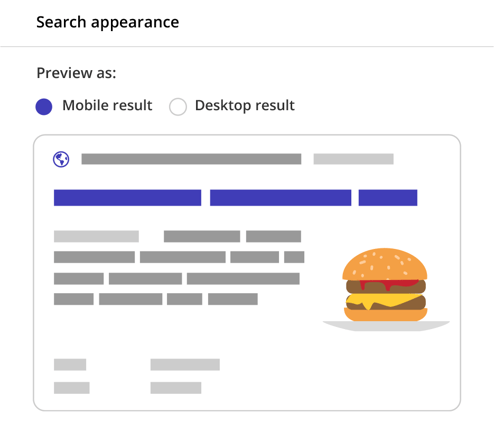 Yoast SEO lets you easily add and optimize SEO data, like the SEO title and meta description. With this, you'll be confident that your search results look fantastic and generate more clicks.

Set templates for each content type (e.g., product page, blog posts, homepage) 

Save time optimizing your SEO metadata with the bulk editor

Ability to control SEO data on a page-level. 
#6 Learn SEO with the Yoast academy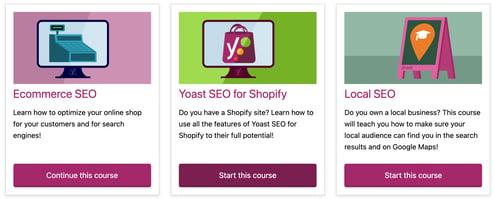 Not sure where to start when it comes to SEO? Learn all the basics of SEO with the Yoast academy courses. Our SEO experts will guide you step-by-step on how to improve your SEO skills.
Get access to SEO courses such as; ecommerce SEO, keyword research, SEO copywriting, and more!
#7 Get 365 days a year live chat and email support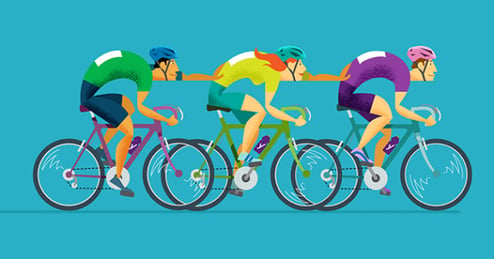 Yoast SEO offers white-glove support! Our friendly and knowledgeable support team will help you get Yoast SEO up and running. Do you have questions about installing Yoast? Contact us at support@yoast.com.
Yoast SEO helps rank your online store
Discover how easy SEO can be. Start write high-quality content and stop worrying about your technical SEO.
Frequently asked questions about Yoast SEO for Shopify
Are you about to try out Yoast SEO for Shopify? We can imagine you still have some questions. That's why we've compiled a list of the most frequently asked questions and their answers. Looking for more answers or help? Check out this help page or feel free to contact support!
What is Yoast SEO?
Yoast SEO is an SEO app for your Shopify online store. It takes care of all the technical aspects of SEO. That leaves you free to perfect your product pages with the help of our analyses. They help you improve the SEO and readability of your product pages. This will increase your chances to rank better and sell more products!
How much experience does Yoast SEO have?
Yoast SEO has over 10+ years of experience in helping users with their SEO. And with 12M+ active users its one of the most popular SEO tools in the world!
What benefits will I get from using Yoast SEO?
Having your own online store is great, but you need visitors on your site in order to sell products right? Yoast SEO has many different features that help you set up your Shopify site to help search engines like Google understand your website better. We help you optimize your content and product pages so people will actually be able to find them when searching for them! This will help you sell your products, isn't that great?
Is there an annual plan available?
Yes! And, you get 12 months for the price of 10!
Is there a free trial for Yoast SEO?
Yes, definitely! You can try out our full app for free for 14 days. We bet that's enough to convince you of the power of Yoast SEO for Shopify.
What payment methods are available?
Your payment is connected to your Shopify payment method. This means that you'll pay in the same way for Yoast SEO as you do for your Shopify account.
Can I migrate my SEO data from another SEO app to Yoast SEO?
Yes! To import your data from another SEO plugin, you can use the "SEO data migration" feature in Yoast SEO. You can find it in Settings > Site settings > SEO data migration. Need help? Read this help article or reach out to the live chat in-app.
I'm new to SEO, how difficult is the Yoast SEO app to use?
Being new is no problem at all! It's good that you're looking into optimizing your online store for search engines. We've done everything we can to make Yoast SEO very user-friendly, and has many different features that help you with doing your SEO.
How much time do I need to optimize my website with Yoast SEO?
To be honest, it depends on the number of products, pages, and content you have on your website. The good thing, though, is that everything you do will help your site rank better in the end! In our ultimate guide, there is an in-depth explanation of how to do SEO for your online store.
Do I have access to Yoast SEO academy?
Once you've bought the Yoast SEO app, you have access to the Yoast SEO academy! We have developed some of the most awesome courses and quizzes regarding SEO for Shopify and they are all available to you as a customer. Just login to your MyYoast account and click on "Courses", good luck and have fun!
Can I get help while using Yoast SEO?
Yes! As a paying customer, you're entitled to use our 24/7 available support. You can email support@yoast.com and ask all your questions.
*Some links on this page are affiliate links.
Yoast SEO helps rank your online store
Unlock powerful features and much more for your Shopify site with the Yoast SEO app!