Get help with Yoast SEO for Shopify
Need help with the Yoast SEO for Shopify app? Here, you'll find answers to your questions about Yoast SEO for Shopify. Do you have a different question? Get in touch with our support team. They are available for you 24/7, via chat and email, and they're happy to help you.
What does Yoast SEO do?
Yoast SEO automatically makes sure online stores meet the highest technical SEO standards, without you having to do the hard work.
The app helps with creating SEO-friendly product pages and blog posts by analyzing your content and showing how it could be improved. It also automatically adds structured data code to your Shopify site, increasing the chances of getting rich results. Furthermore, the Google and social previews help visualize what products and posts look like in the search results.
Yoast SEO for Shopify video tutorial
Learn all about Yoast SEO for Shopify and how to use its features in the video tutorial below.
Read how to use all the features of Yoast SEO
You can read about all the things Yoast SEO can do and how to use its features in this extensive guide: Guide for Yoast SEO for Shopify.
What should you do yourself?
Despite all these features, our app can't do all the work for you. It can't write awesome content, for example. You have to do that yourself. What it can do – however – is make it as easy as possible to work on your site's SEO. When you enter a focus keyphrase, the SEO analysis and readability analysis analyze your content and show you how you could improve it.
Theme modifications
Yoast SEO attempts to replace all SEO-related metadata from the Shopify theme with our own output. Are you a developer? Then you can check if all the output is correct. To do so, you can use this overview of all our theme modifications on our Developer portal.
Schema implementation
Because many Shopify themes include isolated Schema pieces, we attempt to remove all existing structured data code and replace it with our own Schema output. If you are a developer, you can check if all the Schema output is correct by checking this description of the Schema output for Yoast SEO for Shopify.
Implementing breadcrumbs
Yoast SEO also comes with breadcrumbs for Shopify. These can be implemented via the customizer or by editing your theme manually, depending on your theme. Read more about how to implement breadcrumbs with Yoast SEO for Shopify.
Installing & uninstalling Yoast SEO
How to switch to Yoast SEO for Shopify
Are you using a different SEO app for your Shopify store right now, but do you want to make the switch to Yoast SEO? That's great! We've listed answers to questions you might have about switching to Yoast SEO in this article.
Uninstalling Yoast SEO
If you want to uninstall Yoast SEO, you'll need to remove the changes the app made to your theme and delete the app to cancel your subscription. We've made this process as easy as possible. You can remove Yoast SEO automatically, but you can also manually remove the Yoast SEO code from your Shopify theme. Read more about how to uninstall Yoast SEO for Shopify.
Managing your subscription
Do you have questions about your Shopify subscription? Check out the most frequently asked questions about managing your Yoast SEO subscription for Shopify.
24/7 support for Shopify users
Do you have a different question? If you have Yoast SEO for Shopify, our support team is available for you round-the-clock. This means you can send us an email or use the chat in the help beacon at any time with questions about the setup and use of the app. Our experienced support engineers will gladly help you and answer your questions.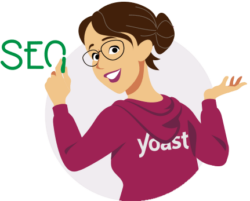 Learn more in Yoast SEO academy
Did you know that a Yoast SEO for Shopify subscription comes with access to 7+ actionable online courses in Yoast SEO academy? You can learn all about using Yoast SEO and topics like ecommerce SEO, keyword research, copywriting, and technical SEO. Log in to MyYoast to start learning!