When writing a post or page, we advise using your focus keyphrase in your introduction. By doing that, you make it easier for your readers and search engines to find your content. And figure out what it's about. Here, we'll explain the importance of mentioning your keyphrase early on in your post. In addition, we'll also tell you how Yoast SEO, our WordPress plugin as well as our Shopify app, will help you do this!
Did you get a red or orange bullet for the keyphrase in the introduction assessment in Yoast SEO? Here, we explain what the check does, and how you can improve your introductions and get a green bullet.
What is a focus keyphrase?
A focus keyphrase is a phrase that you want your post or page to rank for. For example, you might want to write a post about how to make a sourdough starter. To find the optimal keyphrase, you will need to do some research and discover what people are looking for and what words they're using. That will increase your chances of getting found. So, you might end up with a keyphrase like "make sourdough starter". Then, when people search for instructions on how to make it, they might find your post in Google's search results (very much depending on what the competition does, of course).
Starting off your texts with the focus keyphrase
Writing a good, informative introduction is crucial. Right there, in the span of a few lines of text, you need to grab the attention of your readers and get them to stay on your page. It is worth remembering that most people scan pages rather than read them with complete attention. Include your focus keyphrase right at the start, and you'll make it easy for your readers to understand what your page is about.
Readers are not the only ones you need to woo with the introduction. Search engines like to "read" introductions too. Including your focus keyphrase at the start of your text is like giving search engines clues on the topic of your post. Moreover, Google sometimes uses your first paragraph to create a meta description. So you'll do yourself a huge favor by including your focus keyphrase at the start.
Ok, sounds easy enough. Just add the focus keyphrase at the start, and that's it. Well, yes, but that is just the beginning. How you write the rest of the introduction is also vital. So, let's see how Yoast SEO can help you and what you will need to do.
How does Yoast SEO help you?
Yoast SEO comes with a keyphrase in introduction check. It's straightforward. After you tell Yoast SEO what your focus keyphrase is, this check makes sure to check whether you've included it in the introduction of your text. Preferably, you should use your focus keyphrase in the very first sentence to make your topic clear immediately. But it's also important that your text has a natural flow, so try not to force anything. Yoast SEO Premium (for WordPress) also allows you to add keyphrase synonyms, it will take these synonyms also into account when analyzing your introduction.
The check is part of the SEO analysis tab in the Yoast SEO sidebar and meta box at the bottom of your post editor. If it triggers a red or orange bullet point, it may be due to these reasons:
You've mentioned your subject, but not your focus keyphrase;
You started with an anecdote to attract attention, but the anecdote doesn't include your focus keyphrase;
You've mentioned your keyphrase (or its synonyms), but not within the same sentence;
You've used a synonym for your keyphrase in the introduction, but not told Yoast SEO Premium it is a synonym.
Yoast SEO gives you a green bullet point when it thinks you did a good job with the focus keyphrase in the introduction.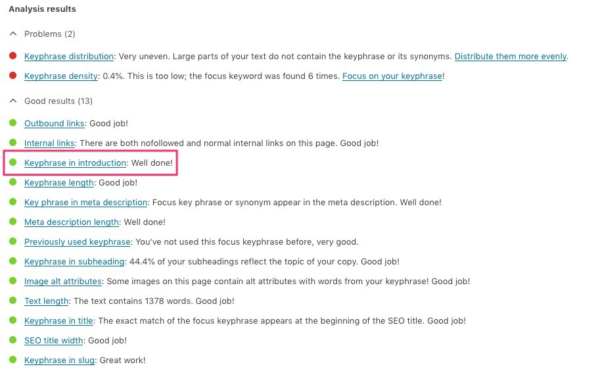 How can you write good introductions that include the focus keyphrase?
A good paragraph and a good introduction start with a core sentence. Which is a sentence that includes the most important message of that paragraph. If you can, add your focus keyphrase to that core sentence. Then, use the rest of the paragraph to discuss what readers can expect from the post. Mention your purpose and explain your structure if you think that can be useful. And, don't forget that your audience does not only consist of returning visitors that are familiar with your stories and products. Always take the perspective of a new visitor. Does the introduction of your post give the visitor enough clues on what your post is about?
Sometimes, you won't be able to use the focus keyphrase at the very start. For example, you might want to catch the attention of the reader with an anecdote or a question. In such cases, follow that up with your focus keyphrase as soon as you can, so you still make it clear what your page is about.
Either way, it is good to be concise and precise. Try not to wander off and start writing about something irrelevant to your topic. One way to keep yourself from digressing too much is to use the inverted pyramid writing style. This method encourages you to get to the heart of the matter immediately. Your readers will be thankful for it.
Very importantly, be careful not to overuse your keyphrase, since it may make your text repetitive. Yoast SEO Premium can help you there, with the feature that allows you to add synonyms and related keyphrases for your focus keyphrase. When you enter the synonyms, the plugin will be able to recognize them and include them in the analysis of your introduction. Yoast SEO Premium also gives you access to all of our SEO courses, including the SEO copywriting course, which helps you write great introductions and texts that include your focus keyphrase.
Go Premium to get access to this feature!
Unlock lots of features and get access to all of our SEO courses with the Yoast SEO Premium plugin:
And here's another tip that might help you if you're struggling. Although it's the first paragraph of your text, it's definitely not set in stone that you should write it first! It might even be easier to write after you've finished the full post. You'll have a better idea of the angle and content of the post, which might make it easier to write a great and enticing introduction that masterfully includes your focus keyphrase.
Need some guidance on writing a good introduction for your post? We've also written a super practical post with a recipe for great introductions!
Conclusion
In this post, you learned that it is a good SEO practice to include your focus keyphrase in your introduction. Of course, just adding the keyphrase will not do much unless your whole introduction (and post) is well written. A captivating introduction is concise. It introduces the reader to the topic straight away, or it answers a question a reader may have. So, invest some time in writing excellent introductions. For both your audience and Google. It will be worth it.
Read more: The ultimate guide to SEO Copywriting »
Become a Yoast SEO pro series
Coming up next!
Event

September 27 - 28, 2023

Team Yoast is at Sponsoring WordPress Accessibility Day 2023! Click through to see who will be there, what we will do, and more!

See where you can find us next »

SEO webinar

03 October 2023

Learn how to start your SEO journey the right way with our free webinar. Get practical tips and answers to all your questions in the live Q&A!

All Yoast SEO webinars »