SEO copywriting training
Learn how to create SEO-friendly copy that ranks
Cover all necessary steps from picking your focus keyword to publishing
End up with a ready-to-publish blogpost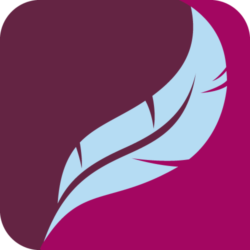 Yoast SEO Premium + Academy
Unlock access to all Yoast SEO academy courses
Also includes the Yoast SEO Premium plugin
Be first to get new features & tools, before everyone else
Learn to do SEO yourself
Improve your rankings right away
Start your free sample lessons!
Free
Try the SEO copywriting training out for free!
Get a taste of what this course is like with 5 sample lessons
Easy access through MyYoast and Yoast SEO academy
Learn how to write SEO-proof copy that ranks!
Would you like to rank higher in Google? Then you'll need texts that are well-written and optimized for search engines. And that can be hard – if you don't know how to do it or where to start. Fortunately, we're here to help! This course in Yoast SEO academy breaks down the SEO copywriting process for you step by step!
You'll stop missing out on a lot of potential visitors. After applying everything you have learned in the lessons, your pages will be ready to rank higher!
This course is for you, if:
You want to reach your target audience and improve search traffic;
You're unsure how to actually write SEO-friendly copy;
You want to work towards ranking for the top keywords in your market.
After this training, you'll know:
How to write attention-grabbing copy that is also well-optimized for SEO so that it ranks;
The steps you need to take to end up with a ready-to-publish text for your website;
How to come up with a list of relevant keywords for your website;
Your copy will hook visitors from Google and keep them engaged to the very end;
Your content will be unique, well-structured, and on point; exactly what the search engines need to rank your page;
You'll know what to write about to attract more readers.
What topics are covered in this SEO copywriting training?
Yoast SEO academy features 6 SEO copywriting modules, covering all steps to create awesome copy that ranks. It's thorough, but sliced into bite-size chunks:
Introduction to SEO copywriting: Do you think that you are already paying enough attention to copy? You're probably not. It's hard to overestimate the value of copy for higher rankings. You'll learn why website copy is so important for SEO and how Google understands text.
Find out what your audience wants to read: To attract readers, you need to know what they want to read. Keyword research will help you determine what you could rank for and therefore what to write about. Stop guessing. Start learning the basics of keyword research yourself.
Preparation is half the battle: We'll help you structure your ideas and turn them into writing that makes sense and match the needs of your audience. This preparation makes the actual writing a lot easier and more effective!
Write readable and unique copy: You'll discover different methods to make your text readable and engaging. Storytelling, tone of voice, persuasion, we cover it all.  The result: your readers get to the end of every page (and to your call to action) without any effort. And they'll be more likely to share your content with others as well.
The finishing touch: We'll provide you with some tips and tricks on how to find and improve mistakes or misspellings you might have made while writing. After this, it's time to further optimize your text for search engines. We'll explain the principles and you'll see why our (free) Yoast SEO plugin makes this super easy.
Publishing your content: we help you reach your audience by showing you how and where to share it, and to optimize that process as well.
Bonus: use our step-by-step template to write the optimal SEO blog post!
---
How much time do I need for this SEO writing course?
On average, students spend about 8 hours on this SEO copywriting course. That's all in: reading, watching, and writing your own blog post. But of course, you choose your own pace. It's an online course and you get a whole year of access. So you can take it more at ease or as fast as you like: it's up to you! And even after completing all the modules, you can go back to any module you'd like to check again.
You'll get immediate access to:
2 hours of instructional videos on SEO copywriting, sliced into 23 bite-sized clips
14 SEO copywriting quizzes to train what you've learned
14 SEO copywriting PDF files so you can easily check the tips again while writing
---
Get your SEO copywriting training certificate
It's nice to prove your skills to others: clients, competitors … After co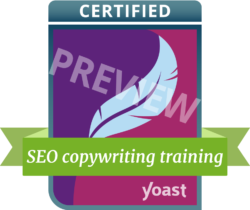 mpleting this SEO copywriting course, you'll receive a certificate. It'll be personalized with your name and date of completion. On top of that, you'll get an SEO copywriting certification badge, like the one on the right, to show on your site.
Grants you access to all courses and Yoast SEO Premium
If you get Yoast SEO Premium, you won't just get access to this course. You'll get access to:
See what Yoast SEO academy students say:
Yoast SEO academy is there for everyone. Whether you've just started blogging, or are an experienced writer trying to improve your SEO chops, we have the tips to take you to the next level. Over 350,000 students have enrolled in Yoast Academy before you. Some of them are new, some of them are experts. All of them learned tons thanks to our courses. Read what they have to say about our SEO copywriting training:
Great to start:

Great to dig deeper:

"In-depth course training – you can start learning some great insights right away that you can apply to your website."

TD Bauer

"If you want to really take your online writing skills to the next level and save time finding training sources, odds are you're going to get value from this course." Jay Neill