SEO basics How to use headings on your site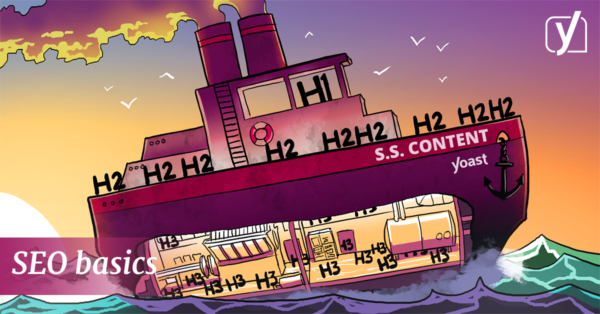 It's hard to read a piece of text with no headings to break it up. Headings and subheadings are the most important signposts for the reader, and people tend to read headings more carefully, using them to work out what an article is about. This makes headings essential to help people figure out whether or not they want to read an article. So how do you use headings effectively on your site? And are they important for SEO? Find out here.
Headings and text structure
Headings are signposts that guide readers through an article. Because people tend to read them carefully, they should indicate what a paragraph is about, or people won't know what to expect. Also, headings may help them get back on track if they get lost in (poor) writing.
Reading from a screen is difficult. People can easily get distracted and lose track of the story you're trying to tell, but headings will help people stay on track, and to grasp the message of your post.
For web copy, I'd strongly recommend writing headings that are informative to the reader. Some people like to tease their audience in the headings, trying to entice them to read further. While that can work very well, it's easy to get wrong. Remember that the main focus of headings should be on the content – and the main purpose of headings should be to make the text easier to read and understand.
Read more: Why text structure is important for SEO »
Headings and SEO
People like putting their focus keywords in headings and some believe it'll directly result in higher rankings, but I'm not so sure about that. Still, if you're trying to rank for a keyword, you'll have to write about it, so it only makes sense that you should mention the main topic of a blog post in one or more of your headings. It shouldn't feel unnatural or weird using your focus keyword, but if it does, that's probably because you're trying too hard, or over-optimizing.
Although not a major ranking factor, headings do affect SEO. That's because headings are important to help users understand the subject of an article. And if readers use headings to figure out what an article is about, Google will too.
Use of headings
Sometimes developers also talk about headings, usually <H1> and <H2>, <H3>, <H4>. To translate: H1 is the title of the page or the blog post, and you should only use it once per article. Other headings can be used multiple times, as long as they follow a hierarchical structure – so you should use H2 before you use H3 within a topic. But you can go back and use H2 again after you've used H3. Here's an example of a heading structure:
H1: Ballet shoes are awesome
H2: Why ballet shoes are awesome
       H3: Ballet shoes are pink
H3: Ballet shoes are flexible
H3: Ballet shoes are cheap
H2: Where to buy your ballet shoes?
H3: Online stores
H3: In your hometown?
H2: Wrapping it up.
You can use H4, H5, and H6 if you want to, as long as you make sure to use H4 before H5 and H5 before H6, and so on, but I usually stick to using just H2 and H3.
Headings and accessibility
Heading structure is important for accessibility as well, especially for people who can't easily read from a screen. Because headings are in HTML, a screen reader can understand the article structure and read all the headings out loud.
By reading or listening to the headings in an article, visually impaired people can decide whether or not to read an article. Screen readers also offer shortcuts to jump from one heading to the next, so headings are used for navigation as well.
Don't forget your headings!
Using headings well is helpful for your users, increases chances of people actually reading your article, improves accessibility and might even contribute to SEO. So add them into your copy – just make sure you use them correctly!
Keep reading: Headings and why you should use them »