Use headings the SEO way and boost readability
Improve the readability of your texts
Make your texts more accessible
Increase your chances to rank better
Headings are a crucial element in your text structure. They are user-friendly, they help search engines understand your content, and they improve accessibility. Yet, it is easy to forget to use headings. As a result, you may end up with an unstructured text that is difficult to read and has lower chances to rank.
Yoast SEO makes sure you use headings the right, SEO way, and reap the benefits!
✅ Distribute your headings evenly and improve your text structure
People commonly scan online texts, and heading makes scanning easier. When you distribute your headings well, you improve the user experience of your posts and pages.
The readability analysis in Yoast SEO includes a subheading distribution check. Its purpose is to make sure that you use headings in the right places. What does that mean? If you have bits of text longer than 300 words and no subheadings, Yoast SEO will let you know.
✅ Include your keyphrase in the subheadings to increase your chances to rank
Search engines also scan texts. Headings, especially ones that contain keyphrases in them, help search engines figure out the main topic of a post or a page. The better search engines understand your content, the more likely they are to push it higher in the search results!
The keyphrase in the subheading check is part of the SEO analysis in Yoast SEO. For best results, Yoast SEO checks if you used your keyphrase in 30-75% of your subheadings. In Yoast SEO Premium, we also check whether your subheadings contain the keyphrase synonyms.
What do you need to do?
When you didn't use enough subheadings, you will get a red or an orange bullet in the Readability tab of Yoast SEO. We also give you short feedback that lets you know exactly what the problem is. To learn how to fix it, click on the link provided in the feedback. It will take you to a post on yoast.com, where you can earn how to use the keyphrase in the subheadings in the right way.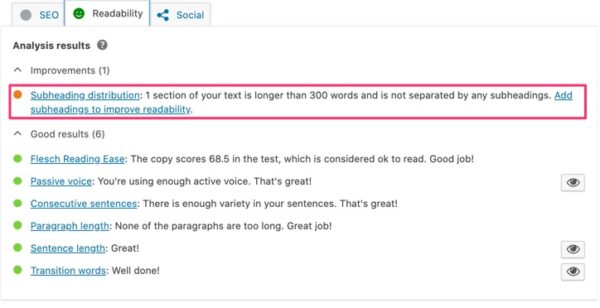 The feedback in the SEO tab works the same way. If you forgot to include your keyphrase in the subheadings, Yoast SEO will let you know. Then, it will be up to you to fix the issue. If you are not sure what to do, you can always click on the link and learn what the right way to add the keyphrase in the subheadings is.