Yoast and Semrush working together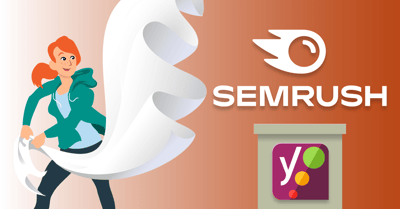 Today we're announcing something really awesome: Yoast has partnered up with Semrush. The reason why we're so excited? Keyword research is hard, getting keyword data is even harder and this puts it at your fingertips. Right where you're writing.
Why would Yoast and Semrush work together?
Yoast has a lot of users; 11 million+ websites currently run Yoast SEO. When we add an integration to our free plugin, we ask ourselves a couple of questions. One of them is: will our partner hold up under the load of our huge user base? The answer to that was clearly and simply: yes. Semrush is one of the biggest SEO tool providers out there and they've been around for quite a while. They can handle this.
The other question we ask ourselves: is this going to be helpful for the majority of our users? The answer to that was even more clearly: yes. Absolutely. Just look at this with me, the full set of features available in Yoast SEO 15.1 that are powered by Semrush data:
Get related keywords that are similar to your query (for your country of choice).
Get volume and trend data for every one of these keywords.
Easily add those keywords as related keywords (Yoast SEO premium only).
Uncover new profitable keyword ideas for your content.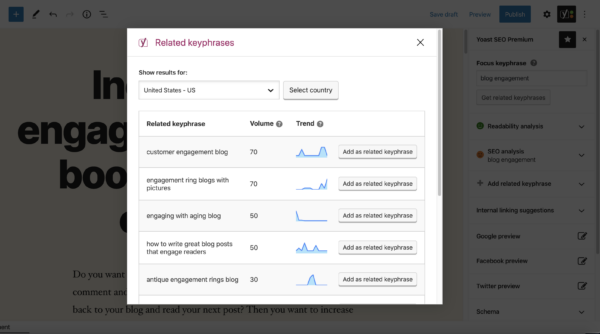 Read more: Find out how these new keyphrase features work »
Note that I don't think this removes the need for proper keyword research. It's still very important to do that. But it does help you find related keyphrases and it might even help you validate your keyword choice.
In all, I'm very happy we're working with Semrush on this, it's been a very pleasant collaboration so far. So pleasant that I'm quite sure we won't stop here!
Disclosure: this blog post contains sponsored links.
Coming up next!
Event

October 04, 2023

Team Yoast is at Attending, Organizing Yoast Contributor day 2023 - October edition! Click through to see who will be there, what we will do, and more!

See where you can find us next »

SEO webinar

12 October 2023

Stay ahead of the curve in the fast-evolving world of e-commerce & explore key trends & emerging opportunities. Register for "E-commerce Trends 2023" now!️

All Yoast SEO webinars »