Yoast SEO 15.1: Keyword research with SEMrush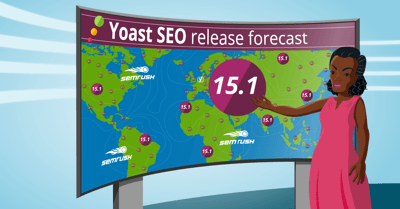 Wouldn't it be cool if you could get keyword data while working on your content in Yoast SEO? Well, we asked ourselves that same question and now we have an answer! Yes, you can now find related keyphrases inside the post editor. And it's not any old data — no, it's powered by our good friends at SEMrush, a world-class provider of SEO and internet marketing tools! Here's what's new in Yoast SEO 15.1.
In Yoast SEO 15.1, you'll find a number of improvements:
Find related keyphrases with SEMrush data

Keyword research is hard and we are going to help you with that. In Yoast SEO 15.1, you'll find a new integration with one of the leading SEO and internet marketing software companies in the world: SEMrush. Together, we've built an integration that helps you find related keyphrases for your focus keyphrase in Yoast SEO. The SEMrush integration will make it easier to find the right keywords that will help you with your rankings!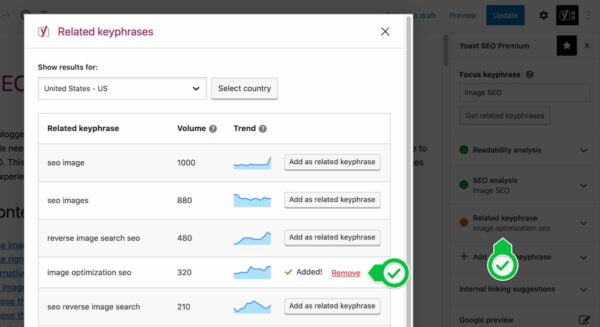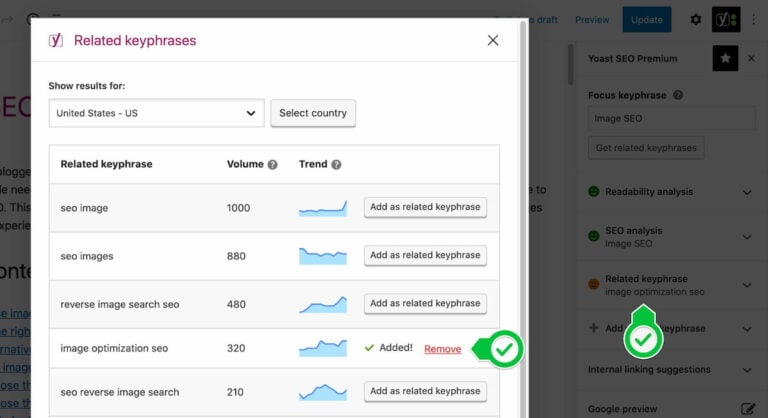 The tool is very easy to use. Find the Get related keyphrases button underneath the Focus keyphrase field and click it. The first time you do that a screen opens asking you to connect your SEMrush account, or make a new one and authorize Yoast SEO to use that. After that, you can find related keyphrases right from within the post editor. You even get insights on search volume and trends! Plus, you can select the country where you want so search. How cool is that.
This feature is available for free, but Premium users get the added benefit of using it in the related keyphrase feature. This feature of Yoast SEO Premium gives you the chance to optimize your content for multiple keyphrases and synonyms. The new related keyphrase tool lets you add the relevant ones you find with a simple click of the button. After that, you can simply optimize your text for these keyphrases in the post editor sidebar.
Get Yoast SEO Premium, not just for the related keyphrase features, but also for the redirect manager, advanced text analysis that recognizes word forms, social previews and much more.
This is just the beginning
Farsi keyphrase recognition
Recently, we've started adding language support for right-to-left languages. Now, we support Hebrew and Arabic, with the latter already having full language support including word forms. Today, we're taking the first steps to support Farsi (Persian). We can now better recognize and understand sentences for this RTL-language. This helps us find and recognize keyphrases for the Farsi language.
To get this to work properly, we've improved all keyphrase-based assessments for Farsi by filtering function words. Yoast SEO can now check whether you've used your Farsi focus keyphrase in all the right places. This helps you optimize your text in a way that makes sense for search engines, without overdoing it for your users.
Improved internal linking suggestions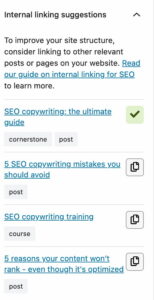 In Yoast SEO 14.7, we launched a new version of our internal linking suggestions tool. This tool helps you improve your site structure by linking to relevant content. It analyzes your text and automatically suggests relevant content on your site to link to. In Yoast SEO 14.7, we made it a lot smarter and made it look at your metadata and other post types as well.
Today, the tool works better than ever and in Yoast SEO 15.1, we've improved the visual aspect of the internal linking suggestions. Of course, visuals matter and these can make or break a tool. The updated interface for the internal linking suggestions still follows the same Gutenberg styling, but we made more some subtle improvements, most notably in the way we distinguish between cornerstone content, regular posts and other post types.
Improved optimization of SEO data
Behind the scenes, Yoast SEO uses a lot of complex processes to get important data about your site. For instance, we need to build our indexables so we can speed up your site and we need to get an overview of your content to feed our internal linking suggestions. For this to work, you need to press a magic button.

This used to be separate processes, but we tied these together so they can run in the proper order. Only then, will it give the best results. So, if you haven't yet — hit that button. Of course, the time this process takes depends on the size and set up of your size.
Performance improvements and other enhancements
Many site owners and developers run a staging environment to test stuff and to improve their sites. While working on a staging environment, Yoast SEO doesn't have to do some of the stuff it does on live sites. And with WordPress 5.5's new wp_get_environment_type() function retrieving a site's current environment type, we had to prevent several processes from happening on non-production environments. As of now, we won't index the indexables, ping search engines about XML sitemaps, send tracking information or check the indexing of the site with Ryte on these kinds of environments. This prevents this data from appearing on your real site once you push your site into the real world.
Also, we now flush all permalinks from the indexables tables when the value of the permalink_structure or the home_url option changes. We've also introduced a notification to ask for a reindex in those cases. Also, whether the home_url was changed manually and resets the permalinks accordingly. We do all of this to keep the tables occupied with the most recent version of your permalinks.
That's Yoast SEO 15.1 for you!
In Yoast SEO 15.1, we've introduced a really cool new feature and a new partnership with SEMrush. You get related keyphrases right where you need them. If you have Premium, you can even quickly add them as related keyphrases in a jiffy. Awesome, right? Don't have Premium? Now is a good time to get it!
Disclosure: this blog post contains sponsored links.
Coming up next!
Event

September 29, 2023

Team Yoast is at Attending WordPress Community Day – Rome 2023! Click through to see who will be there, what we will do, and more!

See where you can find us next »

SEO webinar

03 October 2023

Learn how to start your SEO journey the right way with our free webinar. Get practical tips and answers to all your questions in the live Q&A!

All Yoast SEO webinars »