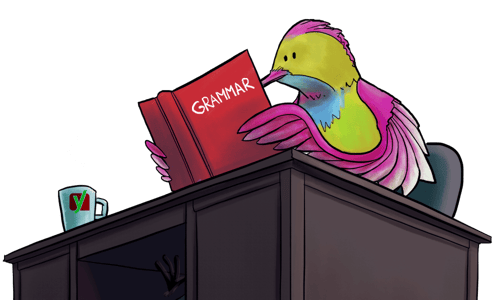 Why do I need a function words check?
Search engines scan your content to find out what it is about. That's why you optimize it for certain search terms. Search terms usually carry intrinsic meaning. But function words like the or and, but also words like absolutely or things don't carry meaning by themselves. Therefore it wouldn't make much sense to optimize your content for function words only, as these words won't help search engines figure out the topic of your text. If all the words in your keyphrase are function words, Yoast SEO will tell you your keyphrase needs improvement!
Make sure you use meaningful keyphrases that will help you rank
Avoid optimizing your content for generic words
Help search engines find out what your content is about
Increase your chance to rank higher in the search results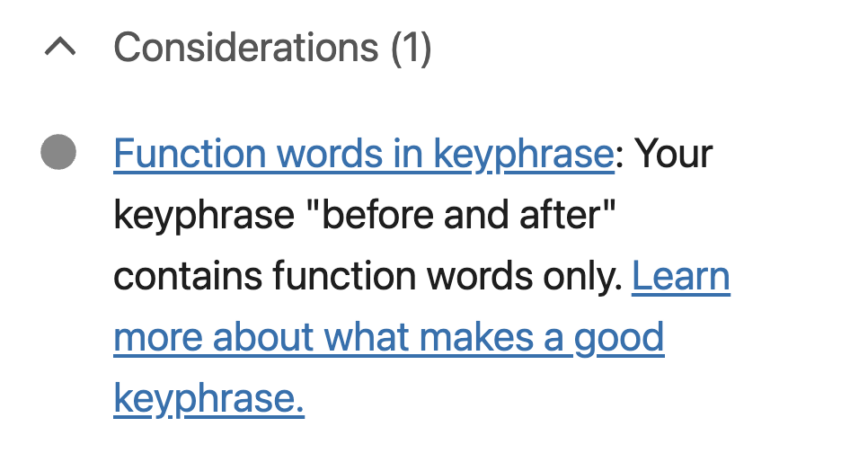 What does the function words check do?
Yoast SEO has an input field for the focus keyphrase. This is the word or phrase you'd like your post to rank for in the search results. Choosing the right focus keyphrase is important. When you set a focus keyphrase, the Yoast SEO plugin evaluates the post's content and provides feedback on how to improve the content to rank higher for that search term.
To ensure you optimize your post for a meaningful keyphrase, Yoast SEO checks whether your focus keyphrase consists of function words only. The plugin will show a grey bullet along with a warning message if this is the case.
Unlock more powerful features in Yoast SEO Premium
You get feedback on your keyphrase and the use of function words in Yoast SEO Free. But, with Yoast SEO Premium, you'll unlock more powerful features like the redirects manager, internal linking, and you'll get access to all the Yoast SEO academy courses!
Use the function word check to…
Avoid mistakenly optimizing your content for a meaningless keyphrase
You could make a mistake and type in only [the] in the focus keyphrase field when actually, you wanted to optimize your page for [the function words check in Yoast SEO]. To help you avoid optimizing your content for suboptimal focus keyphrases, Yoast SEO assesses your focus keyphrase and warns you if the focus keyphrase field only contains function words.
Make sure your content is optimized for a keyphrase search engines are likely to rank
The feature is there to warn you if your keyphrase is composed of words that search engines will probably ignore. Take this keyphrase [everything mostly good]. It may look like a regular keyphrase, but all the words there are function words. The plugin makes sure you are aware of that, so you can improve your keyphrase!
---
Let Yoast SEO help you win the search rankings
Discover all the features of the Yoast SEO for WordPress plugin.