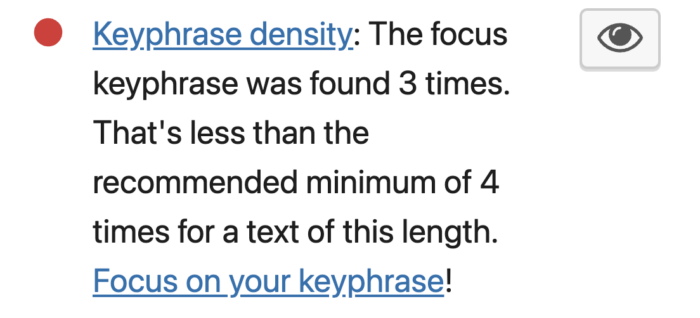 What does the keyphrase density check do?
The keyphrase density check is part of the SEO analysis in Yoast SEO for WordPress. You need to have a keyphrase density between 0.5 and 3% to get a green bullet. You don't have to keep the exact order of the words in the keyphrase for the plugin to recognize it. However, all the words of the keyphrase need to be in the same sentence. The length of the keyphrase also factors into how we calculate the keyphrase density. If you have a longer keyphrase, for example, it's better to use it less often. 
In the feedback, we tell you the exact number of times your keyphrase appears in the text. We also give you advice on what the optimal number is, based on the length of your text.
Want to get even more out of your content?
The keyphrase density check is available in Yoast SEO Free. Upgrade to Yoast SEO Premium and get the possibility to add related keyphrases, synonyms, and different word forms. The plugin recognizes all of them in its SEO analysis. That can help you write engaging text, and still stay on topic and rank for your chosen keyphrase!
Use the keyphrase density check to…
Avoid keyword stuffing
Overusing your keyphrase comes at a price. Search engines can tell if you are trying to trick them by stuffing your text with a keyphrase. Keyword-stuffed content is bad for users, too, so search engines aren't as likely to rank it. But, even if it is not your intention to cheat the system, you might unconsciously be using the keyphrase too much. With Yoast SEO in WordPress, you can prevent keyphrase stuffing.
Keep your texts readable for your audience
The needs of your audience, and not those of search engines, should always be your top concern. You will do your audience a big favor if you keep your texts readable and informative. Keyphrase density helps you there. First, by using your keyphrase multiple times through the text, you make sure you stay on topic. However, balance is key. So, you should not overuse the keyphrase at the cost of readability.