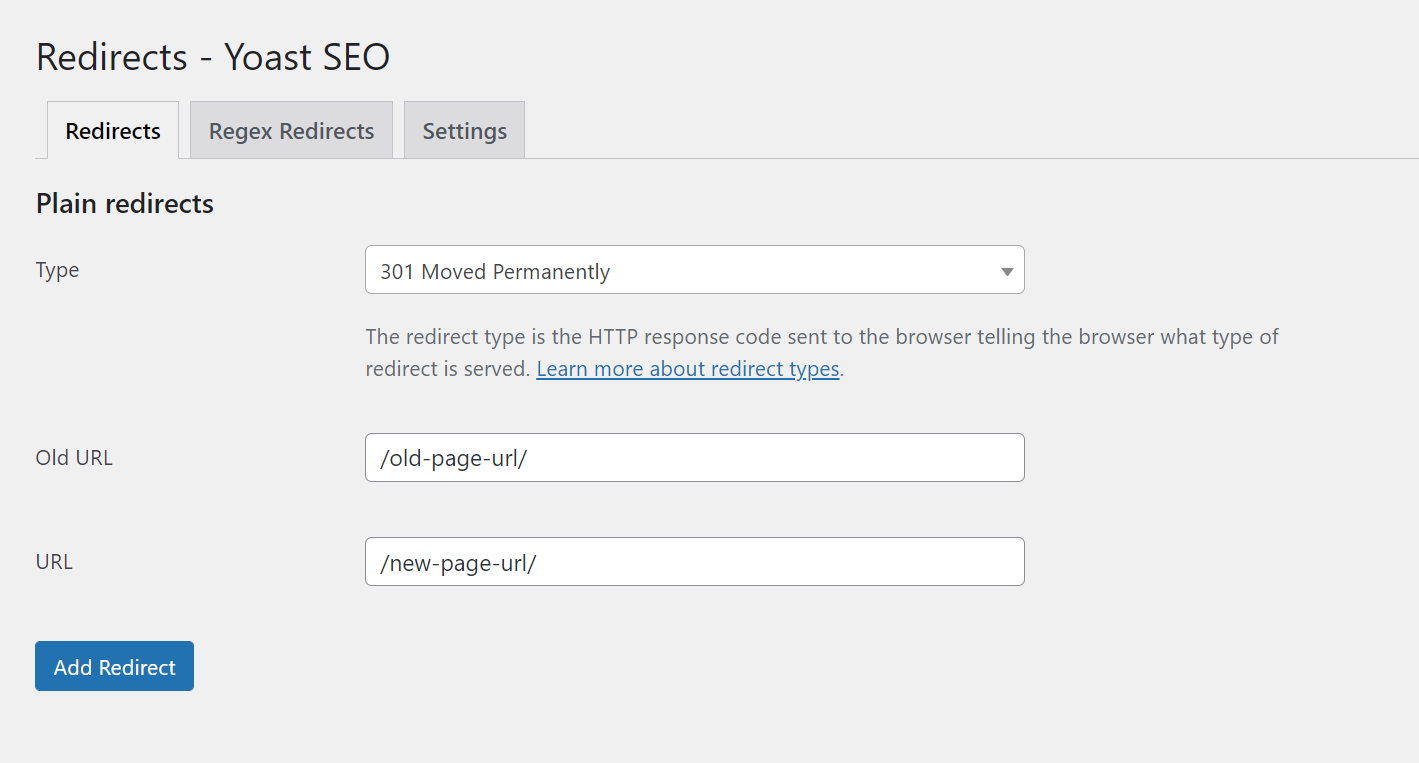 What does the redirect manager do?
When you manage the content of a website, it's normal to sometimes move or delete your posts.
But that can lead to dead-ends, and 404 errors. Those can be confusing to users, and harmful to your SEO. It's best practice to make sure that you use redirects to send users and search engines from your old URLs, to your new URLs.
In more advanced cases, you might even want to configure different types of redirects, or use different types of HTTP responses to let search engines know how to handle your moved content.
Keeping on top of when, where and how all of those rules work can be complicated. The redirect manager makes it easy.
Unlock this feature in Yoast SEO Premium
Get this feature and much more for your WordPress site with the Yoast SEO Premium plugin!
See how the redirect manager works
You can use the redirect manager to…
Automatically create redirects when you delete pages
When you delete a post or page, we'll immediately ask you what you'd like to do with the old URL. To make things easier, we'll give you the most common options to choose from.

Automatically create redirects when you move pages
Whenever you change the URL of a post, we'll automatically create a redirect for you. That'll seamlessly send users and search engines from the old URL, to the new one. We'll do the same for categories, tags, and custom post types, too.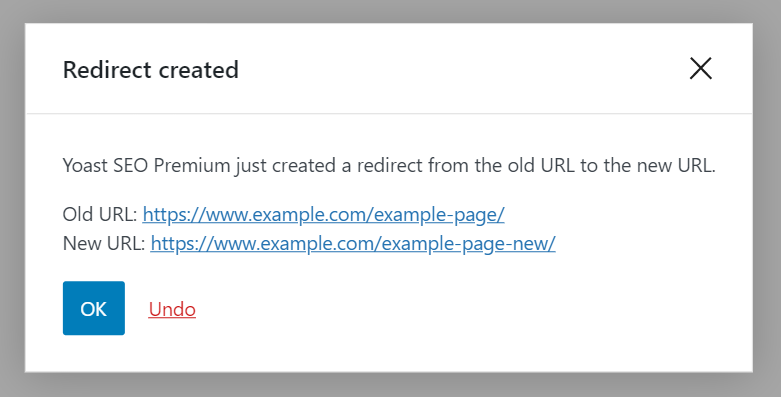 See and manage your redirects
Managing all of your redirects doesn't need to be scary or complex! We'll show you all of your redirects right in your site admin, where you can search, sort, filter and manage them easily. We'll also make it easy for you to undo, ignore, or disable our automatic redirect creation and notices.
Choose redirect types and HTTP statuses
There are different reasons to move or delete a page, and so there are different types of redirects. You can manage all of those different types of redirects and HTTP statuses seamlessly, and pick the best one for each case.
301 (Permanent redirect)
When search engines see a 301 redirect, they follow it to the new destination, and pass all of the relevant ranking and context signals to that new URL. The redirect manager automatically creates 301 redirects when you delete or move your pages.
410 (Content deleted)
You can use this redirect when you delete a post or a page for good, and you know for sure it will not be coming back. The 410 code tells search engines that they should delete the page from their index. That's the fastest, most reliable way to permanently remove content from search engines.
302 (Found) and 307 (Temporary redirect)
Sometimes, you might only moving a page temporarily – say, for a special offer, or unexpected event. In these cases, you can configure a temporary redirect, which can help search engines to better understand your situation. That'll keep the right pages ranking, and make sure that everything goes back to normal once you remove the redirect.
451 (Content unavailable for legal reasons)
It's rare to need to use a 451 status, but it can come in handy if you ever end up having to remove content due to legal reasons.
Create REGEX redirects
Regular expressions let you write patterns instead of individual redirects. That means that you can redirect a group of URLs that contain a certain word or pattern, with just one redirect. That makes it much easier to redirect large numbers of similar URLs!
Import & export your redirects
If you already have redirects in another system, they can be easily imported into Yoast SEO in a CSV format.
You can also export your existing rules, which can be helpful for making bulk changes.
Scale your redirects
If your website needs to manage lots of redirects, that's not a problem. The redirect manager can be configured to write your redirects to a separate file, which runs directly in your Apache or NGINX config. That keeps things fast.
Unlock this feature in Yoast SEO Premium
Get this feature and much more for your WordPress site with the Yoast SEO Premium plugin!