SEO basics: What is a search term?
You likely type dozens of queries into your favorite search engine every day. But have you ever realized the significance of all these searches? Figuring out what people are looking for on the internet is one of the key points of SEO. So, what should you know about the starting point of each online search, the search term? Let's begin with the very basics!
What is a search term?
A search term, or search query, is the word or phrase someone enters into a search engine to search for on the internet. These can be single words or names, like [Yoast], or a combination of words, such as [buy robot vacuum cleaner], or even complete questions, like [how do I train my puppy?]. Note that each individual could phrase his or her query uniquely, so five people looking for the exact same thing may just use five completely different search terms. Moreover, search terms can contain spelling errors, numbers substituting words, or random word order, and still take someone where they need to be.
Search intent
While everyone entering a search term into a search engine is trying to find something, their search intent can certainly differ. It's important to be aware of this. Someone typing [how do I train my puppy?] into Google is looking for information, whereas someone who enters [Yoast] probably wants to navigate to Yoast.com. And someone looking for [buy robot vacuum cleaner] is, evidently, looking to buy a robot vacuum sometime in the near future.
If the page someone clicks on in the search results doesn't match their intent, they're likely to bounce back and look for another page that does align with their purpose. So, it's important to make sure people end up on a page that's consistent with their expectations and what they're trying to achieve when entering their search term. And, not just because it'll result in a lower bounce rate.
Search engines actively try to guess user intent, and therefore, adhering to the right search intent actually increases your chances to rank. In fact, since search engines want to serve users exactly what they're looking for, targetting the wrong intent could seriously impair your chances to rank. The next time you do an online search, try analyzing at the results pages: they'll give you some insight into people's search intent.
Read more: What is search intent? »
Search term and focus keyphrase: what's the difference?
How should you see search terms, in relation to your focus keywords and keyphrases? Well, you're looking at basically the same thing from a different perspective. But, one big difference: you put a lot of thought into a keyword strategy (if you do it right ;-)), whereas most people entering a search term simply type a phrase they think will take them where they need to be, largely unaware of the fierce competition going on between websites. In an ideal world, the search term entered by a potential visitor would be the keyphrase you're targeting, and your optimized page would match their search intent. But, as we already mentioned, search terms are often unique for each user, can differ in emphasis and could even contain errors. So, you should think about what your real-life users are doing, and distill the ideal keyword from that.
Search engines and search terms
Helping users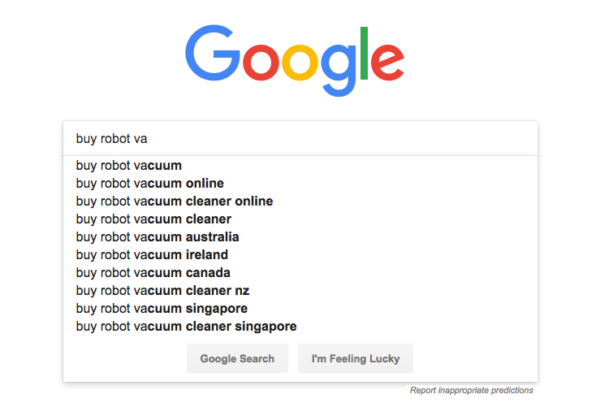 There are several ways search engines try to help their users find what they're looking for. Firstly, there's the autocomplete functionality: immediately when you start typing a query, suggestions for often-used search terms pop up for you to select. This doesn't just come in handy when you're looking for something, but also when you're doing keyword research.

What's more, if a query is very similar to another search term that's entered much more often, search engines tend to include the results for that query as well.


It's good to be aware of this, and think about how it could affect searches relevant for your website.
Advanced searches
Search engines allow for advanced searches, which let searchers, for example, leave a blank in their search phrases, exclude words from their search results or look for results from a specific region. Only a small portion of users actually uses these advanced search features, so from an SEO perspective, it's probably hard to take this into account. But, if nothing else, it might inspire you to become a pro search engine user to save yourself some precious time!
Search Engine Advertising
One thing that's also influenced by the search term, is whether or not the results page will contain ads, and how many. Advertisers can select certain 'keywords' to target with their advertisements. If a user enters a search term containing these, an automated auction will take place, to see which ad or ads targeting those keywords is/are most relevant and best suited to appear on the results page. Naturally, transactional search terms, like [buy robot vacuum cleaner] are much more likely to yield one or more ads, than informational queries such as [how do I train my puppy?]. Ads'll push down organic results, so if you're optimizing for competitive keyphrases, this means you may have to work a little harder.
Conclusion
It seems so straightforward, but, as we've seen, there's more to the search term than you might expect. Knowing how users search and how search engines handle search terms will give you an edge when executing your keyword research, so get in your user's heads! And think about the significance, the next time you enter your search term into Google!
Keep reading: SEO Basics: What does Google do? »
Coming up next!
Event

September 27 - 28, 2023

Team Yoast is at Sponsoring WordPress Accessibility Day 2023! Click through to see who will be there, what we will do, and more!

See where you can find us next »

SEO webinar

03 October 2023

Learn how to start your SEO journey the right way with our free webinar. Get practical tips and answers to all your questions in the live Q&A!

All Yoast SEO webinars »