Security: no advanced settings for authors
This feature lets you determine who gets access to the Advanced tab of the Yoast SEO meta box. In the Advanced tab, you find the settings that allow you to remove posts from the search results or change the canonical. These are powerful settings, and, as such, it is advisable to let only specific users access them. That is why, by default, only editors and administrators can see and use the Advanced tab in Yoast SEO.

If you want all users of your WordPress website to be able to operate the Advanced tab in the Yoast SEO meta box, you can choose to switch this feature "off". To do that, go to Yoast SEO in the admin menu, click the General menu item, and then the Features tab. You will find the toggle for this feature at the bottom of the screen.
The settings in the Advanced tab of the Yoast SEO meta box
With the Advanced tab in Yoast SEO, you can determine how search engines crawl and index your post or page. There are four settings in the tab: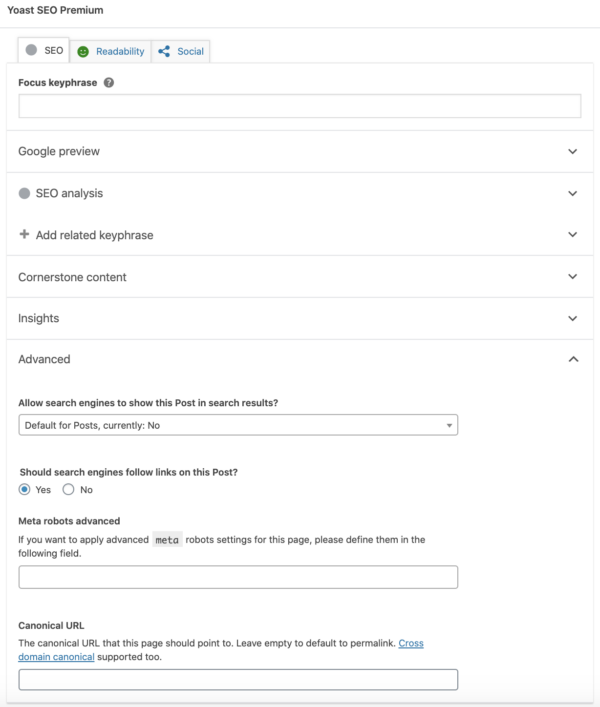 1. Allow search engines to show this Post in search results?
This setting determines whether search engine robots can index your post or page. If you set this to 'yes,' the Google robots will index your post or page. As a consequence, your post or page will be able to appear in search engines.
2. Should search engines follow links on this Post?
Some of the links you add to a post or page may lead to parts of your website that you don't want Google to index. With this setting, you can prevent Google from following such links.
3. Meta robots advanced
The advanced meta robots settings allow you to set the meta robots for this page or post to several values. Read more about the meta robots advanced settings here.
4. Canonical URL
Some of your URLs may contain the same content. To avoid confusing Google (and the user), you can tell search engines which URL contains the original content. You do this by adding a canonical URL that this post or page should point to.