The breadcrumbs title setting
With the Advanced tab in Yoast SEO, you can determine how search engines crawl and index your post or page and what your breadcrumbs will look like on your site and in the search results. In this article, we'll explain the breadcrumbs title setting.
Related articles
Using the breadcrumbs title setting
The breadcrumbs title setting allows you to change the breadcrumbs title for the Yoast SEO breadcrumbs. Each breadcrumb level can be changed on the corresponding post, page, or taxonomy on the Advanced tab of the Yoast SEO meta box.
On the Advanced tab, you'll find a field called 'Breadcrumbs Title' (see image below). If you have enabled breadcrumbs, you can change the breadcrumb title by filling out your custom title in this field. Then, click 'Update' to output your custom breadcrumbs title on your post or page.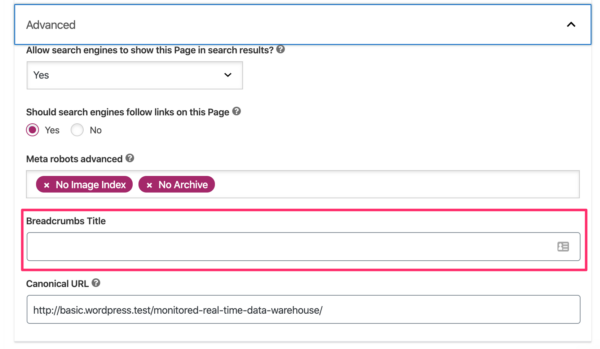 If you want to know more about changing the breadcrumb title on posts, pages, taxonomies, custom post type archives, and WooCommerce shop pages, please check this article on changing the breadcrumbs title.