Yoast SEO settings: Breadcrumbs
In this article, we'll discuss the Yoast SEO Breadcrumbs settings in your WordPress backend. You'll see a video explanation, and we'll explain all the settings on the tab one by one.
Video: Yoast SEO settings: Breadcrumbs
Would you like to watch this video in your own language? Follow these steps to auto-translate the subtitles.
Breadcrumbs
A breadcrumb is a small text path, often located at the top of a page. On yoast.com, for instance, the path to one of our blog posts about crawlability is Home > SEO blog > Technical SEO > SEO basics: What is crawlability? This breadcrumb path is shown in the image below. This breadcrumb immediately shows you where you are. Every part of that path is clickable, all the way back to the homepage.

Breadcrumbs also appear in the search results. If you use Yoast SEO or add the correct form of structured data to your site, search engines can pick up these data and could show your breadcrumbs in the search results, just like in the image below. This provides users an easy-to-understand overview of where the page is on your site.

Breadcrumbs settings
You can find the Breadcrumbs settings by going to your WordPress backend, clicking "Yoast SEO" and then "Settings" in the menu on the left-hand side. You'll be on the Yoast SEO Settings screen. On this screen, click the "Advanced" heading in the menu, and then the "Breadcrumbs" menu item.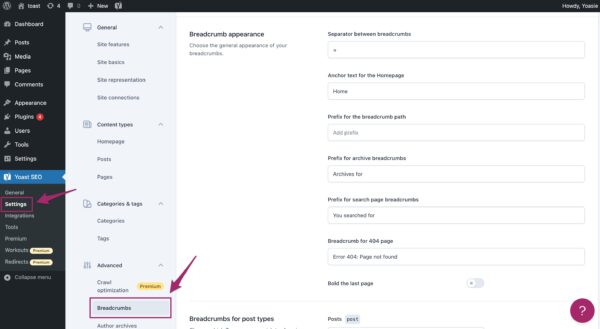 If you want to know more about the other pages in the Yoast SEO settings, you can check out the configuration guide for Yoast SEO.
Breadcrumbs settings
Yoast SEO offers an easy way to add breadcrumbs to your WordPress site. It will add everything necessary to add them not just visible on your site, but get them ready for Google as well. If your theme supports Yoast breadcrumbs, the toggle on the Breadcrumbs settings will already be available. If your theme doesn't support them, you need to copy a small piece of code into your theme.

After you've made sure your theme's ready for Yoast breadcrumbs, you can enable breadcrumbs on this settings page. Then, the rest of the breadcrumbs settings will appear.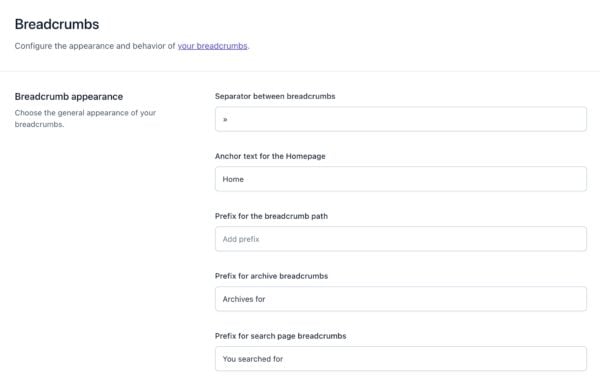 On this settings page, you can determine what your breadcrumbs will look like. For example, you can choose the separator that will appear between your breadcrumbs, you can set what your homepage should be called in the breadcrumb path, and you can determine an anchor text that will show before the homepage breadcrumb.
Breadcrumbs for post types
The next option on this settings page lets you choose which taxonomy will be shown in the breadcrumbs for posts on your website. For example, if you choose to show categories for the content type 'Posts', this means that the breadcrumb path of each post will be Home > Category name > Post name. If the only content types you use on your site are posts, you can only set the taxonomy for posts, but if you use multiple content types that allow breadcrumbs, it is possible to set a different taxonomy for each content type.

Breadcrumbs for taxonomies
The last option lets you choose which content type archive will be shown in the breadcrumbs for your taxonomy pages.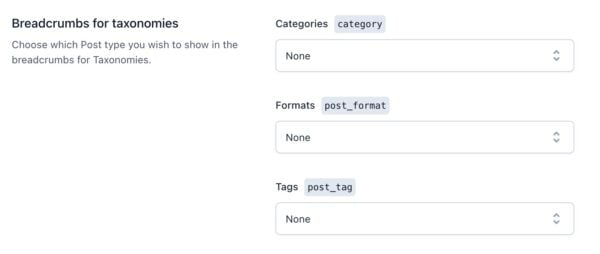 Related articles