Your keyword research is done, and you know what to write about. Nothing is going to stop you from getting all that traffic with your new articles. But when you start writing, you notice it can be hard to keep your text focused. Yoast SEO has a helpful little tool to guide you: the Insights tab. Here, I'll tell you how it works.
What is Yoast SEO Insights?
Yoast SEO Insights is a section in the Readability part of the plugin that contains tools that give you more insights into what you are writing. Currently, the section holds the following information:
Prominent words check (Yoast SEO Premium)
Estimated reading time
Word count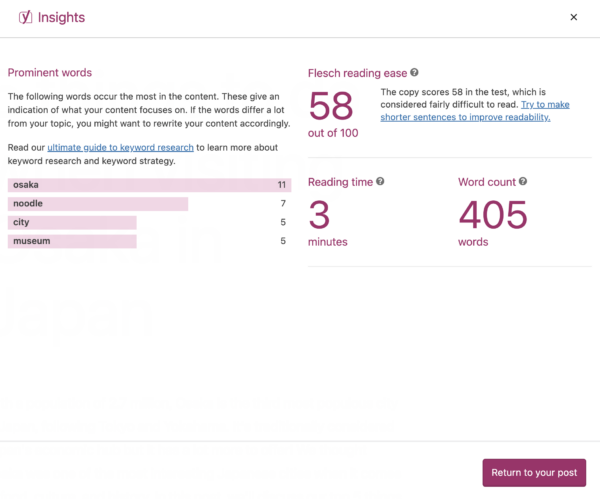 Let's briefly discuss them one by one.
Prominent words check (Yoast SEO Premium)
By checking the prominent words against your intended keyword(s) for a post, you should see if there are any discrepancies. If you write about 'off-page SEO' and the most prominent word in your text is 'on-page SEO' you're probably going in the wrong direction. You can edit your text until it becomes more focused on your main focus keyword and its supporting or related keywords.
What's more, you might find new words in that list that you could use in your content. Great, add them to the page! Or, you could write a new post about them. Prominent words are not tied to the SEO and readability analyses in Yoast SEO. Follow their lead to find out if you've used your focus keyword correctly, and use the prominent words feature to check if your page is on topic.
Internal linking uses the prominent words
The prominent words feature is a great tool to help you focus your text. In addition, the prominent words also serve another purpose. We use them to determine which articles to suggest to you in the internal linking tool.
The internal linking tool is a feature in Yoast SEO Premium that suggests relevant pages on your site you can link to. By linking your posts and pages together, you help visitors navigate your site, and you improve your site's structure. Search engines can also find and understand your content better with internal links. With this tool, you don't have to do the hard work of looking for pages to link to yourself because we do it for you!
Buy Yoast SEO Premium now!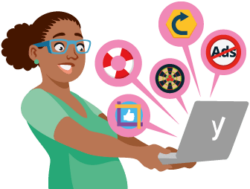 Unlock the prominent words check and other powerful features for your WordPress site with the Yoast SEO Premium plugin! You'll also get access to all the Yoast SEO academy courses, and much more!
Read more: SEO copywriting: the ultimate guide »
The Flesch reading ease score
The Flesch reading ease score determines how easy to read your content is. It does that based on the length of your sentences and the number of syllables per word.
But why do you need this score? Well, because it's important to keep your content easy to read. If visitors to your site find it hard to understand your writing, they may get frustrated, misunderstand your message, and leave your site. So, the best thing to do is to ensure that you write in clear, simple language.
To get more fine-tuned information on your word use and know exactly which words people may find difficult, you can use the Word Complexity feature in Yoast SEO Premium! While the Flesch reading ease score gives you an overall score of your content's readability ease, the word complexity feature singles out all the words you could edit!
Estimated reading time
The Insights tab in Yoast SEO also gives you information on how long visitors would take to read your page. Everyone wants quick answers to their questions. That means people look for content that contains the right information, wrapped in a tight, easy-to-digest package. So, if you have pages that take ten minutes to read to get to the gist, people may get annoyed and leave your site.
With the estimated reading time feature, you can ensure that your pages are not getting too long and avoid the risk of losing your readers' attention. And, if you want to manage your reader's expectations, and let them know how long it takes to read the page, use the estimated reading time block in Yoast SEO Premium!
Word count
Similar to the estimated reading time, the word count feature is there to keep you aware of the length of your content. Of course, there is no magic number you need to hit here. It all depends on your audience and the content you are describing. But, in general, it is good to keep all unnecessary information out of the way and stick to the main point. The word count can be very helpful to indicate if you've strayed away from your main point.
Conclusion
As you can see, the Insights tab is packed with valuable features that can assist you in improving your content. Use it, and keep your pages focused, informative, and easy to read!
Become a Yoast SEO pro series
Coming up next!
Event

December 09, 2023

Team Yoast is at Attending, Organizing, Sponsoring WordCamp Ahmedabad 2023! Click through to see who will be there, what we will do, and more!

See where you can find us next »

SEO webinar

12 December 2023

Learn how to start your SEO journey the right way with our free webinar. Get practical tips and answers to all your questions in the live Q&A!

All Yoast SEO webinars »