What is keyword research?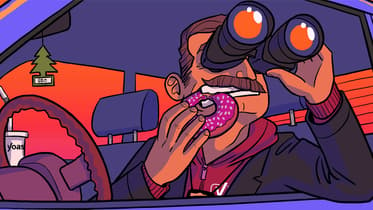 If you have a business nowadays, your website might just have become your lifeline. There's no time to waste: Let's get started with SEO and improve your rankings in Google. Keyword research is an essential first step. Here, you'll find out what it is and which factors you should take into account.
What is keyword research?
Keyword research is all about finding the keywords your audience uses when they're looking for a product or service you offer, and using this information to guide your keyword strategy. Without keyword research, you might find yourself lost in your own lingo and miss out on popular keywords that your target audience are already searching for. Or you could end up competing with industry giants – a battle you may only have a small chance of winning, even with a great strategy.
There are a variety of factors you have to take into account when doing keyword research and setting up your keyword strategy. In this blog post we'll discuss your mission, your audience, and your competition.
If you want to take a deep-dive into keyword research you should start by reading our ultimate guide to keyword research. If you prefer to get started right away, read on below.
Read more: Keyword mistakes: 8 pitfalls you can easily avoid »
Meaningful keywords
We often hear people say: we can't come up with meaningful keywords. Before you do anything, and this is key, you need to know what makes your company unique. Take a step back and look at your business as a whole. You need to have a clear concept of the mission of your company. You need to determine exactly what you have to offer because that's what's going to make you rank.
It's that simple. SEO is just like regular business. If you're doing everything on the same or inferior level as your competition, you're not going to stand out. If you're not the best result, why should people want to find you? Why should Google rank you? It seems simple, but this factor is often forgotten.
What makes your company unique?
If you're struggling to find the right keywords, try asking yourself the following questions:
What do you have to offer?
What is your mission?
What are your core values and strengths?
What makes you stand out from the crowd? Think about the niche aspects of your business you excel at.
You don't have to be better than your competition at absolutely everything, so long as you identify enough points to build a keyword strategy around. For smaller companies, this means that you probably have to be better at the things the bigger fish haven't thought of or aren't actively looking to do.
The role of your audience in your keyword research
Once you've determined what you have to offer, it's time to consider your audience. How does your offering connect with the needs and goals of real people? Ultimately, SEO is all about making sure your users are able to find what they're looking for – but there's much more to it than just choosing the right keywords. Understanding your audience's needs is essential for making great user-centric content, which is an important part of good SEO too. So the first thing you have to do is find out which words your potential audience uses to find the information they're looking for.
Let's look at an example. At Yoast, we call our SEO training courses platform "Yoast SEO academy." So at first, it might seem logical for us to optimize for the keyword [Yoast SEO academy]. However, when we analyze traffic data, it turns out that our audience searches for [SEO training] or [SEO courses] way more often. So it makes much more sense to optimize for that term instead.
Every company has its internal vocabulary, which often doesn't match the vocabulary of its audience. Therefore, you should always select your keywords from your audience's perspective. By using the integrated Semrush features in the Yoast SEO plugin, you can find keyword data and suggestions with just a few clicks. You can also try out the Yoast Suggest tool for more ideas.
What about your competition?
Lastly, you simply can't devise a proper keyword research strategy without considering your competition. All too often, websites optimize for terms they have absolutely no chance of ranking for. For instance, keywords with a high search volume can help a website connect with much bigger audiences, but you'll only see positive results if you can rank well. The search terms that deliver the highest traffic are highly competitive, so you need to research your competition and assess the situation.
You could go overboard and make a thorough analysis of all the competitors in your field, and that can certainly be worthwhile. But let's stick to the basics for now. It's actually quite easy to get a general idea of your SEO competition. Just Google some search terms you would like to rank for and see which companies show up and compare them with where your site ranks. How big are the companies you are competing with for those top three rankings? Would your company fit within these results? This is all quite easy to determine using only Google search results.
But be aware! You can't just blindly trust the search results because Google tailors them to your personal search history, which means your site will come up higher for you than for others doing the same search. You can get around this by searching in incognito mode, although there's still a local search component even in that. If this is likely to be a problem for you, consider using a VPN to conceal your location or use Valentin.app to even choose a location yourself!
Go Premium and learn how to do keyword research!
Did you know you get access to all Yoast training courses if you get Yoast SEO Premium? Find out how to do keyword research, optimize your site structure, how to write great copy for SEO, and much more!
Expanding your strategy step-by-step
Big sites can rank for the most general terms. Smaller sites within a very specific niche can do the same. Of course, it's also easier if you're writing in a language that is not spoken all over the world. For most smaller sites that are writing in English, however, the general rule of thumb is this: start with a big set of long tail keywords which have little traffic, but you can rank for more easily. Then, work yourself up to the rankings step-by-step. Once you've gained some SEO authority, start optimizing for more general keywords. And in the end, maybe you will even be able to rank for your head keywords!
Read more: Keyword research: the ultimate guide »
Coming up next!
Event

December 09, 2023

Team Yoast is at Attending, Organizing, Sponsoring WordCamp Ahmedabad 2023! Click through to see who will be there, what we will do, and more!

See where you can find us next »

SEO webinar

12 December 2023

Learn how to start your SEO journey the right way with our free webinar. Get practical tips and answers to all your questions in the live Q&A!

All Yoast SEO webinars »