If you're a user of Yoast SEO for WordPress or Shopify, then you're probably familiar with the colored bullets (or dots, or even 'traffic lights') in our plugin. Two parts of Yoast SEO use this system: the content analysis and the readability analysis. The first checks whether your post or product pages are SEO-proof, while the latter checks if they're readable for a general audience. Of course, these two are interconnected, as readable content is incredibly important if you want your site to do well in the search results. Here, we'll show you how to use the readability analysis.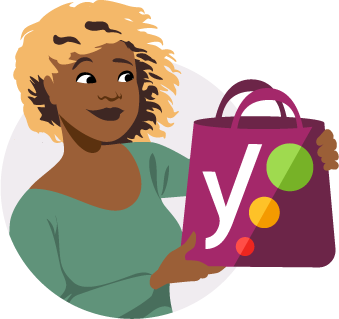 Out now: Yoast SEO for Shopify!
We've officially released our new Yoast SEO for Shopify app! So now you can enjoy the benefits of Yoast SEO on your Shopify store too. Read more about our Shopify app on yoast.com, or go straight to the Shopify app store and start your free trial of Yoast SEO for Shopify!
What does the readability analysis in Yoast SEO do?
The readability analysis in Yoast SEO uses an algorithm to determine how readable your text is. We've carefully crafted this algorithm to make it as accurate as possible without being too strict. It features several checks that will give you advice when you write your page. In other words, by following this advice, you can make your text easier to read and understand.
It has been said that Yoast SEO suggests to dumb down your writing. Of course, that's not the case. We merely want to help people write content that's easy to understand. Just consider the following quote by content design hero Sarah Richards about making your content as readable for humans as possible:
"You're not dumbing down, you're opening up."
By simplifying content, you're automatically growing your audience, as more people grasp the message of your content. Also, you're not writing your content just for people anymore. Because virtual assistants like Alexa and Siri have to be able to work with it as well. And even Google increasingly uses well-written pieces of content for rich results like featured snippets.
That being said, while the advice in the readability section is not the be-all and end-all advice, it does give you important clues to the perceived difficulty of your text. It is crucial to write with readability in mind, as we think readability ranks!
Current readability checks in Yoast SEO
The current readability checks are available in Yoast SEO:
Supported languages
The readability analysis is available in 20 languages at the moment. Check out the languages Yoast SEO supports for an overview. We're continually working on adding new languages.
How to use the readability analysis in Yoast SEO

You can find the readability analysis in your Yoast sidebar in WordPress and Shopify. In WordPress you can also find the readability checks in the Yoast meta box underneath the post or page you're editing.
It's very easy to use the analysis to improve your content. You can just start writing the article you want to write. The readability score is calculated in real-time, so you can look at it while you write. However, if you want to stay focused, you can also choose not to look at the score while you're writing your first draft. That way you can write without being distracted and make the final tweaks afterward.
The readability score helps you by giving you a green, orange or red bullet per check. If you get an orange or red bullet, just click on the eye icon to find out where improvements can be made. Easy peasy!
Everyone has their own writing and editing process, and this way isn't necessarily how you should use it. You have to gradually find out what works for you. Practice makes perfect!
It's good to note that the word complexity assessment is a premium feature. You'll also notice that it's in beta at the moment. If you're using the free version of Yoast SEO, you'll see this feature being greyed out. Upgrade to Yoast SEO Premium now to unlock this feature!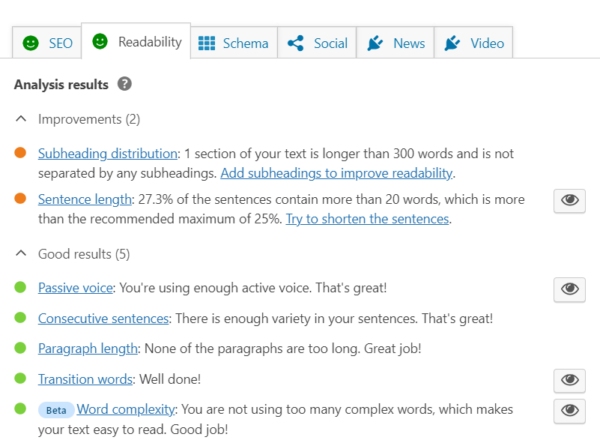 Should all bullets be green?
This is a question we often get and no, not every bullet has to be green. What you should aim for, though, is a green, happy bullet overall – the one in the tab that reads "Readability". Having an orange bullet for one of the checks, like in the screenshot above, is totally fine. Your article will still be able to rank, even if it doesn't pass all of the tests. This is merely an indication, not a necessity.
We want everyone to be able to read and understand content, but we also know that there are industries where the language used is totally different from what most people would use. That's perfectly fine. Find out what works for you. Need help? Please read our ultimate guide to SEO copywriting.
Try it out!
The readability analysis and content analysis of Yoast SEO help you to write excellent, SEO-proof articles and product pages that are easy to grasp for anyone. In doing so, you make sure that every piece of content you write is ready to start ranking in search engines while staying enjoyable for readers. Don't have Yoast SEO yet, or want to take advantage of the awesome additional features our Premium plugins offer? Find out about all the benefits of Yoast SEO for WordPress and Yoast SEO for Shopify!
Read more: How to use Yoast SEO's content analysis tool »
Become a Yoast SEO pro series
Coming up next!
Event

December 09, 2023

Team Yoast is at Attending, Organizing, Sponsoring WordCamp Ahmedabad 2023! Click through to see who will be there, what we will do, and more!

See where you can find us next »

SEO webinar

12 December 2023

Learn how to start your SEO journey the right way with our free webinar. Get practical tips and answers to all your questions in the live Q&A!

All Yoast SEO webinars »