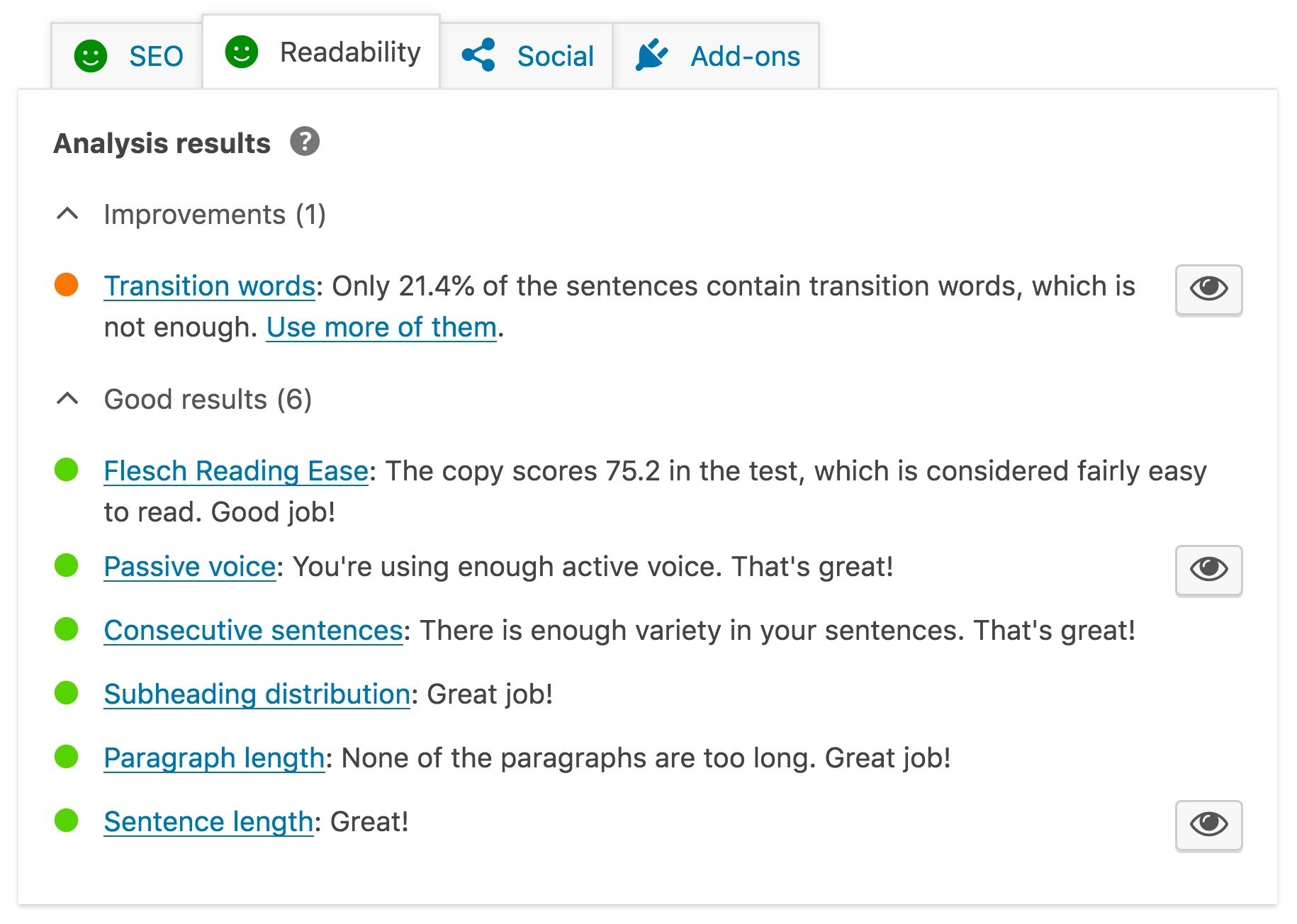 Why are transition words important?
Language is one of the most important tools you have to get your message across to your audience. So you better write clearly! For example, compare these two sentences:
Martina passed the exam with flying colors. She decided to bake a cake.
Martina passed the end exam with flying colors. For this reason, she decided to bake a cake.
Can you spot the difference? In the first example, we are not sure how the two statements are connected. So, we are left to guess if Marina decided to bake a cake because she is a baker, or maybe a friend of hers had a birthday. In contrast, the relationship between the sentences in the second example is crystal clear. The reason is simple. It contains a transition word.
When you don't use transition words, you risk making your texts difficult to understand. Moreover, you compromise the text structure and its readability. Yoast SEO contains a transition words check, that helps improve the clarity of your writing.
Improving your texts with the Yoast SEO transition words check
Transition words make a text understandable, structured, and readable. All of those characteristics are good for your users and SEO.
Write clearly and help people understand your message
Transition words make sure that readers understand the relationship between the ideas you are presenting. It's quite simple. If people can understand your message, they are more likely to buy your product, subscribe to your newsletter, or join your cause.
Structure your texts for readability
A well-structured and readable text clearly shows the relationship between paragraphs. Of course, one way to achieve structure and readability is with the use of transition words. If your users read through your texts smoothly, your SEO will benefit too!
How does the Yoast SEO transition words check work?

Yoast SEO checks if you used enough transition words. Depending on how often you use them, you can get a green, an orange, or a red bullet. The feedback can help you critically assess your text and take steps to improve it by using more transition words.
Still, you might be unsure about what to do. In that case, click on the links provided in the feedback. They will take you to a post on yoast.com where you can read more about how to use transition words in the right way!
Unlock more powerful features in Yoast SEO Premium
Get Yoast SEO Premium and unlock more powerful features like the redirects manager, internal linking, word-forms recognition and gain unlimited access to the Yoast SEO academy courses!