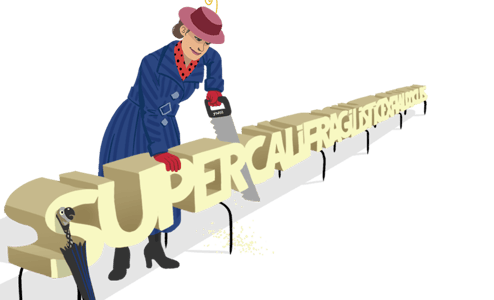 What is the Flesch reading ease score in Yoast SEO?
With the test, Yoast SEO assesses your content's readability, and it gives you a score between 0-100. Knowing how your writing scores on the reading ease test is a powerful insight that can help you improve your writing and make your readers happy.
Make your content easy to read!
Engage your readers and get them to stay on your page
Write readable texts tailored to your audience's needs
Beat the competition and rank higher
Why do I need a Flesch reading ease score?
Great content is one that you tailor to the needs of the audience. You may know this and still experience some obstacles. For example, you write a post with your audience in mind. In your head, it sounds great. Only, later you find out that your readers had trouble reading or understanding it. It happens to the best of us. That is why it is good to have the guidance of tools, such as Yoast SEO, to help you write the best content for your audience.
Reading ease gets a bad name among some copywriters. The belief is that if you keep your content easy to read, that means that you've compromised your writer's integrity and dumbed down your text. But both skilled and unskilled readers can benefit from clearly written posts and pages in plain language. The simpler your language is, the higher the chance you will get your message across.
Unlock more powerful features in Yoast SEO Premium
Get Yoast SEO Premium and unlock more powerful features like the redirects manager, internal linking, word-forms recognition and gain unlimited access to the Yoast SEO academy courses!
Your audience will get content tailored to their needs
Different audiences have different needs. Are you targeting a wide, international audience? With the Flesch reading ease score, you can tell if your content is too difficult to read and make some edits. What if you are a scientist writing for fellow scientists? In that case, it may be less important to get a very high Flesch reading ease score. Still, if the score indicates that your content is challenging to read, it may be a sign that you need to make some adjustments.
Your bounce rates will reduce because your readers will stay on your pages longer
Easy-to-read pages keep readers engaged. That reduces the risk that they will leave your page and search for a better-written one. Think about it. At some point, you have landed on an unreadable page. Did you power through and stick to read everything to the end? You probably just left it and went to search for something better. There is fierce competition out there. You need to be better than your competitors to rank and stay on top of the ranks.
Search engines might reward you with increased rankings
Although a good Flesch reading ease score will not directly give you higher rankings, it can still have a positive indirect effect on them. If people like your content, they may explore your website and search for more articles to read. They may even come back and make you their preferred source whenever they need some information. And, if they really like your posts or pages, they may share them. These are all behavior signs that give search engines a clue that you are offering people what they need, so you should get better rankings.
How does it work?
You can find the Flesch reading ease in the Insight tab within Yoast SEO. The feedback also contains links to resources where you can read more about the score and what you can do to improve it.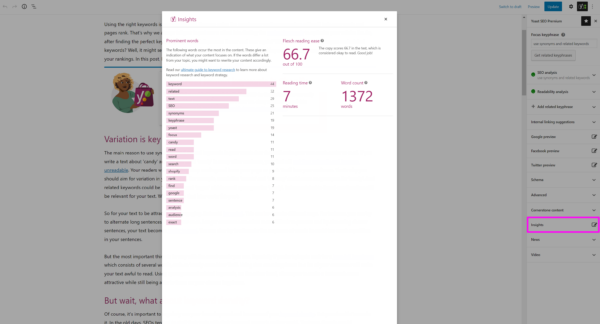 ---
Let Yoast SEO help you win the search rankings
Discover all the features of the Yoast SEO for WordPress plugin.