How to use the Yoast SEO internal linking tool
The Yoast SEO plugin comes with an internal linking tool for WordPress. This is a feature in Yoast SEO Premium that allows you to work on your internal linking structure. Internal linking is one of the most important ways to optimize your pages. Internal links contribute to a better site structure, easier crawling, and indexing of your pages. In this article, we'll explain how to use the Yoast SEO internal linking tool.
Related articles
How to get started with the internal linking tool
Before the internal linking tool can get to work, Yoast SEO Premium needs to scan your content in WordPress. The plugin needs to determine what your posts are about, and it does that by scanning your content. We would like you to help us a bit here, by starting that process for us in the settings of Yoast SEO.
Log in to your WordPress website.

When you're logged in, you will be in your 'Dashboard'.

Go to 'SEO'.

On the left-hand side, you will see a menu. In that menu, click on 'SEO'.

Click on 'Tools'.

The 'SEO' settings will expand providing you with additional options. Click on 'Tools'.

Click 'Start SEO data optimization'.

The plugin will perform a series of analyses, including ones that are on your internal linking structure. Read more about the SEO data analysis here.

A few things to remember:
You only have to analyze your content this once.
It may take some time if you have a lot of content.
Keep the browser window open while the analysis is running.
Once complete, you should see a green checkmark.

Where to find the internal linking tool
Now that we have analyzed your content, we can give you internal linking suggestions. The internal linking tool for WordPress is located in the Yoast sidebar of your page and post editor (see image below).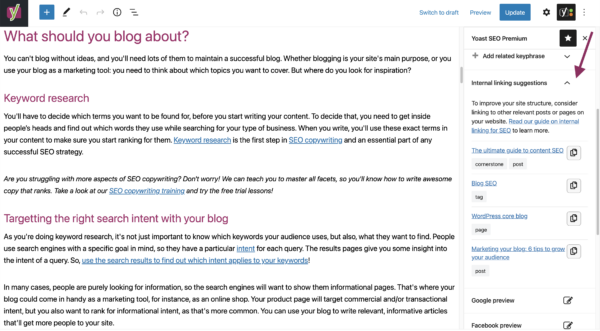 Since Yoast SEO 14.7, you'll find five suggestions for links, including posts, pages, tags, or categories. The suggestions all carry a label to distinguish them from each other easily. For example, the image below shows three links to posts and one link to a category archive page. Cornerstone articles will be displayed above the other suggestions, so you won't forget to link to them!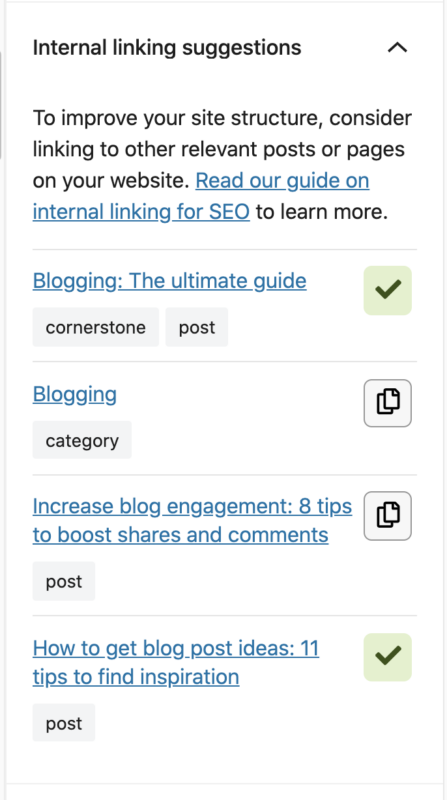 How to add internal links in WordPress
In the internal linking tool, we use two icons:
A copy/paste icon. Click that icon, and we'll add the link to your clipboard.
A checkmark for all the posts you have already linked to in your article.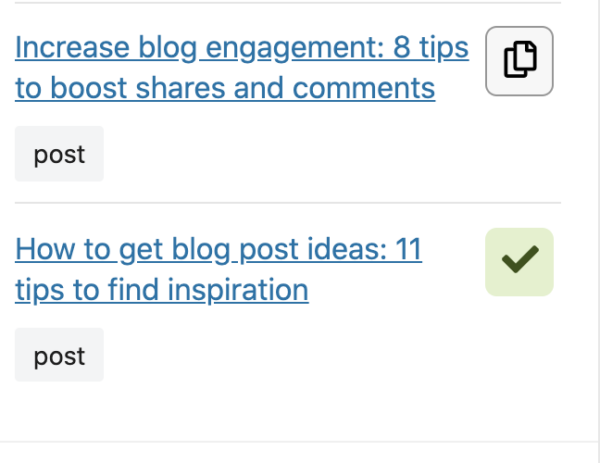 There is also a drag-and-drop functionality in there as well, which makes internal linking even easier. Simply click a link and hold your mouse button. Move to the spot where you want the link and release the button. Done! With this drag-and-drop option, you can create a related post block on the fly, just to name one of the possibilities.
Oh, and just so there's no confusion: the internal linking tool is indeed a feature of our Premium plugin. It's one of those extra features of our Yoast SEO Premium plugin that make it worth your while.
The Yoast internal linking blocks
With Yoast SEO Premium, you can also easily add lists of internal links to your posts and pages. You can read more about how to use these blocks by clicking on the links:
Related articles