Why you should use a focus keyphrase only once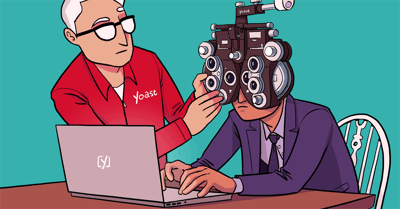 Your focus keyphrase is the keyword(s) you want your post or page to rank for. If you're particularly eager to rank for a specific keyword, you'll probably be tempted to optimize many articles on your site for that keyphrase. But, that's not what a focus keyphrase is for! You should only ever use a focus keyphrase once. But why? And what do you do if you desperately want to rank for that one particular keyphrase? Don't despair: I'll tell you all about it in this post.
Having an orange or red bullet for the previously used keyphrase check in Yoast SEO? Here's what this check does and how to turn that bullet green.
Don't compete with your own articles
The main reason why you shouldn't use your focus keyphrase more than once is that you don't want to compete with yourself for a position in Google. This phenomenon is called keyword cannibilization. If you optimize two different articles for the same focus keyphrase, you're telling Google that both are suitable for people searching for that keyword, and you want both of them to appear in the search results. While that's not necessarily impossible to do, you'll find it very hard.
You need to have a site with quite a lot of authority to rank two articles in the top ten search results for the same query. If one of your articles already ranks with that term in the search results, you may have enough authority to try and rank with a second one. If you're not already ranking for a focus keyword, never use it twice! Update and improve your original article and write another post that covers a slight variation of the keyword.
Ranking for your desired keyphrase
What do you do if you want to rank for that particular keyphrase you've set your heart on? Imagine you're starting an online store for horse feed. You probably want to rank for [horse feed], but as you're just starting, that'll be pretty hard. Optimizing all of your posts for [horse feed] is not the right strategy. So what should you do? Your keyword research will give you some ideas about which other terms to target.
Content for your blog
If you have a blog – which we'd advise! – you could write an awesome, long cornerstone article about all different aspects of feeding your horse well and optimize it for the term [feeding your horse] using our Yoast SEO plugin. Then mark this article as cornerstone content in our plugin.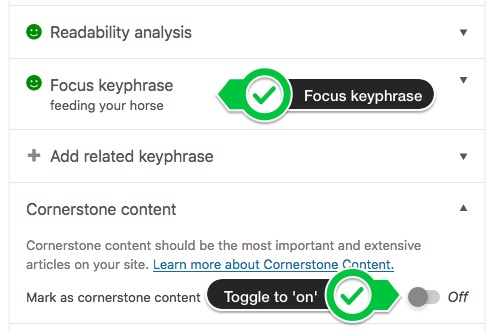 You'll need to write a lot of posts, each covering a different aspect of your 'head' term. For instance, you could write articles and optimize them for focus keyphrases like [best type of hay for your horse], [pasture management], [feeding thin horses], [feeding sport horses] and so on. These focus keywords are called long tail keywords. If you link from these long tail articles to your 'head term' article, you'll be telling Google which of your articles is the most important, and that'll help with the ranking of your most valuable article. At the same time, you'll also be attracting traffic for those long tail articles.
Content for your store
So, what if you have lots of product pages for a type of horse feed? Let's say you have a big assortment: feeds for thin horses, feeds for fat horses, feeds for sport horses etc. Should you optimize all your product pages with feeds for thin horses for [feeds for thin horses]? In this case, it makes more sense to optimize your category page for this term instead of all those individual product pages!
Can you use a focus keyphrase more than once?
Ranking for a focus keyphrase is possible if you write an awesome cornerstone article about that particular focus keyphrase. And, don't forget you'll need a kickass site structure around it to make sure that the article will start ranking! But, unless you're a high authority site and already ranking well for a particular keyphrase, you should never use a focus keyphrase more than once.
What does the previously used focus keyphrase check in Yoast SEO do?
One of the assessments of the SEO analysis in the Yoast SEO plugin is the previously used focus keyphrase check. This assessment checks if the words from the keyphrase were previously used in a keyphrase for other posts or pages on your site. If you've used it for another post or page you'll get a red bullet as you should optimize only one page for one keyphrase.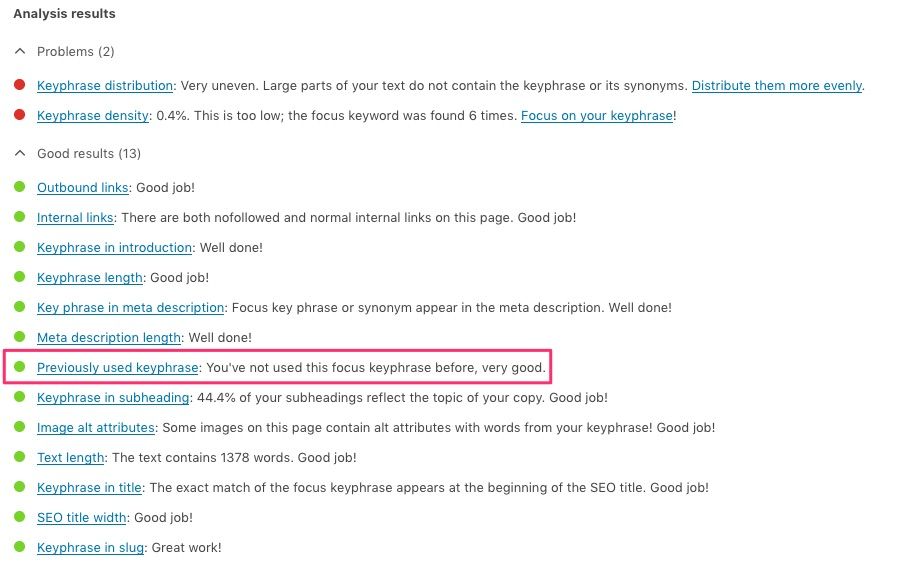 If you want to optimize your posts for synonyms and related keyphrases, use Yoast SEO Premium! You can add multiple keyphrases, so you can optimize your articles for different terms.
What to do if you already used your keyphrase more than once?
If you just found out you're aiming the same keyword or keyphrase with multiple articles, it might pay off to audit your content to find possible cannibalization issues. Fortunately, Joost has written a step-by-step guide on how to find and fix keyword cannibalism on your website!
Want to learn how to choose your focus keyphrase well?
A solid keyword strategy is indispensable if you're aiming for your website to rank high. You should investigate which keywords you'd like to rank for, research what the competition is doing and write excellent copy about your focus keywords at the very least. If you want to learn how to thoroughly perform keyword research for your website, read our Ultimate guide to keyword research, or try our Keyword research training that's one of the many courses that you'll get access to with Yoast SEO Premium.
Go Premium and get access to our SEO courses!
Unlock lots of features and get access to all of our SEO courses with the Yoast SEO Premium plugin:
Read more: Why and how to export your focus keyphrases with Yoast SEO Premium »