What has changed in News SEO?
At Yoast, we want to make optimizing your website and content as easy as possible for you. That's why, in News SEO 12.7, we decided to make a couple of big changes. Let's find out what changed and how this helps you with optimizing your news content!
Sidebar integration
We've integrated Yoast News SEO into the block editor and Elementor sidebar. This makes it a lot easier to use News SEO while writing and editing your content, as you no longer have to scroll down to find the News SEO meta box!
If you run Yoast News SEO, you'll now see a collapsible item called 'News' in the Yoast SEO sidebar. This will show the optimization areas you're used to, nicely arranged next to your post. You can edit the Yoast News SEO settings all from the sidebar. This will give you a convenient overview while working on your content!
Updated settings and improved user experience
In addition to that, we've improved the user experience of the News SEO settings. For example, we've merged the 'Exclude from News sitemap' and 'Googleblot-News index' settings into one setting, called 'Exclude this post from Google News'. This new setting will make sure your article is set to noindex and removed from the News XML sitemap. Also, we've removed the genre settings, as the genre is no longer relevant for News XML sitemaps.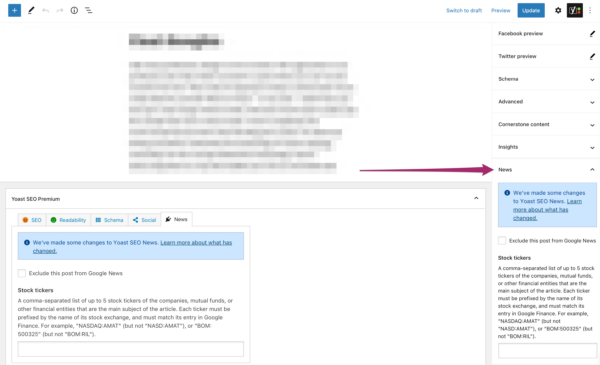 Want to learn how to optimize your News SEO website?
We have a great article that might help you. Read: News SEO: How to optimize your news site.
Related articles