Schema options in News SEO
Just like the Yoast SEO plugin, the News SEO for WordPress plugin automatically adds Schema.org structured data to your pages. Search engines use structured data to understand your pages better. This allows them to present your pages in an enhanced way. If you have a news site and use News SEO, this means you help search engines discover and understand your news articles. And, if Google understands that your articles are news articles, they might appear in Google News! Awesome, right? This article will guide you through the schema options in the News SEO for WordPress plugin.
Need help setting up your News SEO plugin? Check out the Configuration guide for News SEO.
Where to find the Schema options in News SEO?
Log in to your WordPress site.

You'll be in your Dashboard.

Click Posts, then select one of your posts or add a new one.

You'll be in the post editor.

Open the Yoast SEO sidebar.

Scroll down to the Schema heading and click it to open the Schema settings.

You'll see the Schema settings.

Here, you can select what type of page or content this is.

You can also find the Schema settings in the Schema tab of the Yoast SEO meta box, below the post or page editor.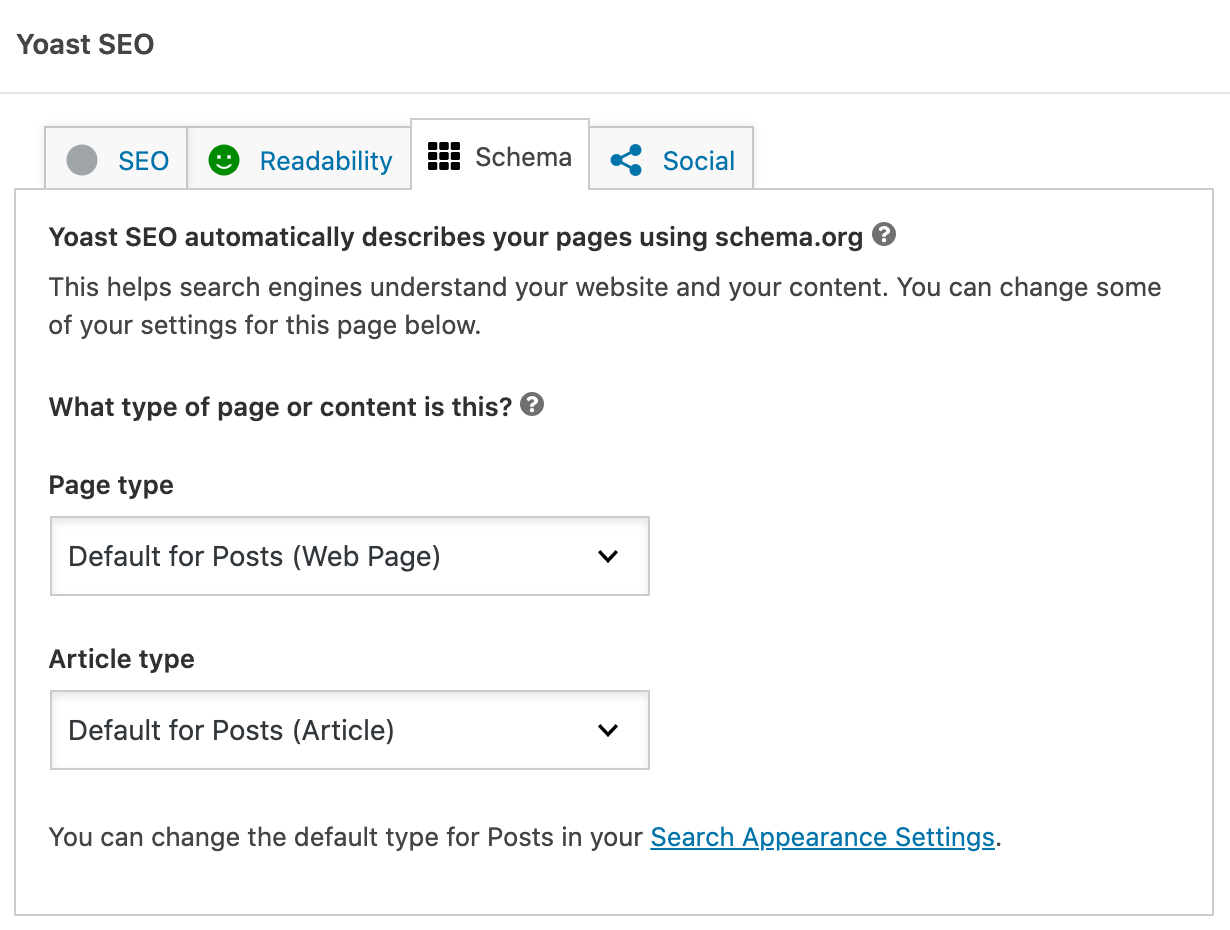 The Schema settings for news articles
In the Schema settings, you can change what type of content your page or article is. If you have the News SEO for WordPress plugin, you'll get additional news-related options to choose from:
| | | |
| --- | --- | --- |
| Option | Schema.org type | Description |
| News article | NewsArticle | An article that reports news or provides background context and supporting materials for understanding news. |
| Analysis article | AnalysisNewsArticle | A news article that, while based on factual reporting, incorporates the expertise of the author offering interpretations and conclusions. |
| Ask The Public article | AskPublicNewsArticle | A news article expressing an open call asking for input, insights, clarifications, anecdotes, documentation, etc., on an issue, for reporting purposes. |
| Background article | BackgroundNewsArticle | A news article providing historical context, definition, and detail on a specific topic. |
| Opinion article | OpinionNewsArticle | A news article that primarily expresses opinions rather than journalistic reporting of news and events. |
| Reportage article | ReportageNewsArticle | A news article that is the result of journalistic news reporting conventions. |
| Review article | ReviewNewsArticle | A news article and critic review providing a professional critic's assessment of a service, product, performance, or artistic or literary work. |
These news-related options are additional to the standard Schema options in the Yoast SEO plugin.
Setting a default schema type
It's also possible to set a default schema type for your blog posts or pages. To do so, follow the steps described in this article about selecting the Page or Article type in your Schema settings. Here, you'll also find the additional news-related schema options listed above if you have the News SEO plugin for WordPress.
Related articles