Configuration guide for News SEO
The News SEO plugin for Yoast SEO helps you do all the things that allow you to optimize your site for Google News. It creates XML News Sitemaps so Google can pick up on new articles as soon as possible, and it helps you optimize some of the more advanced XML News sitemap options like stock tickers.
While this plugin won't submit your site to Google News for you, it will help you optimize your site to appear as often and in the best way possible in Google News and in the universal search results.
How to configure News SEO
To set up News SEO, go to the admin dashboard of your website and click SEO -> News SEO.
Log in to your WordPress website.

When you're logged in, you will be in your 'Dashboard'.

Click on 'SEO'.

On the left-hand side, you will see a menu. In that menu, click on 'SEO'.

Click on 'News SEO'.

The 'SEO' settings will expand providing you additional options. Click on 'News SEO'.

You will see the following settings.

We'll go through these settings one-by-one.

Google News publication name
This is the name that appears when your news items are featured in Google News. This must match the name exactly as it appears in news.google.com.
Genre is no longer relevant for news XML sitemaps. Therefore, we removed this feature in Yoast SEO: News 12.7.
Post types to include in news sitemap
News SEO will list all post types you have on your website, so you can pick which ones should be included in the News Sitemap. You should only pick the post types that actually contain your news.

Post tags and categories to exclude
News SEO will list all the post tags and categories you have on your website. When you select a tag or category, any post types that have that will not appear on the news sitemap.
Note: if no post types are selected for inclusion on the sitemap, the "Terms to exclude" settings will not be shown.
Now it's time to save your changes. After saving, you'll see all the categories associated with the post types you selected. You can now choose which categories you want to exclude from the news sitemap.
Using News SEO
Once you set up News SEO, you can start using it for your articles. While writing your article, you can find the News SEO settings in the Yoast SEO sidebar.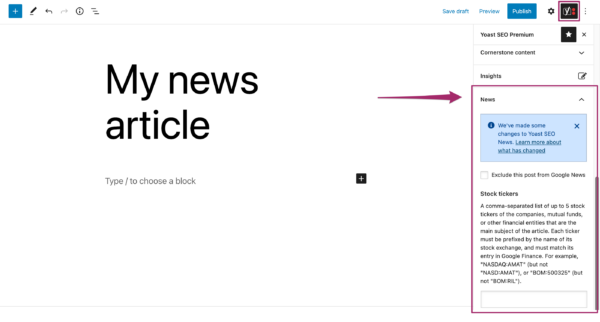 Or, after writing your article, scroll down to the Yoast SEO meta box and click on the plugin icon on the side, and then the Google News tab.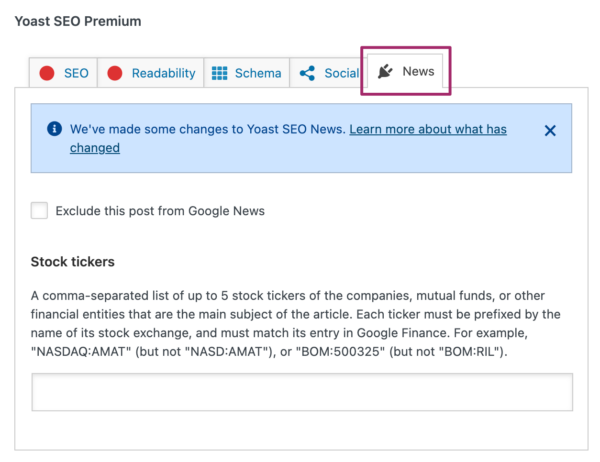 Exclude this post from Google News
You can choose per post if it should be excluded from Google News by marking the Exclude this post from Google News option. This will pull the article off of the sitemap. Selecting this option will make sure your article won't appear in a Google News search. Please note that by selecting this option, it's only expected that it will prevent your article from appearing in Google News. The article is still expected to appear in a regular Google search. Learn more about this feature here.
Stock tickers
Stock tickers are (Google Finance) references to companies that are in a stock market. You should only add a stock ticker if you mention the company in the post and it plays a significant role. Each ticker must be prefixed by the name of its stock exchange, and must match its entry in Google Finance. You can add up to five stock tickers per post.
For example:
| Company | Stock Ticker |
| --- | --- |
| Apple | NASDAQ:AAPL |
| Microsoft | NASDAQ:MSFT |
| Royal Dutch Shell | AMS:RDSA |
Read more: News SEO: How to optimize your news site »
Related articles