Why you should use synonyms and related keywords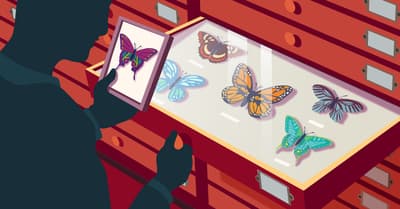 Using the right keywords is essential in SEO. Because using the words your audience searches with will help your posts and pages rank. That's why we always tell you to put some effort into finding the perfect keywords to optimize your articles for. So, after finding the perfect keyword, why shouldn't you use it over and over again? Why would you use synonyms and related keywords? Well, it might seem contradictory, but using synonyms and related keywords the right way will definitely improve your rankings. In this post, I'll explain why.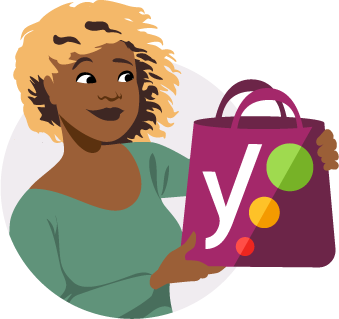 New: Find related keywords in Shopify
We've added our related keywords tool to Yoast SEO for Shopify! Now you can easily discover related keywords for your online store too, along with search trend data powered by Semrush. Read more about this feature and how to use it.
Variation is key
The main reason to use synonyms and related keywords in your text is that they will make your text much easier to read. If you write a text about 'candy' and use the word 'candy' in every other sentence, your text will not flow naturally and become unreadable. Your readers will most likely stop reading and leave your page or post. You'll lose your audience. That's why you should aim for variation in your writing. For example, words like 'sweets' and 'delicacy' could serve as synonyms for 'candy'. And related keywords could be 'chocolate' and 'sugar,' which aren't synonyms for 'candy', but are related to it and can therefore still be relevant for your text. We'll get into that later on in this post.
So for your text to be attractive and engaging, it should be varied. This can be done in different ways. For instance, you can try to alternate long sentences with shorter ones. Longer sentences are often more difficult to process and by also using shorter sentences, your text becomes easier to read. You can also try to alternate the sequence of words to avoid too much repetition in your sentences.
But the most important thing is to vary with the exact words you use. Especially if you're trying to rank for a long-tail keyphrase which consists of several words, such as 'candy store New York'. Using that exact keyphrase in a lot of your sentences will make your text awful to read. Using synonyms and related keywords, on the other hand, allows you to make a text much more attractive while still being able to focus on your chosen keyphrase.
But wait, what about keyword density?
Of course, it's important to regularly use your focus keyword and be aware of your keyword density. But you shouldn't overdo it. In the old days, SEOs tended to stuff their texts with their keyword as much as they could. That way, Google would understand what the text was about and rank it accordingly. But Google has come a long way since then. It can read and understand texts and is on a continuous quest to better this understanding.
I'll give you an example. If you type in 'candy store New York' on Google, the results will show pages about 'candy stores' as well as 'candy shops'. Google understands that 'store' and 'shop' are synonyms, and treats them as such.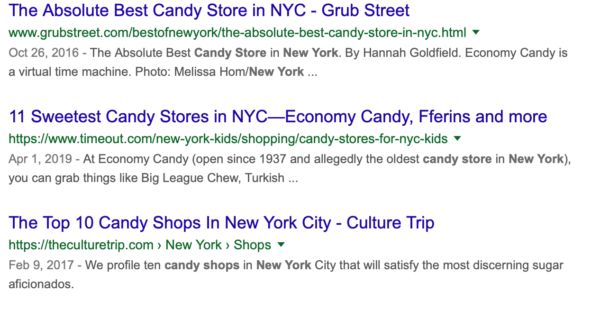 This doesn't take away from the fact that you should still use your focus keyword a few times throughout your post. After all, the focus keyword is still the word or phrase your audience was searching for. These are the words your audience uses and will expect to find in your text. That exact match remains important. But, to avoid using your keyword too many times – also called keyword stuffing – you can use synonyms and related keywords. That way you're able to rank on these keywords while keeping your text attractive and readable.
Find related keyphrases using our Semrush integration
Yoast SEO can help you to find related keyphrases based on your focus keyword, saving you loads of time and hassle. All you need to do is click on the button to 'Get related keyphrases'; you'll find it right underneath your focus keyword in the Yoast sidebar. When you click that button, you'll see a list of related keywords along with search trend data.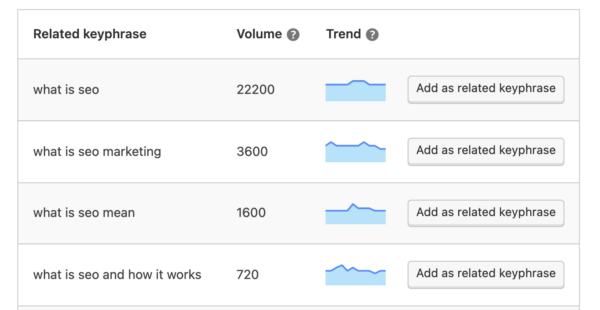 As a Yoast SEO Premium or Yoast SEO for Shopify user, you can add up to five related keyphrases to your SEO analysis. This lets you optimize your text for these additional terms in a similar way to your focus keyphrase. As always, you'll see our familiar feedback bullets to guide you. If you're a Yoast SEO Free user, you can explore related keyphrases using the tool, but you won't be able to add these to your SEO analysis.
Yoast SEO can help you balance the use of your keyword, synonyms, and related keywords by recognizing word forms in different languages. If you want to know more, you can read about the related keywords feature in Yoast SEO for WordPress and the related keywords featured in Yoast SEO for Shopify.
How often should you use synonyms and related keywords?
The usage of synonyms versus the use of focus keywords is no exact science. The most important criterion is the way readers will experience your text. So, read and re-read it. Is it engaging and easy to read? Or are you getting annoyed by the constant use of a certain term? Be critical of your own writing and ask others for feedback on your text.
As we mentioned earlier, you can add your related keywords to the analysis in Yoast SEO Premium and Yoast SEO for Shopify. By adding these, the plugin is able to check whether you're using them in your text. Your focus keyword remains the most important keyword though, and that's why the plugin is less strict in its analysis of your related keyphrases.


You'll also be able to add synonyms of your focus keyword and related keywords when you use our Premium SEO analysis or Yoast SEO for Shopify. These analyses include checks to make sure you've used these synonyms in your text, but also in your meta description, introduction, subheadings, or image alt text. Moreover, our keyphrase distribution check will reward you for alternately using your keyphrase and its synonyms throughout your text.


Make those related keyphrases and synonyms work for you
As I said earlier, Google has come a long way since the early days of SEO. It's now able to understand texts and take related concepts and synonyms into account. It can also recognize related entities. All this to be able to serve its users the best result. And part of being the best result, is making sure your texts are easy to read. Google wants to serve readable texts.
So make sure you deliver! Think of synonyms for your keyword or keyphrase and use them to your advantage. Take a moment to come up with a few alternatives for your keyword. But also think of topics that are strongly related to your keyword. You'll notice that it becomes much easier to write a naturally flowing text when you don't have to use your focus keyword in every other sentence. And the use of synonyms and related keyphrases helps Google understand the context of your text which increases your chances to rank!
Conclusion
Focus keywords remain essential. These are the words your audience is searching for. People searching for 'candy' will probably not click on a result with 'delicacy' in the text. If you search for 'candy', you'll expect to see the exact word in the search results. So, exactly matching the keywords of your audience remains essential.
That being said, you can use synonyms and related concepts to write a readable text. Repeating the same keyword over and over again hurts the readability of your text, especially if you're optimizing for a long-tail keyword. Furthermore, using synonyms and related keywords may create ranking opportunities you'd otherwise have missed. If you need help with that, Yoast SEO Premium and Yoast SEO for Shopify offer extra features to make sure your content is both readable and rankable.
Read more: Does readability rank? On ease of reading and SEO »
Coming up next!
Event

December 09, 2023

Team Yoast is at Attending, Organizing, Sponsoring WordCamp Ahmedabad 2023! Click through to see who will be there, what we will do, and more!

See where you can find us next »

SEO webinar

12 December 2023

Learn how to start your SEO journey the right way with our free webinar. Get practical tips and answers to all your questions in the live Q&A!

All Yoast SEO webinars »