SEO workouts
Get your site into shape by working on your SEO regularly with SEO workouts
A feature of the Yoast SEO Premium plugin for WordPress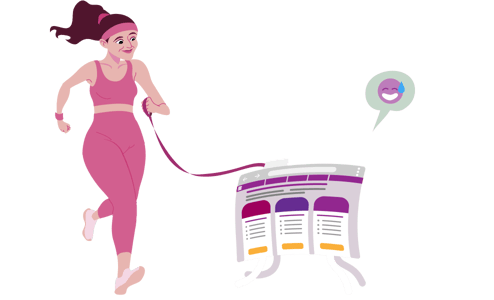 What are the SEO workouts?
SEO is hard work. And it can be quite overwhelming at times too. How do you know that your website is in optimal shape? The brand-new SEO workouts in the Yoast SEO plugin help you keep your site fit!
Keep your site in top-notch shape to improve your rankings
Go through the SEO workout flow right in Yoast SEO
Find SEO hard? Not with these workouts!
Improve your content frequently to rank higher
Unlock SEO workouts in Yoast SEO Premium
Get this feature and much more for your WordPress site with the Yoast SEO Premium plugin!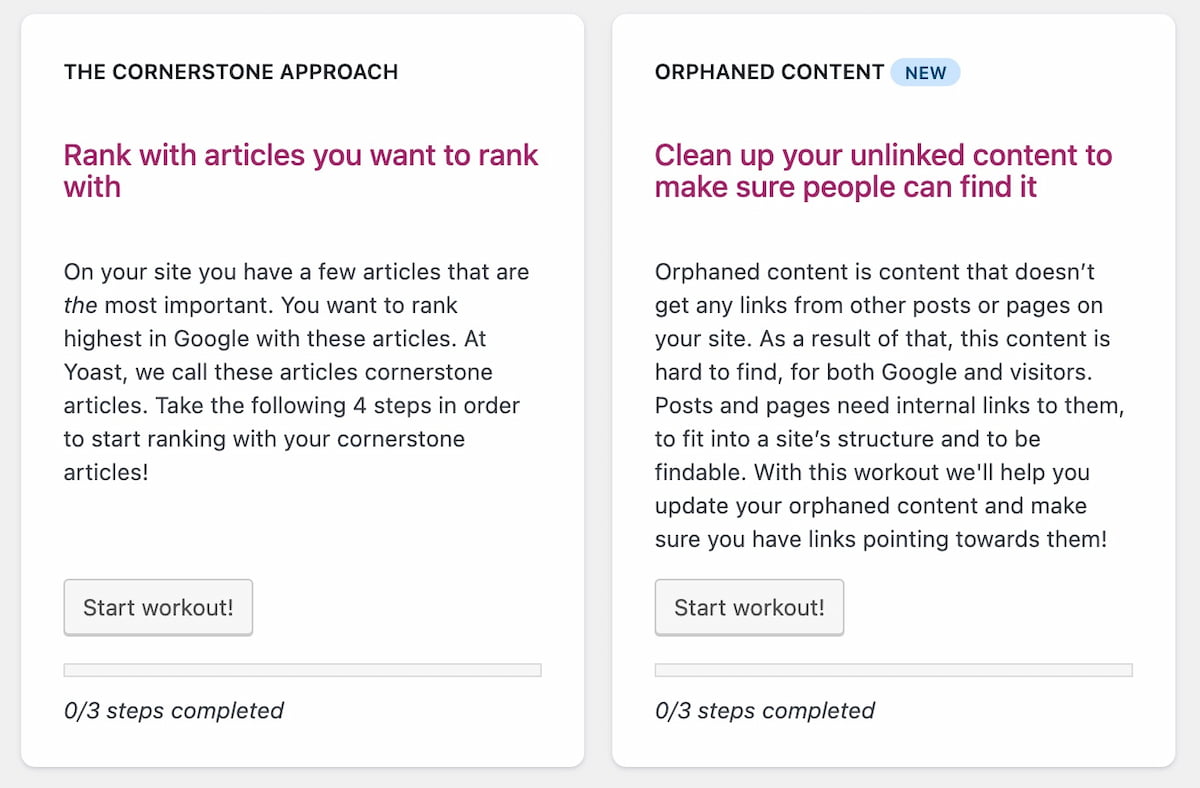 What are SEO workouts?
SEO is an ongoing, time-consuming process. It requires regular time and effort to keep your site in tiptop shape. It's just like becoming fit yourself: one workout won't do the trick, it's the consistency in your routine that pays off!
To help you structure your SEO routine, Yoast SEO Premium now comes with two SEO workouts. These step-by-step workouts will take you by the hand to help you build your website's SEO fitness.
SEO workout #1: Rank with the content you want to rank with
You can't control everything Google does, but there is a way to improve its ranking of the right article for the right keywords and search intent: great internal linking. Getting your internal links (back) in shape is essential — it helps you rank with the content you want to rank.
In this 3 step SEO workout, you'll work on your most important content: your cornerstones. You'll learn how to find out where your cornerstones are, how many links they have, and where to add links pointing to the cornerstone. This workout will help you rank with your best content!
You can use this SEO workout to…
Choose your cornerstone content
Which articles do you want to rank highest? Which articles are these most complete, the best explainers, and the most important? Check out your own website and choose the pages and posts you want to be your cornerstone articles!
Improve your internal linking structure
We will suggest several ways of improving your internal linking structure to reinforce your cornerstone content. This way you'll make it clear for visitors and search engines what the most important articles on your website are. After all, if it's the most important content, users should be able to reach it easily!
SEO workout #2: Clean up your unlinked content to make sure people can find it!
Content that doesn't get any links from other posts or pages on your site is what we call "orphaned content". As a result, this content is hard to find, for both Google and visitors. Posts and pages need internal links to them, to fit into a site's structure and to be findable. With this workout, we'll help you update your orphaned content and make sure you have links pointing towards them!
You can use this SEO workout to…
Automatically identify content without any links
This workout helps you identify orphaned content and suggests what should be your next move. Improve, delete or hide the content.
Make the orphaned content relevant again
Check if your orphaned articles are still up-to-date and update them if necessary. After updating possible outdated content make sure you add internal links to this article.
How to start working out
It's easy! You can find this feature in the Workouts section in the SEO tab of your menu. From there, choose a workout and start working towards great SEO fitness.
This workout is just the beginning of what's to come. We will keep expanding the SEO fitness workout library with new exercises to help you optimize your website. It's just like a personal trainer, but then for your website. How awesome is that?!
Unlock SEO workouts in Yoast SEO Premium
Get this feature and much more for your WordPress site with the Yoast SEO Premium plugin!
---
Let Yoast SEO help you win the search rankings
Discover all the features of the Yoast SEO for WordPress plugin.