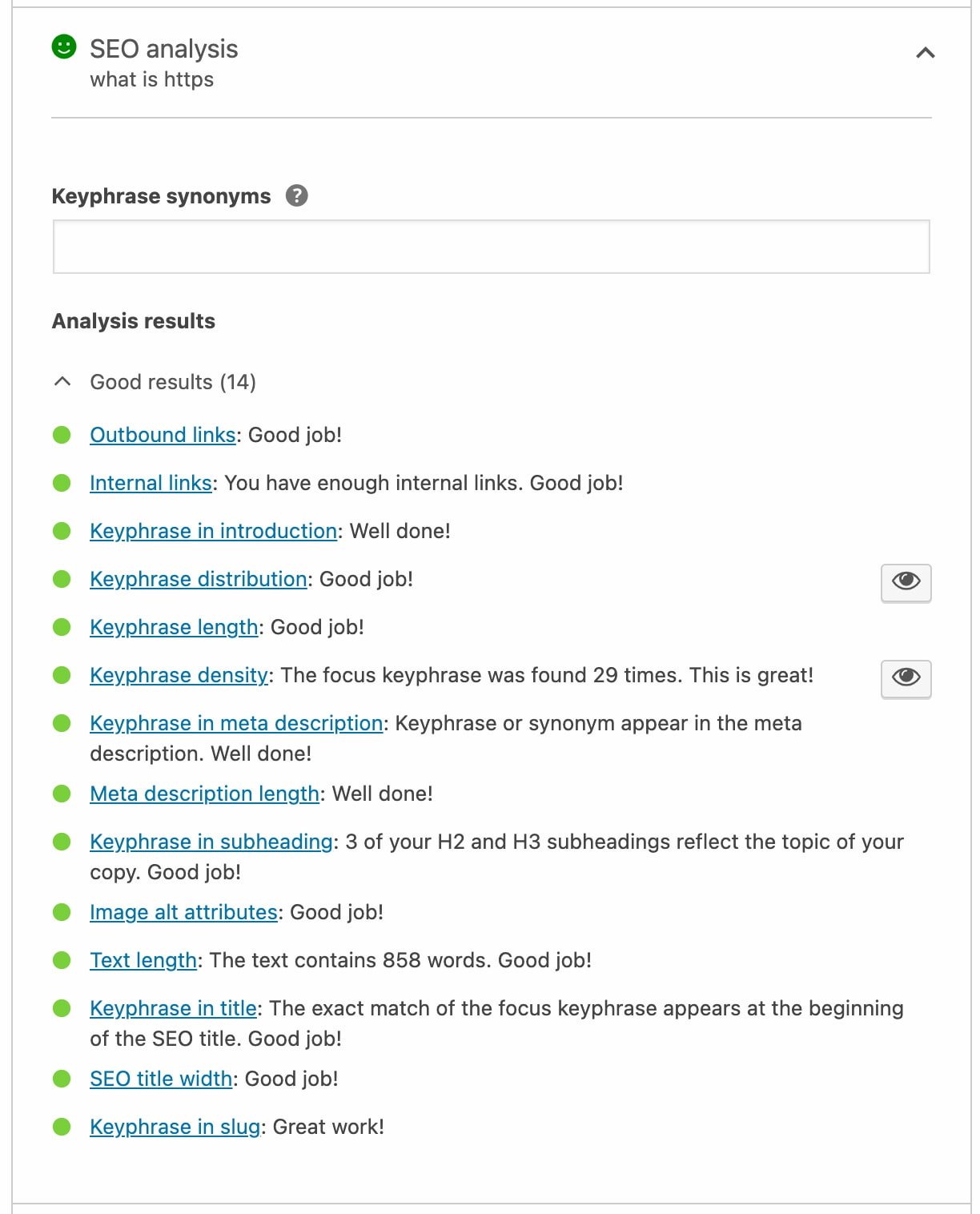 Why do I need to use the SEO analysis in Yoast SEO?
If you are an SEO expert, you might know by heart what you need to do to make a page understandable for search engines and potential visitors. But for most people, SEO is something like a black box where stuff magically happens. With Yoast SEO, we try to open that box for all types of users — from beginners to experts!
The SEO analysis in Yoast SEO uses the focus keyphrase you set to check if you use this phrase in places where it should appear. For instance, this might be the title of your post, the URL, or the meta description. In addition, it also checks if you use the keyphrase enough in your main content and warns you if you overdo it.
There are over fifteen different checks that help you get the insights you need to make the content ready to go. For instance, it checks if you've added internal and external links or if you've added relevant alt text to your images. Plus, it counts the number of words in your article to prevent you from posting thin content — i.e. content without much value to search engines.
This is just the tip of the iceberg!
---
"I think Yoast SEO analysis is an awesome tool that has helped improve my online writing immensely. I can't imagine doing what I love to do without the help of Yoast's SEO analysis. Yes, it's a pain in the behind at times. But at the end of the day, SEO analysis is that omnipresent, yet silent content editor and writing coach we all need. Thank you Yoast for building such an outstanding product."

Rod Thomas, Lake Forest, USA
---
Based on solid research and years of experience
Yoast SEO is a tool built by SEO experts with years of experience in the industry. Our team regularly conducts research to assess if everything we do in Yoast SEO is still relevant and useful. We also listen to feedback from our users and often sit down with representatives from search engines to discuss upcoming changes or developments.
Yoast SEO analyses work in real-time
All of the analyses in Yoast SEO work in real-time. Simply start writing, filling in the metadata, adding images and links and you'll notice the checks do their work. Haven't mentioned your keyphrase enough? You'll get a red or orange bullet that automatically turns green once you meet a certain threshold. Repeat your keyphrase too many times and you'll notice it turn orange or red once again.
The SEO analysis uses your keyphrase as input
By entering a focus keyphrase — the term you want this post to rank for —, you'll activate most of the checks. Some work without it, like the text length and internal links checks. The keyphrase-based checks help you to find out if the text aligns with your keyphrase — have you used it enough in the right spots? Also, we check if you use the terms or their synonyms and related keyphrases — if you have Yoast SEO Premium — throughout the text and not just at the beginning.
Yoast SEO Premium adds even more features
With Yoast SEO Premium you get an extra thorough analysis. Yoast SEO Premium has an advanced analysis that recognizes all the word forms of your focus keyphrase. Word forms are grammatical forms of your keyphrase. For instance, if your focus keyphrase is [cats], the singular form [cat] would also be recognized. This also works for checks in the SEO analysis, like the meta description, the title, slug and subheadings. What's more, Yoast SEO Premium also works with synonyms and related keyphrases. This means you can have the SEO analysis check your post on how well you diversified you made your content!
These are the checks in the SEO analysis
This page collects all the Yoast SEO assessments. From here, you can navigate to the individual assessments to learn more about what the check does, the specific feedback you receive and how you can improve your work.
The assessments are divided into three categories:
Keyphrase-based assessments
Other SEO assessments
Readability assessments
In addition, we have a glossary that explains the most important terms regarding the content analysis.
Keyphrase-based assessments
Other SEO assessments
Readability assessments
The SEO analysis is a free feature
The SEO analysis has always been — and will always be — a free feature of Yoast SEO. You can find the SEO analysis in the WordPress post editor!
Get the Premium analysis!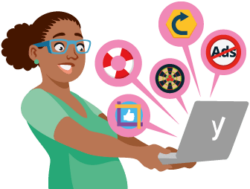 Yoast SEO Premium comes with an expanded and smarter SEO analysis.