Schema integrations
Yoast is partnering up with experts in their fields to give you the best possible Schema outcomes!
Available in Yoast SEO Free and Yoast SEO Premium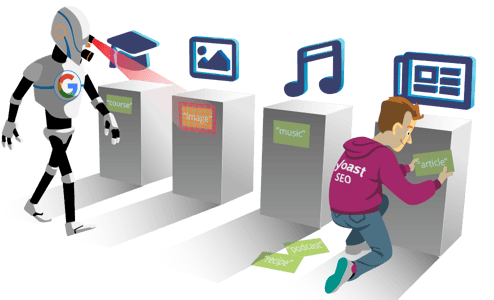 What are Schema integrations?
Get rich results for more types of content, like for example, recipes, events, podcasts, and products. Through the Schema API of Yoast, third-party developers can now directly integrate their post types to the super-high quality Schema graph that Yoast SEO generates.
Expand your Schema graph
Yoast gives third-party developers access to its powerful Schema API
Let experts in their own fields excel at what they do best
You, as a user, gets to have the best of both worlds/plugins

Buy Yoast SEO Premium now!
Upgrade your SEO-game today and buy Yoast SEO Premium for your WordPress site!
Expanding the Schema on your site
Yoast SEO outputs a Schema graph, which makes your site easier to understand by search engines like Google. That Schema is the basic output you need, for most pages. You will have things on those pages that would ideally also be in your page's Schema graph. For instance, you might have a website with recipes. Then every recipe post, with just Yoast SEO, would be an Article, with an author, and that's it. Yoast SEO would output a lovely Schema graph, despite its high quality, it is still missing that recipe. That should be in the Schema graph too.
How can you achieve this, easily?
We partner with companies that make other plugins, as the true community players we are. We give them our powerful Schema API, to add their Schema to ours. So, for instance, if someone writes a recipe with WP Recipe Maker, that plugin integrates with our Schema API and ensures the recipe output is added to the Schema graph we create, and ties in correctly.
Wait, there is more!
We have integrations like this for recipes, podcasts (with Seriously Simple Podcasting), events (with The Events Calendar), and products (through our WooCommerce SEO plugin).
Integrate your plugin with Yoast SEO
Are you building WordPress plugins and willing to help our 13 million users out by expanding their Schema ouput? Request access to our Schema API to tie your content to Yoast SEO's Schema graph properly. Please get in touch with our Partnerships team, and we'll discuss the next steps to get your integration set up and featured on Yoast SEO's brand-new integrations page, on both Yoast.com and inside the most used SEO plugin of the world.
Buy Yoast SEO Premium now!
Upgrade your SEO-game today and buy Yoast SEO Premium for your WordPress site!
---
Let Yoast SEO help you win the search rankings
Discover all the features of the Yoast SEO for WordPress plugin.