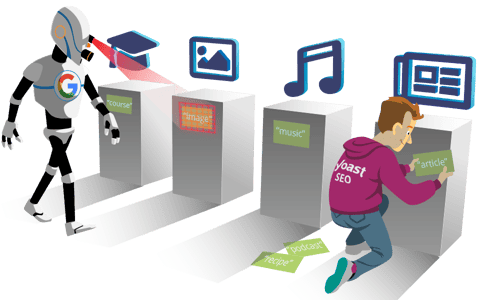 What does the Schema tab in Yoast SEO do?
Schema helps describe your content for search engines. By adding it, you are helping search engines make sense of your content. Yoast SEO automatically generates a lot of structured data for your site, but you can also change the settings by hand. This helps you make more granular decisions about your Schema and your content. You can change these settings in the Schema tab in the meta box or in the block editor sidebar.
Increase your chance to get rich results
Simply select the type of content for a page
Sensible defaults, but feel free to edit
Supports over 20 content types
Yoast SEO makes all the right connections for you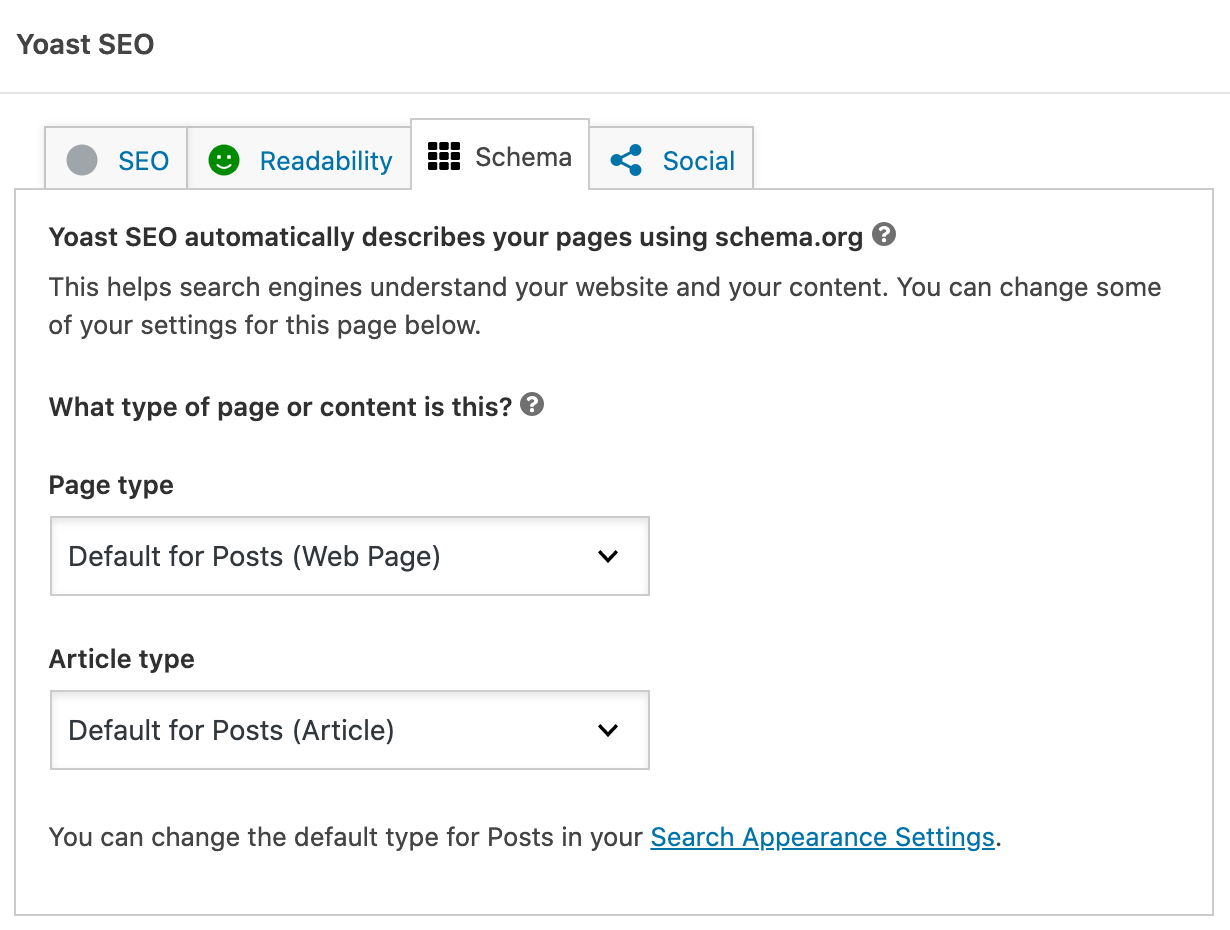 ---
Unlock additional features in Yoast SEO Premium
Get much more for your WordPress site with the Yoast SEO Premium plugin!
---
Why do I need to change the Schema for a page?
The default settings in Yoast SEO work for almost any page, but there are times when you'd like to be a little more specific about your content. While a search engine can figure out a contact page is a contact page by reading the contents, it helps to set that in stone so there can be no misunderstanding. This is what you can do in the Yoast SEO Schema tab: specify specific content types. Now, you can describe your contact page as being just that: a contact page, or in Schema language a ContactPage!
This is just one of the many, many possibilities the Yoast SEO Schema tab now unlocks for you.
Schema helps search engines make sense of your content
Search engines can read the content on your page to get an idea of what that page is about. But search engines need more context to truly understand your content and to make sure they can trust it. Schema helps you do this because you are describing your content in a way that makes sense to them.
Yoast SEO automatically adds Schema
Schema is so important right now that we add it automatically for you — on every page you make. Not only that, but we also make the connections that help search engines in their search for meaning. For most pages, the default Schema is fine but we also let you change it where needed. In addition, we also have other features that generate Schema, like our content blocks and our other plugins, like Local SEO and WooCommerce SEO. All these describe specific pieces of content and add all that to the main graph of your site.
Describe your pages with the Schema tab
The Schema tab is the place to be if you need to change the default description of a page or an article. Here, you can find a list of options that might fit your page better. Yoast SEO offers a wide range of content types, from Contact pages and Checkout pages to Tech articles and reports. Pick the one that describes your content best.
The Schema tab offers multiple options to pick from
Schema is massive. There are an incredible amount of options available. Yoast SEO keeps it simple for you by offering the most important content types. Simply pick the one you need and you're good to go. For instance, if you have a business in the medical industry you can describe your pages as a Medical Web Page. This makes it clear for Google what type of page it is and what it can expect. Just make sure that the type you pick fits the content.
Change the default content type
Yoast SEO has a set of sensible defaults for many things, including the content types for posts and pages. By default, the plugin defines pages as Web Pages and articles as Articles. Of course, you can use the Schema tab to change these to whatever fits your content best. In addition, you can also change the default settings in Search Appearance > Content Types.
Unlock additional features in Yoast SEO Premium
Get much more for your WordPress site with the Yoast SEO Premium plugin!
---
Let Yoast SEO help you win the search rankings
Discover all the features of the Yoast SEO for WordPress plugin.