Yoast SEO First-time configuration
You just got Yoast SEO, and you are ready to get the most out of it! Or, have you already been using it for a while and know your way around it? Either way, you should use some essential Yoast SEO settings to let the plugin work at its best. That's what the First time configuration can help you with!
If you just installed Yoast SEO, you'll see a welcome screen that contains a link to the first-time configuration. Click on it to access it and go through the configuration steps.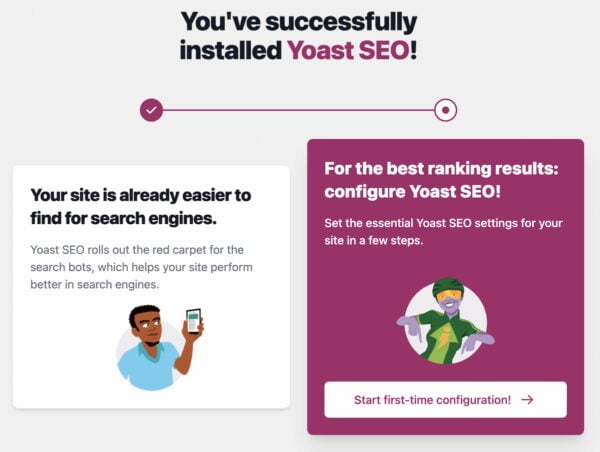 Accessing the first time configuration manually
Did you just install Yoast SEO, but didn't see the welcome screen? That may happen in some instances. But, don't worry! You can access it anytime by going to Yoast SEO > General > First-time configuration tab.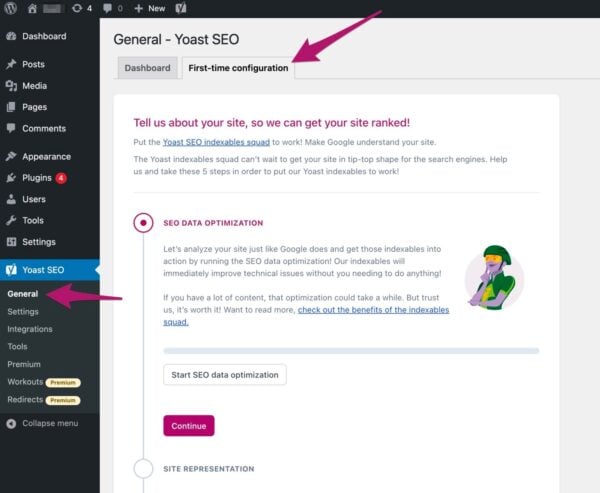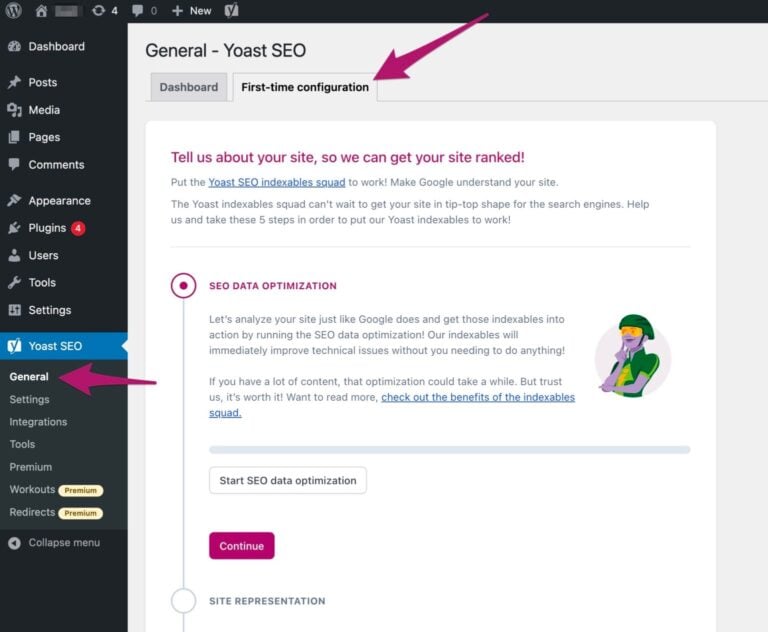 What does the First-time configuration do?
The configuration will walk you through the essential settings, such as the SEO data optimization, your site's representation, and your social media profiles.
SEO data optimization
This step is essential because it allows Yoast SEO to see your site as Google does. That means that it can see the indexable objects on your site and, as a result, it can give you better SEO tips and improve your site's technical SEO performance. If you have a lot of content, this step may take a while. But, you can safely move on to the next steps while your data is being optimized. If the data optimization is not complete when you are done with the rest of the workout, you will need to wait for it to finish.
Site representation
In this step, we ask you to add some information about the type of site you have. That will allow us to output the correct structured data markup and explain your site to search engines. As a result, you may get your site featured in Google's Knowledge Panel.
Social profiles
We'll use the social profiles you add to give search engines more context about your site so that it can include them in the Knowledge Panel. The steps are different depending on whether you are filling in the settings for a person or an organization.
Personal preferences
To keep improving the plugin, we need some user data. However, to be able to track your data, we need your permission. You can learn more about the data we track in this usage data help article.
Related articles