Search Appearance: Organization or person?
In the Search Appearance settings of the Yoast SEO plugin, you can set whether your site is an organization (for instance, a local business) or a person (say, a personal blog). Based on what you decide, you have different additional settings to choose from. This information may be used in Google's Knowledge Graph Card. In this help article, we'll walk you through the settings. If you prefer watching a video, start watching at 3:24.
Good to know: this setting is covered during the First time configuration but can always be adjusted afterward.
Table of contents
Video tutorial: Search Appearance settings – General tab
Organization
After choosing 'Organization,' you will need to fill out the name of the organization and add a logo. Social profiles for the organization can be filled out in the Social tab.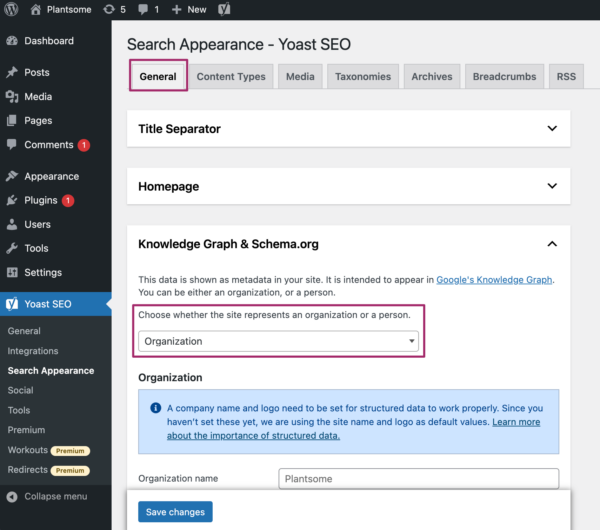 Local SEO
If you have a local business (even if it's your own business and you have no one else employed), you should choose 'Organization.' Furthermore, if you have the Yoast Local SEO plugin installed, then 'Organization' is the default setting, and this cannot be changed.

Person
'Person' should be chosen if you have, for example, a personal blog or a personal portfolio website for your art.
When doing so, you should select an author that is the 'Person' that the website represents from the available user accounts on your website. Social profiles for this person can be filled out in their personal profile on the website (not in any of the Yoast SEO settings).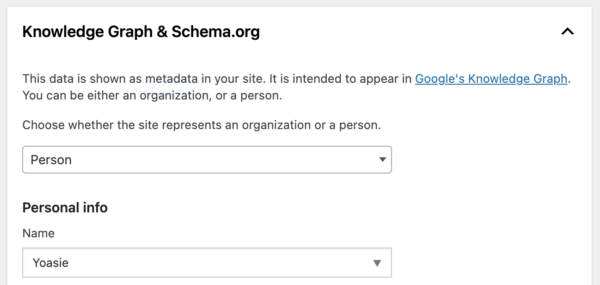 The name of the author that is shown in the dropdown menu and which will be outputted is the 'display name publicly as' name from the author's profile in the Name section of the Profile settings (found at www.yoursite.com/wp-admin/profile.php).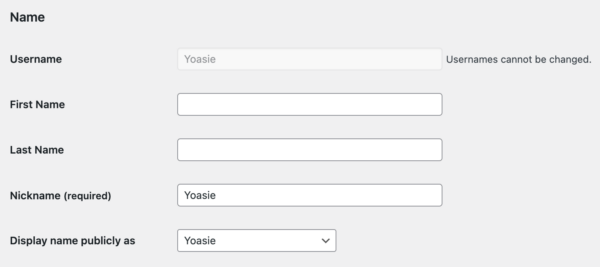 Related articles