Yoast SEO settings: Site representation
In this article, we'll discuss the Site representation settings in Yoast SEO in your WordPress backend. You'll see a video explanation, and we'll explain all the settings on the page one by one.
Video: Yoast SEO settings: Site representation
Would you like to watch this video in your own language? Follow these steps to auto-translate the subtitles.
Site representation settings
You can find the Site representation settings by going to your WordPress backend, clicking "Yoast SEO" and then "Settings" in the menu on the left-hand side. Here, click "Site representation".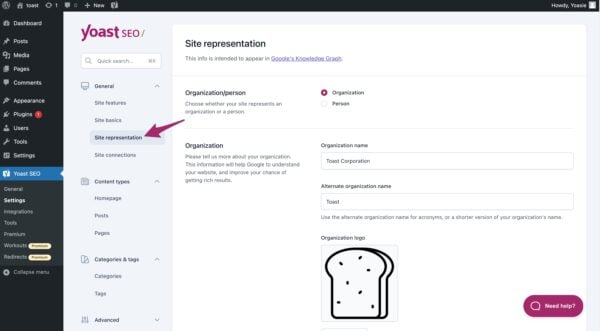 In the Site representation settings, you can fill in information that Google can use for its Knowledge Graph. In this article, we'll first discuss what the Knowledge Graph is. Then, we'll dive into the settings and input fields on this page.
Knowledge Graph
First things first: what is Google's Knowledge Graph? The Knowledge Graph is a database that Google has created to connect all of the information it has collected and analyzed about people, places, things, and facts. The goal of the Knowledge Graph is to provide people with the correct answers to their factual questions. To do this, Google doesn't just give you the result that best matches your search term, but it also makes connections between different pieces of data.
One way that Google presents this information is through something called the knowledge panel. This is a block of information that appears on the right side of your desktop screen after you enter a search term. It includes relevant and specific information about your search. For example, if you google "Yoast," you might see a knowledge panel with our company name, logo, website, a summary of our software, information about our company and parent company, what our software does, and requirements. The knowledge panel also includes links to our social media profiles and might list alternative options. On a mobile device, the knowledge panel will appear between other search results, but it is still prominent.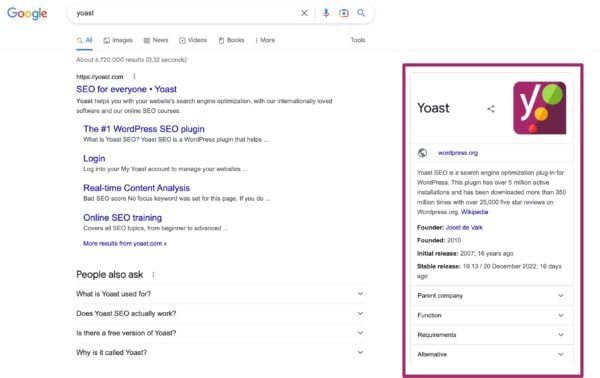 The knowledge panel is powered by the Knowledge Graph. With the Site representation settings in Yoast SEO, you fuel that Knowledge Graph. So, Google can use the info you fill in there to show it in a knowledge panel.
Site representation settings
Now, let's take a look at the Site representation settings. The first thing you need to decide is whether your site represents an organization or a person. This choice will affect the rest of the settings on this page.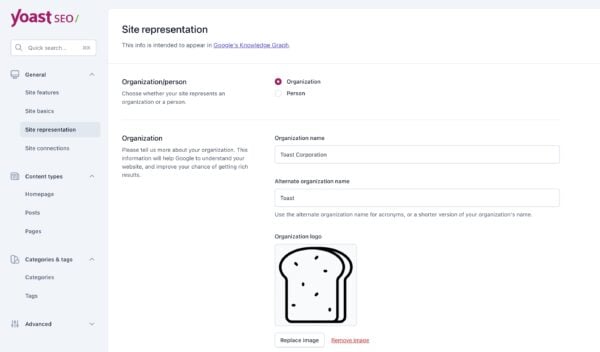 Organization
If your site represents an organization, you can enter your organization's name and upload a logo. You can also enter an alternate organization name for acronyms, or a shorter version of your organization's name. You can also add links to your organization's social media profiles, such as Facebook and Twitter. To add additional profiles, click the "Add another profile" button and enter the URL. When you're finished making changes, be sure to click "Save changes."

If you have a local business
If you have a local business (even if it's your own business and you have no one else employed), you should choose 'Organization.' Furthermore, if you have the Yoast Local SEO plugin installed, then 'Organization' is the default setting, and this cannot be changed.
Person
'Person' should be chosen if you have, for example, a personal blog or a personal portfolio website for your art.
When doing so, you should select the user that is the 'Person' that the website represents from the available user accounts on your website. Their user profile information will now be used in search results. So, make sure that the information in the user profile in the WordPress settings is up-to-date and correct. The user name that is shown in the dropdown menu and which will be outputted is the 'display name publicly as' name from the user profile.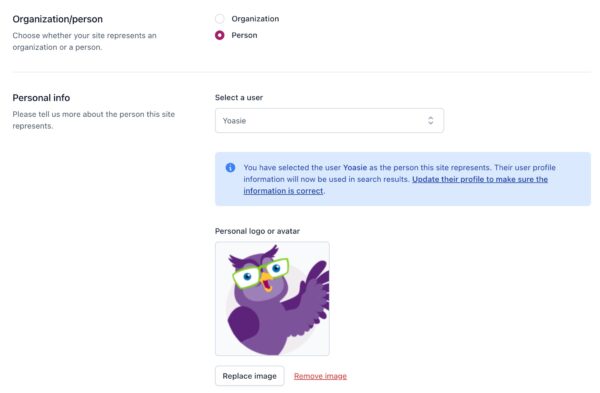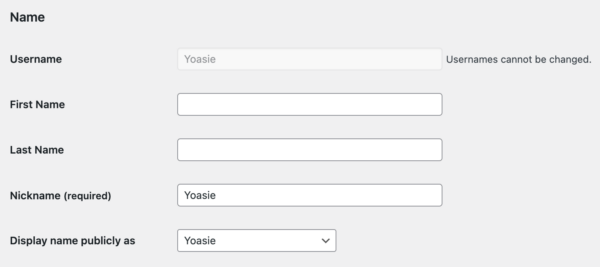 Below the dropdown menu, you can upload a personal logo or avatar. If you scroll further down to the 'Other profiles' section, you will see input fields for several social profiles. The information that is shown here, is taken from the user profile in the WordPress settings. If you make changes to the Yoast SEO settings, the WordPress settings will also change, and vice versa.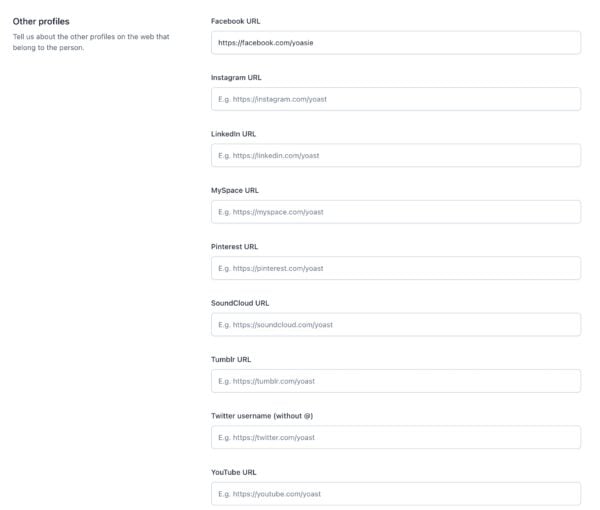 Structured data
So, what happens to this information now? Our plugin will generate structured data and add it to your site's code. This data won't be visible to your users on the front end of your site, but search engines will be able to find and read it. This information can then be used in search results.
Related articles