Innovations by Yoast: Indexables
An important part of what our plugin does is connecting your pages to each other. Think, for example, of our breadcrumbs, our structured data, and our internal linking features. When we talk about pages in this context, we're not talking about the WordPress post type but rather every page on your website. That is what makes this complicated. Every page on your website can link to:
Things stored in the WordPress posts table such as posts, attachments, custom post types or WordPress pages.
Taxonomies such as tag or category pages stored in the WordPress taxonomies table.
Post type archives or date archives that aren't represented in any table at all.
Custom pages from plugins that could originate from just about anywhere.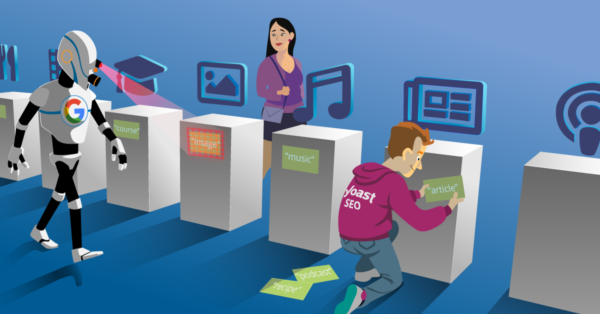 Connecting all these very different things, therefore, becomes quite a challenge. Not only are there many different scenarios to account for, but performance issues are constantly popping up. Many WordPress functions that allow discovering these things can be quite expensive. For example, if you look at the list of uncached functions WPVIP recommends plugins not to use, you'll find many functions that you'd think would be suited to overcome exactly this challenge.
That leaves us with a problem: How do we efficiently gather information about all linked and related pages to best optimize your page while still keeping things blazingly fast? That's where indexables come in. Indexables are a custom data type that represents anything that could be indexed on your site. Everything a page can link or relate to on your site will be an indexable, including that page itself.
This gives us a single source of information that we can easily optimize. That way, we ensure that all the data needed to best optimize your pages is always available quickly. In turn, this will allow us to provide search engines with the richest information possible while still keeping page speeds as fast as they can be.