Yoast SEO 16.9: An SEO workout to clean up your content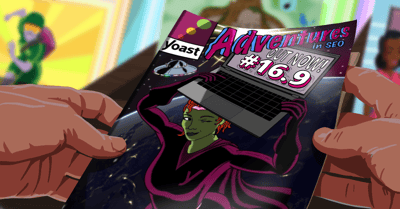 If you want your pages to rank high in the search engines you need to keep your website fit. One way to keep your site in shape is to clean it up regularly; get rid of old, outdated content, and brush up those hidden gems you might have forgotten about, and put them in the spotlight again. In the 16.9 version of Yoast SEO Premium, you'll find a brand new tool to help you do just that. And it revolves around one question: "Love it or leave it?"
Cleaning up your website
Cleaning up your old content should be an essential part of your website maintenance routine. It's beneficial for your website because it improves crawlability and helps users and Google to end up on the right pages. For instance, if you have a lot of old articles on your site, they might be competing with better, more up-to-date articles in the search engines. Also, if you don't clean up old articles, users might end up on subpar, outdated pages; something you want to prevent at all times. A type of content that is particularly likely to be outdated is, so-called, orphaned content.
What is orphaned content?
Orphaned content is content that doesn't get any links from other posts or pages on your website. It could be that announcement for an event you organized two years ago or that blog post you wrote and published instantly because you were so inspired at the time. But you forgot to add internal links to it. Unfortunately, if a piece of content doesn't get any (internal) links, Google deems it unimportant and users won't even get there after the initial boost it might have got at the time of writing.
Show your content some love
It's a great idea to regularly revisit those old and lonely pages to give them some TLC. Or, if an article isn't serving a goal anymore, you might want to get rid of it all together. Old content might feel like a burden but like most cleaning up, it might not be a task you're looking forward to. That's why we've created a new SEO workout in Yoast SEO Premium: it will make cleaning up your orphaned articles a more joyful task to do!
The orphaned content workout
How it works
You'll find Yoast's SEO workouts in the left-hand menu under SEO –> Workouts. There, you can select the orphaned content workout: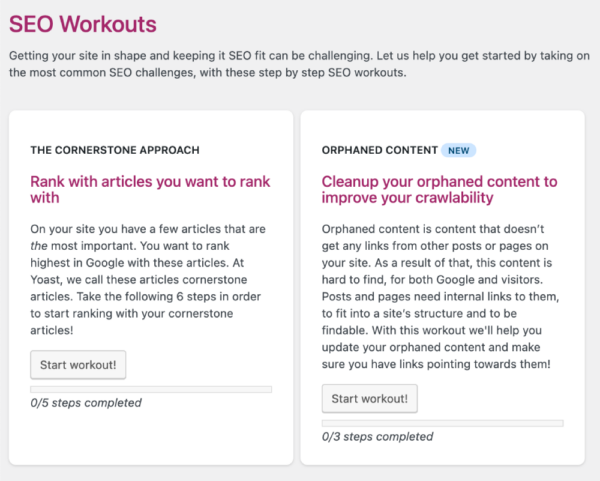 It consists of 4 steps:
Love it or leave it? You'll see a list of orphaned articles AKA articles that don't get any internal links. Do they still serve a goal? Here you can choose to either: Improve them, noindex them (hide them from the search engines) or remove and redirect them.
Should you update your article? If you click on improve in the first step, your article will end up in this list. Click on the link to edit and update the article and when you're done, check the box, and you'll find your article in step 3:
Add internal links to your orphaned article. As your article is up to date, you can start adding links to it! In this step you'll get suggestions of relevant post you could link from. Super easy!
Well done! You'll see a list of the work you've done. Feels good, right?
You'll find more details on every step in this Help article.
Two SEO workouts to improve your site's structure and crawlability
In Yoast SEO 16.6 you've already met the first Yoast SEO Internal linking workout: The cornerstone approach. This workout helps you set up a smart internal linking strategy, boosting your best articles to make sure they get found by search engines and your audience. Now we've added a new SEO workout to Yoast SEO Premium that helps you clean up the "other side" of your content. The articles that you might have forgotten about. Yoast SEO Premium, as your personal trainer, will help you work on your strengths, without neglecting the points that need a bit of extra attention!
Other fixes and enhancements
There's more in Yoast SEO 16.9: we've made some changes to our image assessments in the SEO analysis and made some technical enhancements to the plugin that will improve the performance of your site.
Two image SEO assessments
You're most likely familiar with Yoast SEO's green and red bullets of the content analysis. One assessment that has been there for a long time already is the image assessment. Images, when used well, often contribute to a positive user experience. Adding proper alt attributes will not only improve the accessibility of your content but also helps search engines understand what an image is about. Therefore, the assessment would check whether a. You've added images to your post, and, b. Whether those images would have alt attributes (alternative text) containing the focus keyphrase. But because of the double nature of this assessment, it was hard to give proper advice. That's why we've now created 2 separate image assessments:
An Image presence assessment: checks whether you've added at least one image to your post. For product pages we raise the bar a bit: you should add multiple images to a product page to receive a green bullet.
An Image alt attribute assessment: checks whether at least one image in the post has got an alternative text containing the focus keyphrase or a synonym.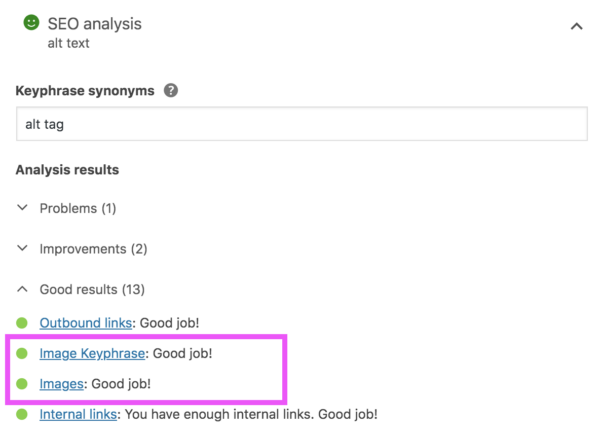 Performance improvements
In Yoast SEO 16.9 you'll also find some enhancements that should speed up your website and your WordPress install. Amongst others, we've reduced the number of database queries and optimized the queries themselves to reduce the load time of admin pages. In addition to that, we've fixed a bug where the block editor would become slow because of the estimated reading time initializer. On top of that, we've also cleaned up the indexables table. All these enhancements together should lead to a better experience for you and the user of your website. For more details on these technical enhancements please check out the changelog.
Update to Yoast SEO 16.9!
That's it! Yoast SEO (Premium) 16.9 is out now. It contains a brand new SEO workout that will help you clean up your orphaned content! Moreover, it now has two image SEO assessments and improves the performance of your website and your editor.
Coming up next!
Event

December 09, 2023

Team Yoast is at Attending, Organizing, Sponsoring WordCamp Ahmedabad 2023! Click through to see who will be there, what we will do, and more!

See where you can find us next »

SEO webinar

12 December 2023

Learn how to start your SEO journey the right way with our free webinar. Get practical tips and answers to all your questions in the live Q&A!

All Yoast SEO webinars »