What is orphaned content?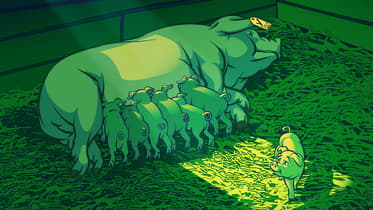 If you want your content to rank in Google, it needs to know about the existence of that content. That means that you (or another site) have to link to this content. Google follows these links and saves every post or page it finds through links in the index. So, you'll understand that it's important to add contextual links to all of your content. That sounds simple, but if you're creating and publishing a lot of content, your linking structure might not be a top priority, and some of your articles may not get any links. Here, we'll explain all about this so-called orphaned content: what it is, why it matters for SEO and how to fix it!
Our Yoast SEO Premium plugin comes with a great SEO workout that helps you find and fix any orphaned content on your website. Use this new SEO workout to clean up your old content in 4 simple steps!
What is orphaned content?
Orphaned content is content that doesn't get any links from other posts or pages on the same website. As a result of that, this content is hard to find for both Google and site visitors. Posts and pages need internal links to them to fit into a site's structure and to be findable. Note that 'links' in this case means: contextual links. If other content is linked to from the homepage, sitemap, or category and tag pages, but lacks text links, it's still considered orphaned content. The reason for this is that text links provide both users and search engines with context and therefore, add more value.
Why does orphaned content affect your SEO?
To rank your content, Google obviously needs to know about it. Search engines follow links and save all the content they find on pages in their index. Orphaned content has few meaningful internal links from other pages or posts to it. Therefore, Google will consider this type of content less important than other content that does have lots of links to it. So, if an article is important to you, you should make that clear to Google (and your visitors). Make sure to link to that specific article from other related content.
How is orphaned content created?
If you write a new blog post, publish it and then forget about it, you probably won't link to it anymore in your new posts and pages. Is this a bad thing? Well, of course, this depends on the blog post. But it is definitely a bad thing if you want people and Google to find this post. By not linking to a page or post, most people will not be able to reach it and you'll end up with orphaned content.
Prevention is better than cure
If you want to prevent your content from being orphaned, you need to make sure to link to that content. Linking to it from other places on your website will help Google and your audience reach it. Linking to it from articles that generate a lot of traffic in the search engines will boost the visibility of this content even more. But you'll need to be mindful of which content you want to link most to, as you won't be able to do this with all your content. In addition, it's always important to keep these internal links relevant and not just link everything to each other. However tempting that may be.
If you want to learn more about this, we offer a site structure training course that helps you prevent creating orphaned content. In this course, you'll learn how to build the best possible structure for your site. You can get access to this training course, and all of our other SEO courses, with Yoast SEO Premium.
Where can I find my orphaned content?
You might have an idea of a few posts that don't have any links to them. But chances are you don't have a list of all the orphaned content on your website laying around. That's why our Yoast SEO Premium plugin comes with two features that help you work on your orphaned content.
The orphaned content workout in Yoast SEO Premium
Without realizing it, you probably have quite a few orphaned pages or posts on your website. There's no shame in it, we all do. But it is good to work on it from time to time. That's why we've added the SEO workout to Yoast SEO Premium that helps you clean up your unlinked content to make sure people can find it.
With this workout, you can find and fix your orphaned content in four easy steps! It shows you all your content that doesn't have any links to it and gives you suggestions on what to do with it.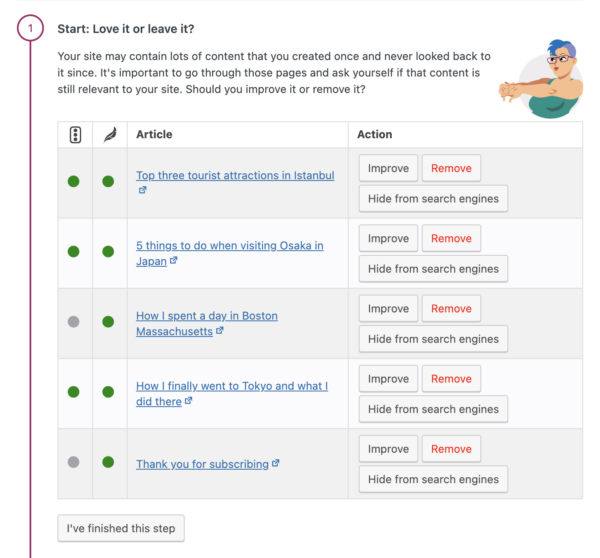 But it doesn't end there! After choosing what you want to do with your orphaned content, you can work on the content that you want to keep and update. In the next step, we'll show you suitable posts or pages from where you can link to your orphaned content. And voila, that's it. You're done!
The orphaned content check in Yoast SEO Premium
Yoast SEO Premium also comes with an orphaned content check. If you're a user of our Premium plugin, you can find the orphaned content filter in your post overview:

Clicking on the orphaned content filter will give an overview of all the posts without text links linking to them. On yoast.com, we have quite a few orphaned articles as well (blog team, are you reading this? We still have some work to do here ;-)). But the orphaned content filter and our orphaned content SEO workout can help us (and you!) with that.
Get SEO workouts and more in Yoast SEO Premium
Unlock powerful features to optimize your website with our Premium plugin!
Scrolling through our own orphaned articles, made me very aware of the fact that recent articles are often orphaned. We just don't get around to adding links to these articles in our older blog posts. Still, for articles that are important to our SEO strategy or to our brand, we should make sure to add links in posts that generate a lot of traffic. That'll help Google and our audience to find those important posts.
Should you always fix it?
For some articles, it isn't that important to fix an orphaned content status. Some blog posts are only important for a short period of time. At Yoast, we sometimes write about events that are coming up. Announcing such an event makes for a great blog post, but such a post probably has less value next year. It's no problem for these kinds of posts to remain orphaned. In fact, perhaps you should consider deleting these pages (properly of course!) altogether. That'll clean up your site a bit.
Conclusion: keep an eye on that content!
As I have shown, it's easy to unwittingly create orphaned content, if you're writing a lot of posts. Luckily, you can use the two orphaned content features in Yoast SEO Premium to stay on top of things. You can easily check which posts and pages are orphaned, and add links to important content, so both Google and your users can find it!
Read more: Site structure: the ultimate guide »
Coming up next!
Event

December 09, 2023

Team Yoast is at Attending, Organizing, Sponsoring WordCamp Ahmedabad 2023! Click through to see who will be there, what we will do, and more!

See where you can find us next »

SEO webinar

12 December 2023

Learn how to start your SEO journey the right way with our free webinar. Get practical tips and answers to all your questions in the live Q&A!

All Yoast SEO webinars »