Yoast SEO settings: Media pages
In this article, we'll discuss the Media pages settings in Yoast SEO in your WordPress backend. You'll see a video explanation, and we'll explain all the settings on the tab one by one.
Video: Yoast SEO settings: Media pages
Would you like to watch this video in your own language? Follow these steps to auto-translate the subtitles.
Where to find the Media pages settings
You can find the Media pages settings by going to your WordPress backend, clicking "Yoast SEO" and then "Settings" in the menu on the left-hand side. On this screen, click the "Advanced" header in the Yoast SEO settings menu. In the menu that expands, click "Media pages".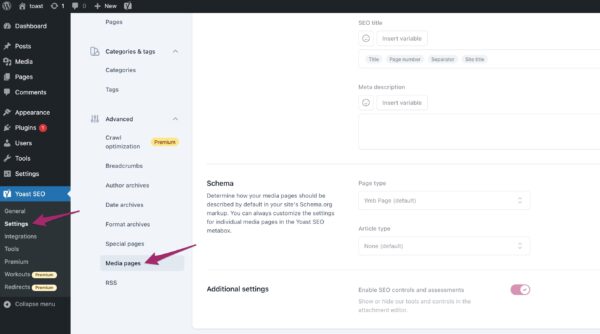 Read more about the other settings Yoast SEO offers in the configuration guide for Yoast SEO.
Attachment URLs
The Media tab exists for one solid reason: attachment URLs. When you upload an image to WordPress, that image gets a URL that becomes available. WordPress also automatically generates an entirely new web page, containing nothing more than that single image: a so-called attachment URL.
These attachment URLs are not useful in 99.5% of the settings, because there is a risk Google may index these pages and regard them as low-quality content since they only contain a single image. In addition, if users find these attachment URL pages in Google, they may be quick to leave your site, because they only find a single image. This leads to a higher bounce rate for your site.
This is why we have a setting that redirects these attachment URLs to the attachment itself. By default, we set this to 'Yes' for everyone. Because of this setting, you will be automatically redirected to the image when you open the attachment URL.
However, if you do use these attachment URLs, you could turn this setting off. This could be useful if you're a photographer or when you own a photography site. If you turn this setting off, all the options available for the other content types in the Content types settings become available for media.
Related articles