Yoast SEO settings: Special pages
In this article, we'll discuss the Special pages settings in Yoast SEO in your WordPress backend. You'll see a video explanation, and we'll explain all the settings on the page one by one.
Video: Yoast SEO settings: Special pages
Would you like to watch this video in your own language? Follow these steps to auto-translate the subtitles.
Finding the Special pages settings
You can find the Special pages settings by going to your WordPress backend, clicking "Yoast SEO" and then "Settings" in the menu on the left-hand side. On this screen, click the "Advanced" header in the Yoast SEO settings menu. Then, in the menu that expands, click "Special pages".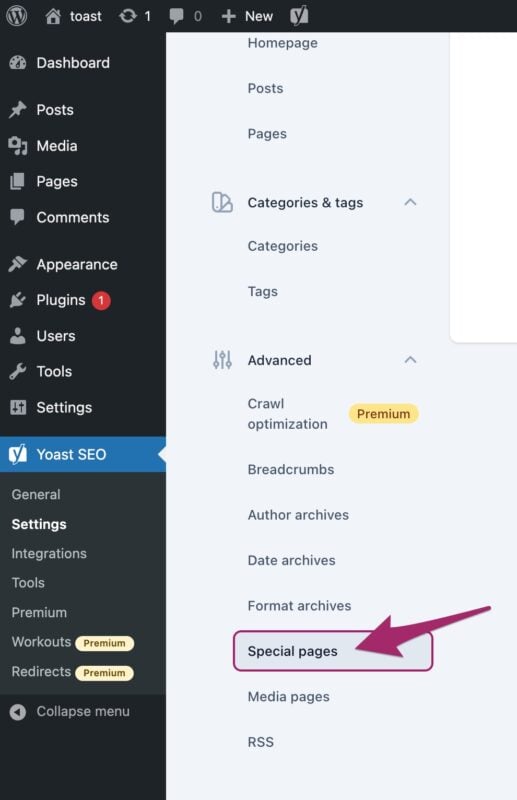 Special pages settings
The Special pages settings allow you to determine some things for two types of pages: internal search pages, and 404 error pages.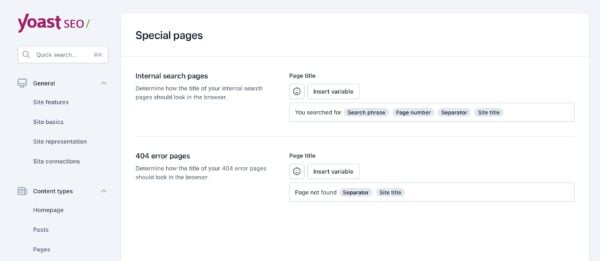 Internal search pages
When someone uses the internal search function on your site, they will land on a page displaying the search results related to their query. For instance, if a visitor searches for "microscope" on a microbiology blog, they will be taken to a page featuring all the content on the site related to microscopes.
You can customize the title of this internal search results page using the provided setting. Yoast SEO automatically generates a default template for you, which includes the text "You searched for," the search phrase, the page number, a separator, and the site title. These are all variables that will be replaced with specific values based on the search and your site. For example, the "search phrase" variable in the earlier example would be replaced with "microscope." However, you can always adjust this template to better suit your site by using emojis and inserting snippet variables.
404 error pages
Next up, we have 404 error pages. A 404 error message means the URL you requested doesn't lead to a specific page. The page might have been deleted, or the URL could have been typed incorrectly. Either way, the page you're trying to access isn't there. With this setting, you can customize the page title for these 404 error pages. Yoast SEO provides a default template, but you can always change it to fit your preferences. Just like with the previous setting, you can use emojis and variables here too.
Related articles