Yoast SEO settings: Content types
In this article, we'll discuss the Content types settings in Yoast SEO in your WordPress backend. You'll see a video explanation, and we'll explain all the settings on the page one by one.
Video: Yoast SEO settings: Content types
Would you like to watch this video in your own language? Follow these steps to auto-translate the subtitles.
Where can you find the Content types settings?
You can find the Content types settings in Yoast SEO by going to your WordPress backend, clicking "Yoast SEO" and then "Settings" in the menu on the left-hand side. You'll be in the Yoast SEO settings. In the Yoast SEO settings menu, locate the "Content types" header and select the content type you'd like to edit (Homepage, Posts, Pages, or any custom content type you have on your site).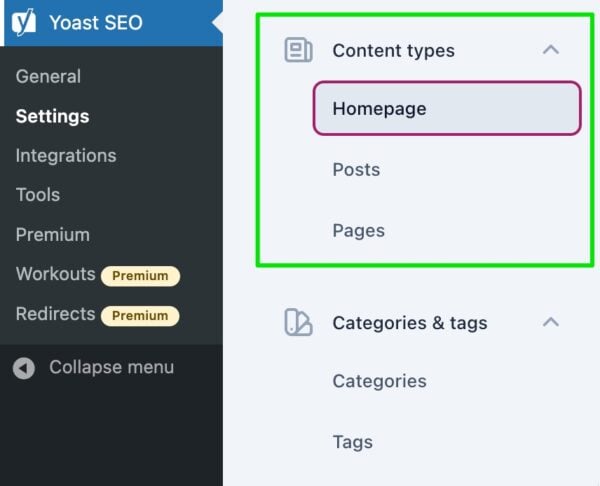 You can read more about the other settings Yoast SEO offers in the configuration guide for Yoast SEO.
Homepage
The first item in the menu is called "Homepage". This is where you can customize how your homepage appears in search results. You can use variables like your site title, separator, and tagline to create an SEO title for your homepage. You can also add emojis to make your search result stand out. In the meta description field, you can add a brief summary of your homepage's content. You can also use snippet variables and emojis in this field.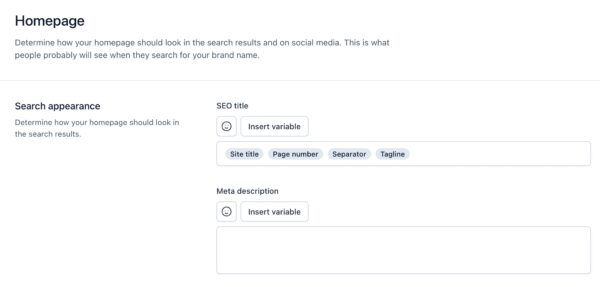 If you scroll down to the "Social appearance" section, you can choose an image, title, and description that will be displayed when your homepage is shared on social media. Simply select an image and enter the appropriate information for the title and description. This will help your homepage look professional and attract more attention when shared on social media platforms.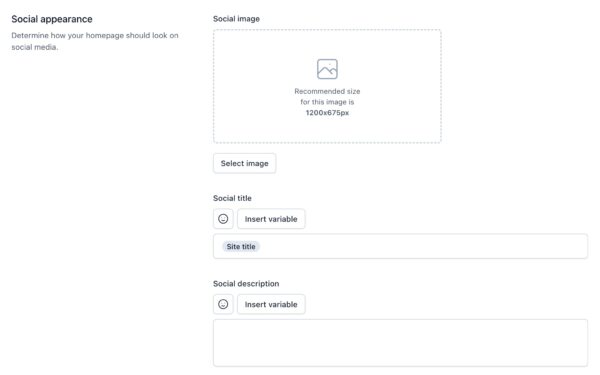 Posts
In WordPress, the default content types are "posts" and "pages," but you can have additional types depending on the plugins you've installed. In this article, we'll be discussing the settings for posts, but the options are similar for other content types as well.
Search appearance
In the "search appearance" section, you can choose whether or not you want your content to appear in search results. We recommend keeping the default setting and enabling this option so that your content is visible to search engines. However, if you need to hide your content, you can simply toggle the switch off.
The next two input fields allow you to create an SEO title and meta description template for your posts. These fields work similarly to the ones we discussed earlier for the homepage. You can use variables to automatically include certain information, such as your site title, in all of your meta descriptions. Remember to click "Save changes" to save any changes you make.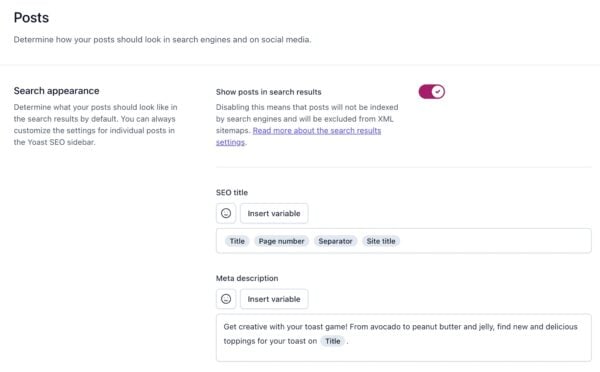 Social appearance
The "Social appearance" section, available with Yoast SEO Premium, allows you to customize how your content looks when shared on social media. By adding an image, title, and description, you can make your content more enticing and encourage people to click on the link and visit your site. You can set a default social template for each content type, or you can edit the social snippet for specific posts in the post editor. You can use variables like your site title and tagline, as well as emojis, to make your content stand out.
The title field is automatically filled with the title variable, as posts with just the title tend to have the most impact. You can also manually fill in the title field if desired. In the description field, you can use variables like the tagline and emojis to add extra information and personality. Remember to click "Save changes" when you're finished.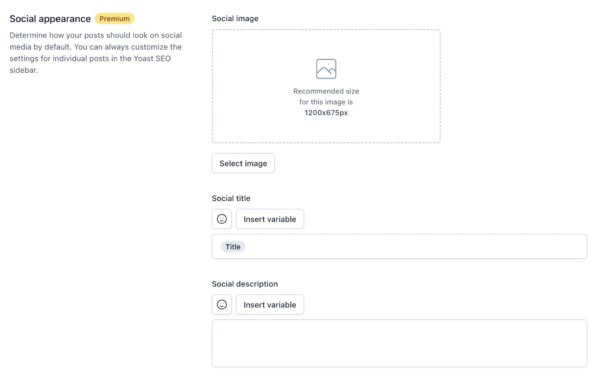 Schema
The Schema settings allow you to use schema.org markup, a type of code, to describe the content of your posts and pages to search engines. This helps search engines understand your content better and present it more effectively in search results.
By default, Yoast SEO uses WebPage Schema for Pages and Article Schema for Posts, but you can change these settings if you want more control over your Schema output. For example, if you choose the News Article as the default article type, all of your posts will contain specific Schema code for news articles.
Be careful when changing default settings, as they will apply to all of your posts or pages. If you want to change the default settings for a specific post or page, you can do so in the Schema tab of the Yoast SEO sidebar or meta box in the post editor. Keep in mind that altering the schema markup in ways that don't make sense or are incomplete may result in errors or unexpected behavior.

Additional settings
In the "Additional settings" section of the content type settings for posts, you can use the switch to enable or disable the Yoast SEO settings and assessments. We recommend leaving this option enabled, as our plugin's features can help improve the SEO of your content. You'll miss valuable insights and recommendations if you turn them off.
The custom fields option, available only for Premium users, is intended for developers to add specific filters. If you're not a developer, you can ignore this field.

Other content types
You might have another plugin installed, which creates another type of content on your site. For example, when you have a plugin installed that creates products, the content type "Products" might show up in the Content types menu. When other content types show up as a menu item, the same options as you have for posts and pages will be available for these content types.
Related articles