Optimizing the SEO title and meta description of your homepage
As of Yoast SEO 20.0, the settings interface inside our plugins has received a major overhaul. Please update to the latest version of Yoast SEO if your plugin does not look like the screenshots you encounter in our Help center.
In the Homepage settings (Yoast SEO > Settings > Homepage), Yoast SEO allows you to edit the SEO title and meta description of your homepage. Your homepage is obviously an important part of your website. Although homepage SEO doesn't really exist as such, having a good SEO title and meta description in place for it is still key.
In most cases, your homepage will rank for the name of your business or brand anyway, and those are usually the only terms you want it to rank for. But you still need to convince potential visitors that a click is worthwhile. That's where the SEO title and meta description come in.
Static homepage
If you have a static page as your homepage, you won't be able to edit the SEO title and meta description under the Homepage settings. Instead, you can edit the SEO and meta description on the static page itself using the Yoast SEO meta box. The message will link you through to it, as the image below shows.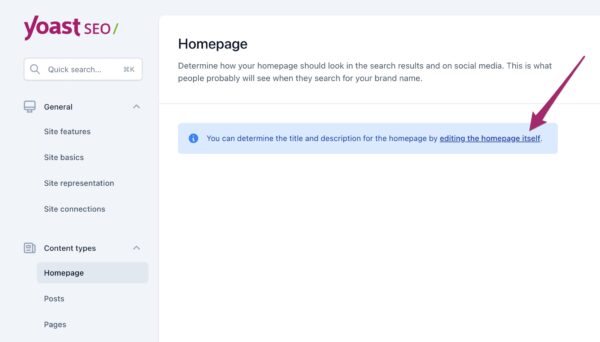 Your homepage displays your latest posts
If your homepage displays your latest posts, you can edit what your homepage should look like in the search results in the Yoast SEO settings. Go to Yoast SEO > Settings > Homepage to go to the Homepage settings in Yoast SEO.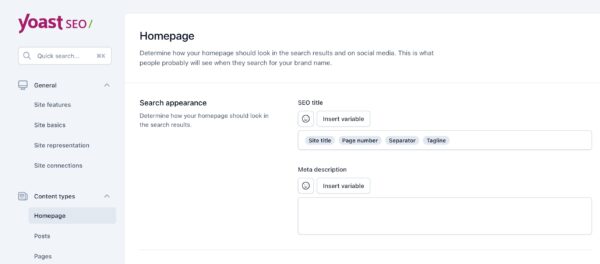 SEO title
By default, Yoast SEO will generate your homepage SEO title by displaying the Site title, the name of the page, a separator, and the tagline. But you might want to do something completely different. On the yoast.com homepage, we have our mission, then a separator, then our brand name as the SEO title. This, then, is your chance to customize your homepage's SEO title to your liking!
To customize your SEO title, you can either just fill in an SEO title you like or use the snippet variables. We have an entire article explaining what snippet variables do, so check that out if they confuse you. Make sure your homepage's SEO title is on-brand and captures what your visitors can expect from your business or site.
Did you know that you can also add emojis to your title? Nowadays, search engines also support queries with emojis. They can be a great way to make your pages and posts stand out. However, there's no guarantee that emojis will positively impact your organic traffic. So consider if they're right for your website, run tests with them, and use them in moderation.
Meta description
By default, the meta description for your homepage will be empty. That means it's extra important to fill one in yourself! If you don't, search engines will have to generate one automatically, and it's unlikely to be as good as a well-written message you've tailored to your and your visitors' needs.
Your homepage meta description is your business card. Make sure it's inviting and that it mentions your USPs. Of course, we have lots of tips on creating the ideal meta description on our blog. Please note that the meta description field under the homepage heading doesn't feature the feedback that you are used to in the Yoast SEO meta box. When writing it, make sure you don't go over 155 characters. It might be a good idea to test your meta description in a post first to get feedback from the Yoast SEO meta box.
Related articles