Yoast SEO Tools: Bulk editor
In this article, we'll discuss the Bulk editor tool of Yoast SEO in your WordPress backend. You'll see a video explanation and we'll explain what you can do with the tool.
Video: Yoast SEO Tools – Bulk editor
Would you like to watch this video in your own language? Follow these steps to auto-translate the subtitles.
If the Existing Yoast SEO Title field in the Bulk editor is left blank, this means that there is no custom title for the post or page. However, it doesn't mean that it doesn't have an actual SEO title output, as it should fall back to the SEO title template you've set in the Search Appearance settings, so make sure you've set a default title template!
Finding the Bulk editor tool
You can find the Bulk editor tool by going to your WordPress backend, clicking "Yoast SEO" and then "Tools" in the menu on the left-hand side. On this page, click "Bulk editor".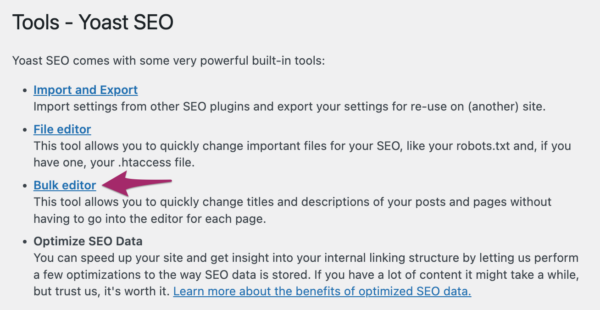 Find out more about the other tools and settings Yoast SEO offers in the configuration guide for Yoast SEO.
Bulk editor
The bulk editor is very useful if you want to quickly bulk edit SEO titles and descriptions for all your posts and pages. In the bulk editor, you'll find two overviews: one overview where you can edit the SEO titles of each post or page on your site, and one overview where you can edit the meta descriptions of all of the posts or pages.
For example, on the title tab, you'll find an overview of all the posts and pages on your site, with information about your post or page and a field where you can enter the new SEO title for that specific post or page. Every post or page is on a separate row, so you can edit the SEO titles of all of your posts and pages easily in one overview.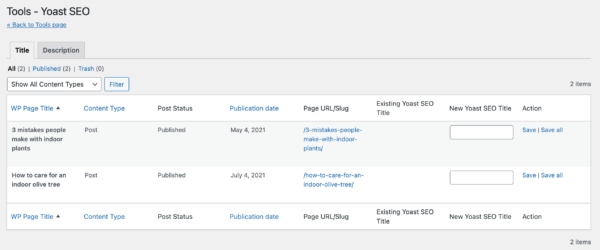 However, if you really want to optimize your posts and pages, we'd suggest you go into the individual posts and pages and optimize them in the Yoast SEO meta box, using the feedback Yoast SEO gives you for that specific post or page. The bulk editor is really meant for bulk editing just the SEO title and meta description for a lot of your posts or pages in a short amount of time.
Related articles