Yoast SEO Tools settings
In this article, we'll discuss the Tools settings of Yoast SEO in your WordPress backend. You'll see a video explanation and we'll explain all the settings on the page one by one.
Video: Yoast SEO Tools settings
Would you like to watch this video in your own language? Follow these steps to auto-translate the subtitles.
Tools settings
You can find the Tools settings by going to your WordPress backend, clicking "Yoast SEO" and then "Tools" in the menu on the left-hand side.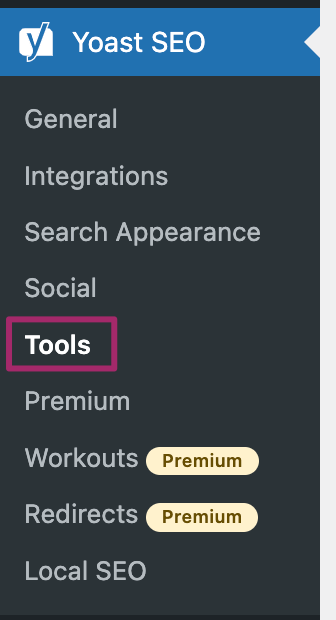 Read more about the other settings Yoast SEO offers in the configuration guide for Yoast SEO.
Tools settings
The Tools settings of Yoast SEO contain a number of different tools that you can use when you're importing and exporting settings or redirects, when you want to edit your .htaccess file or robots.txt file, or when you're doing bulk work to your site. You can find these tools listed on this settings page of the plugin.
Import and Export
The import and export tool helps you with importing and exporting data. It enables you to import and export Yoast SEO settings, but you can also do this for the settings from other SEO plugins. Moreover, you can import and export redirects, and export your keyphrases.
File editor
The next feature of the Tools section of Yoast SEO is the file editor. The file editor can edit two files: either the .htaccess file or the robots.txt file. This depends on your server setup.
Bulk editor
The bulk editor is very useful if you want to quickly bulk edit SEO titles and descriptions for all your posts and pages, without having to go into the editor for each page.
Optimize SEO data
Behind the scenes, Yoast SEO uses a lot of complex processes to get important data about your site. For instance, we need to build our indexables so we can speed up your site and we need to get an overview of your content to feed our internal linking suggestions. For this to work, you need to press the "Start SEO data optimization" button.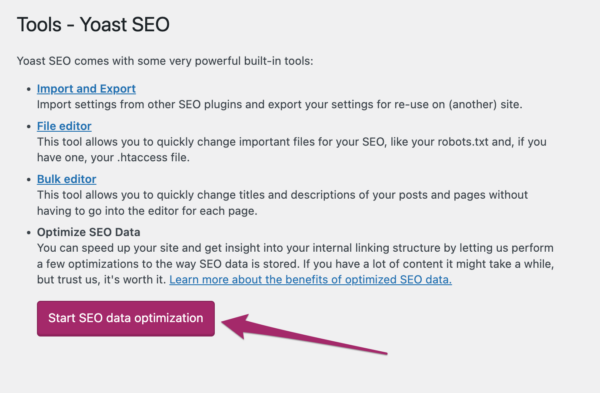 Related articles