Yoast SEO Tools: Import and export
In this article, we'll discuss the Import and Export tool of Yoast SEO in your WordPress backend. You'll see a video explanation and we'll explain the different aspects of the tool one by one.
Video: Yoast SEO Tools – Import and export
Would you like to watch this video in your own language? Follow these steps to auto-translate the subtitles.
Import and export tool
You can find the Import and Export tool by going to your WordPress backend, clicking "Yoast SEO" and then "Tools" in the menu on the left-hand side. On this page, click "Import and Export".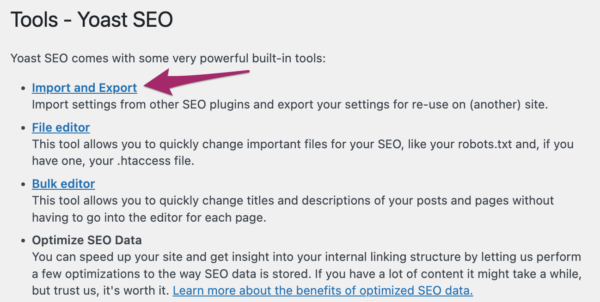 Read more about the other tools and settings Yoast SEO offers in the configuration guide for Yoast SEO.
Import and export settings
Importing and exporting settings can be helpful when you manage multiple sites, for example, if you're a web developer or an SEO specialist working with many clients. If this is the case, you probably have a set of settings for Yoast SEO for WordPress that you prefer. You might have a default title template, default XML sitemap settings, etc. The Yoast SEO plugin allows you to simply export your settings from one site and then import them into another.
Import from other SEO plugins
It's not only possible to import and export Yoast SEO settings, but you can also import settings from other SEO plugins, such as HeadSpace2, All-in-One SEO, and Jetpack SEO. If you want to do this, go to the "Import from other SEO plugins tab". Here, select the plugin you were using in the past; click 'Import', and verify whether all the data have been properly imported. If the settings are imported correctly, select the plugin you were using before; check the box 'Delete the old data after import?', and then run 'Import' again. This will make sure that the old data from the old plugin are deleted, so you won't have the data in your database twice.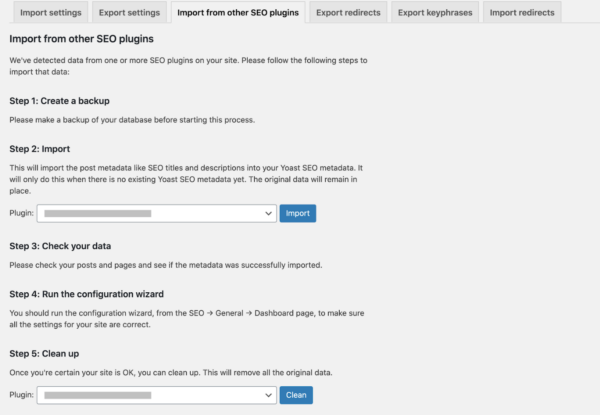 Importing and exporting redirects
If you're using Yoast SEO Premium, you can also import and export redirects. There are three ways of importing redirects: from other redirect plugins, from a CSV file, or from a .htaccess file. You can export your redirects to a CSV file. This might be useful if you want to transfer your redirects to another site, for example when you've moved your site.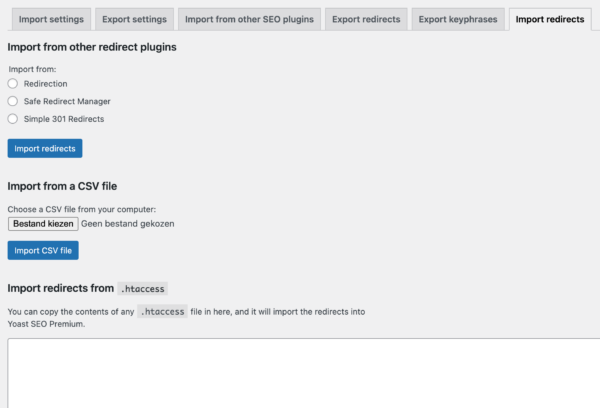 Export keyphrases
Lastly, you can also export your keyphrases if you're using the premium version of the plugin. The plugin allows you to generate a CSV file that lists all of your public posts, terms, and related keyphrases. On this tab, you can add or remove columns to be included in the CSV file, by selecting checkboxes. You can choose to include keyphrase scores, URLs, titles, SEO titles, meta descriptions, and readability scores. This feature can come in handy if you want to work on these in another location.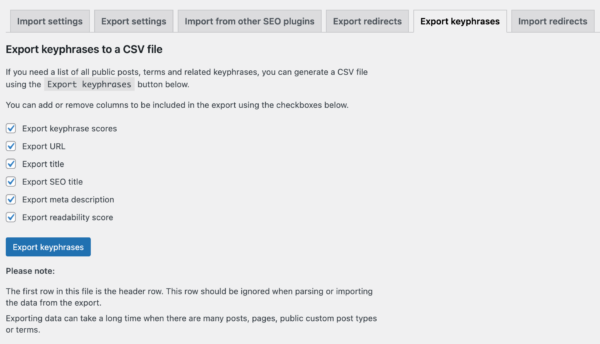 Related articles