What do we check?
The plugin automatically tests important areas of your content for usage of the focus keyword, so you can truly optimize your page for the search term you want to be found for!
It will check, amongst others, whether:
you use the keyword often enough, but not too often;
you use the keyword in the title, meta description and the url;
you use the keyword in the alt text of an image;
you use the keyword in a subheading;
your text is long enough;
you have internal or outbound links in your text;
you've already used this keyword before and more!
Besides this SEO analysis of your text we also check on readability in the readability tab.
Green bullets
Based on the analysis above, you'll get a green, orange or red bullet for each check. You can see this in the Yoast SEO meta box, below your focus keyword:
With this feedback you can start improving you content in a structured way. Please note that you don't need a green bullet for everything to get an overall green bullet. The main goal will be to get a green bullet for most things, at least until the green bullet on the tab (next to focus keyword) turns green. To get a green bullet for everything will be nearly impossible!
Cornerstone content analysis
We call the best and most important pages or posts on your site cornerstone articles. To optimize those, we've developed a specific cornerstone analysis which is stricter than the analysis for common posts and pages. You can mark an article as a cornerstone article when working on a post. You can even filter them in your post overview, and see how many links point to them, so it's super easy to work on them.
Best practices
To help you use the Yoast SEO content analysis best, Marieke wrote an article. In the article "How to use the Yoast SEO and content analysis" she explains in detail all features of the content analysis tool and how you can get most out of them.
Yoast SEO for WordPress training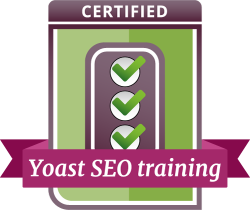 Want to get to know all possibilities of Yoast SEO? In this training we'll explain all features and functionalities of Yoast SEO. You'll learn how to use it to it's full extent! Take our Yoast SEO for WordPress training and become a Yoast SEO for WordPress expert.