10 tips to streamline your blog content workflow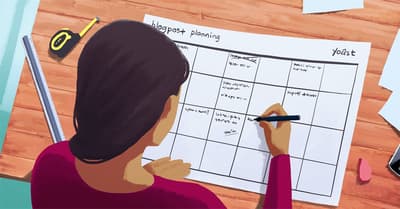 Content production seems quite simple, in principle. You come up with an idea, write about it, do some SEO checks and click publish. Simple, right? In reality, it hardly ever turns out that way, especially if you're working with a team. Miscommunications, last-minute changes, confusion about what needs to happens when. We've all been there! Try these ten tips to streamline your digital content workflow and hopefully eliminate a lot of the stress.
Before we start, bear in mind that the 'perfect' content workflow probably doesn't exist. After all, every piece of content is unique, so a one-size-fits-all process is unlikely to produce the highest quality results. All the same, if your high-quality, unique content is taking forever to finish, you might struggle to meet deadlines or keep to a schedule. If that sounds like you or your organization, take a look at our tips and see how you might be able to improve.
1. Start the content process with clear goals
Whether you're working alone or as part of a bigger team, it's important to have a clear idea of all the steps involved, and how long each step might take. Not every digital content process is the same — for instance social media posts don't need to be optimized for search engines, while blog posts targeting organic traffic do. Regardless of what your end goal is, the first step is always to start with clear goals.
Want to cover all your bases? Try to answer as many of these questions as you can, as clearly as you can:
What topic are you focusing on? How in-depth will you go?
Who are you writing for — who are your audience?
What are you trying to achieve? More website visits, increased sales, more social shares?
How will people be able to find your content? Where will you share it, and when?
If you can specify your ideas and plans really clearly at the beginning, it can help you and your team to align your plans and stay on track. Which saves you a lot of back-and-forth later on!
Read more: Audience research: how to analyze your audience »
2. Identify contributors and stakeholders
If you're working in a team, our next tip is just as important as the first. Why? Even if you're clear about your goals, does everyone involved also agree with your plan of action? That's why you need to identify your essential contributors and key stakeholders.
Depending on how big your organization is and how well-developed your process is already, making a list of contributors and stakeholders could be a lot of hard work, or a total no-brainer. If you sometimes find that your digital content workflow reaches a bottleneck (or descends to total chaos) because blockers arise from unexpected sources, it could be a sign that you need to do more work in this area.
Once you've come up with your plan, it's a good idea to share it with any essential colleagues that need to give approval in the end before you starting doing the real work. If you can get these people to agree with your initial plan, you can refer back to this later to explain creative choices and decisions you might need to make. When you let key parties know what to expect, you can avoid a lot of "What is this? What were you thinking?" kind of conversations.
3. Visualize your content workflow
It can be hugely beneficial to visualize your content workflow, even if it seems daunting. At minimum, you should write out the basic steps. If you add boxes and arrows to link the steps together, this can help to make the journey through the steps clearer (especially if there are moments when you need to loop back and repeat an earlier step). You can create this however feels comfortable to you — you could choose basic office software like Microsoft Word or Google Docs, you could try more advanced software like Visio or Lucidchart, or you could sketch it out on paper. It's up to you!
For instance, maybe your workflow could look like the first example written out in steps, or like the image below if you use a visualization tool. If, like us, you're working in WordPress with the Yoast plugin enabled, you can incorporate the features that you use into your workflow too.
Content workflow example 1
Create a content brief with the agreement of any necessary colleagues
Carry out keyword research using Google Trends and the Semrush keyword data tool in Yoast SEO Premium
Create an article outline using a title and headings that relate to your keywords and the expected search intent
Check if your stakeholders agree with the article outline: If yes, then continue; If no, go back to steps 1-3
Write your draft in WordPress taking the readability and SEO optimization suggestions from the Yoast SEO plugin into account
Add a featured image in the Post Settings tab and a social image in the Facebook Preview tab
Make sure the SEO title, meta description and slug are all a suitable length and describe the content well
Use the Public Preview option in WordPress to share a preview of the post with everyone that needs to give feedback or approval
Is there feedback that needs to be implemented? Then implement it! If you've made any important changes, go back to get feedback and approval again!
Once everyone who needs to has approved it, your post is ready to publish.
Content workflow example 2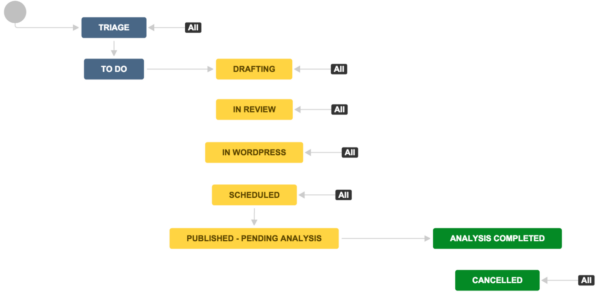 Read more: How to optimize a blog post for search engines: a checklist! »
4. Assign activities and responsibilities to individual team members
Even if you have a solid content workflow on paper, it's important to ensure that each time you go through it, everyone is clear about who is doing what. Not only that — how and when will different team members communicate with each other to hand over tasks or ask questions? Clearing these kinds of things up in advance can save a lot of hassle for everyone involved.
If these tasks aren't a regular part of your team's working day, they'll also need to manage their own schedule to accommodate the tasks. If so, make sure that they have time to work on your planned content. It's also worth checking what other priorities your contributors are juggling, as these could prevent progress if they become too demanding. Maybe you have the authority to make your planned content a top priority — if that's your intention, make sure everyone involved knows that this should be #1 on their to-do list!
5. Set sub-deadlines and contact moments
Naturally, you'll want to set a deadline for when your content is going to be published. But if you think you can just send out an initial set of instructions, with one final deadline for all the tasks, and nothing concrete in-between… Then things are quite likely to go wrong.
To achieve a much more reliable plan of action, you should include sub-deadlines and contact moments at key points in the content process. These help to keep everyone's work aligned as the piece of content is developed, and can help you to avoid process bottlenecks by identifying issues early on. It's also wise to schedule your own internal deadlines to have your content ready at least a week before you intend to publish it. That way you can avoid last-minute changes (and all the mistakes that are likely to come with them). We'll come back to this point later.
6. Agree on standards and priorities
So at this point, if you've followed all of our tips, you might be planning in sub-deadlines like 'rough draft is ready' or 'final draft for approval'. Before you build all your hopes and dreams around these mini-deliverables, you'll need to clarify how rough this rough draft can be! After all, you don't want to end up disappointed because you only received a basic article outline and a few bullet point lists, when you were expecting something almost finished.
If you're using tools like the Yoast SEO plugin, you'll also want to make it clear what results are acceptable to you: for instance, do you expect the readability analysis to always be green, but the SEO analysis doesn't have to be (when it's not written for ranking purposes)? Do you expect the internal linking suggestions to be added as a requirement, or are these just to be used as suggestions? Make sure everyone is agreed about how you use your tools and what the end goal is.
7. Allow time for final checks and changes
If you have a regular content publishing schedule that you want to keep to, it's a good idea to prepare your drafts with a decent amount of time to spare. That way you can avoid stressing about deadlines and last-minute changes. Here are a few things that really ought to be on your pre-publication checklist, especially if they're not already incorporated in your content development process:
Check the SEO of your post using the Yoast plugin SEO analysis — is it good enough?
Check the readability of your post using the Yoast readability analysis — is it good enough?
Have you added a featured image?
Have you added an OG image and title for optimized social sharing?
Is Zapier integration set up to automatically share your new post on social media?
Is the slug short and descriptive?
Have you added internal links to and from other relevant pages on your site?
If you use tags/categories, have you selected all the right options?
Are comments are enabled/disabled according to your preferences for this post?
Is the correct date/time set for your post?
As you can see, there's quite a lot to do even after a post is written, so don't underestimate how long these checks will take.
Pro tip: Upgrade to Yoast SEO Premium and get loads of tools to help you create high quality content that ranks.
Got a good basic content process, but still having issues? This is what to check:
8. Are there moments where you create unnecessary work?
Sometimes tasks become more complicated than they really need to be. Are there times where one small change causes a cascade of new issues to deal with? This can be a sign that you need to rethink the order of your steps and who is involved. Small changes should be easy, right?
Often it's obvious who should be doing what and how the process should continue. But it's not always. For instance, if you have a graphic design team, do they need to make every change themselves? Can you make things easier by enabling your writing team to change text and background colors themselves, for instance?
Another type of problem can arise if you don't have a clear decision-maker in place. Sure, there might be lots of people who should have a say about the content in the end. But who makes the final decisions? If it's not clear who is responsible for which decisions, you might end up with all your best experts trying to reach agreement about every little thing. That can be tricky, and it can waste loads of time! Make it easier by giving specific individuals ownership of specific aspects of the process.
9. Are things not going according to plan?
Sometimes things go wrong, in spite of your best efforts. But if things are often going wrong in your content production process, you should investigate the cause of your problems. It's always a good idea to reach out to the people involved in the steps that are going wrong. What challenges are they facing? Does the existing process make things easier for them, or more difficult? And very importantly — ask if they have any ideas to improve the process!
Don't be afraid to try something new if what you're doing isn't working. Even if your new idea doesn't work out any better, you can always learn from it and try something different next time! Or put it this way: trying anything is better than burying your head in the sand and continuing with a broken content development process.
10. Are you doing extra tasks that aren't part of the plan?
Last but not least: are you making life harder by adding in 'nice-to-have' extras that weren't part of the plan? It's an easy mistake to make! After all, when you really care about the content you're creating, your natural instinct is to keep improving and make it the best that it can be. Even though that means making a whole new infographic. Even though that infographic wasn't a part of the original plan. Your team can make it happen, right? Or else you can just push the deadline back…
It's great to aim high when it comes to making quality content. But if your ambitious, late-arriving ideas become a burden to the process, you might want to start categorizing them into "must-have" and "nice-to-have" content elements. That way everyone knows which parts to prioritize, and which parts can be left out if they're too difficult to achieve within the original plan. And don't forget that one of the biggest advantages of publishing digital content is that you can continue to improve it, and share it again whenever you want!
Streamline your content workflow, but don't let it rule you!
So, those are our ten tips! It can be really worthwhile to streamline your content workflow, especially if you're experiencing issues and bottlenecks in the process. Naturally, every situation is different, and each piece of content comes with its own opportunities and challenges too. So you need to think about what works for you and what doesn't in order to adapt your content process.
Try to keep a balance and avoid making a content process that's too strict or inflexible — you don't want to set up a rigid process that dictates your editorial decisions and rules your creative output. It's a creative process, after all! So it's always good to keep some room for flexibility — just how much is up to you.
Remember: whatever your content workflow looks like, WordPress and the Yoast plugin can help you! From your main topic and focus keyphrase, through to the final touches you add just before publishing, the tools can form checkpoints to easily align your team and your goals.
Go Premium and unlock more features!
Unlock our premium SEO features and get free access to all of our SEO courses with Yoast SEO Premium:
Read more: Adapting your content SEO strategy »
Coming up next!
Event

December 09, 2023

Team Yoast is at Attending, Organizing, Sponsoring WordCamp Ahmedabad 2023! Click through to see who will be there, what we will do, and more!

See where you can find us next »

SEO webinar

12 December 2023

Learn how to start your SEO journey the right way with our free webinar. Get practical tips and answers to all your questions in the live Q&A!

All Yoast SEO webinars »