Keyword research is the basis of all search marketing. It is the art of explaining what you do in the language that people use, and thus it should probably be the basis of all your marketing activities, both on and off the web. As an SEO, I use keyword research to determine what we should be ranking for. The issue is that I've often found that part to be a bit annoying, as people tend to want to rank for entirely impossible terms. Last week, I've found a solution, and that's what I'll show you today: the basis of keyword research. Keep on reading, as we'll get you started in the comments of this post.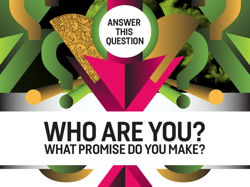 Now, as you might know, I've been in the SEO business for years. It took me all those years to find out what it was that I disliked about keyword research and what I was doing wrong. It also took someone who's actually not in our business, but who's in the business of business advice, to discover it. The guy that – unbeknownst to him – changed my perspective on keyword research was Doug Richard, at last week's Made in 48 hours. He graciously allowed me to use some of his slides for this post, for which I thank him.
Doug spent (and still spends, during his small business seminars) quite a bit of time on asking people: "Who are you? What promise do you make?". Turns out, not a lot of people can answer that question effectively at first. However, the minute you become good at answering that question, you'll be on your way to being found more easily.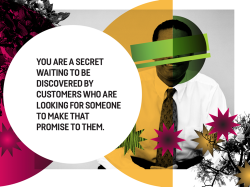 You see, businesses are born out of ideas, some of these are great, some are not. But they're all born out of the idea that what you have to offer is special, and adds something to the market. That benefit, that advantage, that promise, is bound to also be reflected in the keywords people should be finding you for.
In fact, it's as Doug put it:
You are a secret waiting to be discovered by customers who are looking for someone to make that promise to them.
He then showed this clip from Mad Men which I'm not going to withhold from you, as it's entirely too genius. Go watch it on Youtube now, as embedding is unfortunately forbidden. Go on, this post will still here when you get back.
Now let me give you an example. During the event we talked to Dave Fairbairn. Dave is just starting up his new business, and he's going to sell motor apparel. Now, as it happens, the motor apparel business turns out to be quite competitive. When we went more specific though, we found out that Dave makes motorcycle jeans, jeans that are both well designed and fashionable. Dave doesn't just sell motor apparel, he sells designer motorcycle jeans. Now there's something you can both brand, and rank for.
You see, this is not a numbers game. Let me repeat that: this is not about numbers. It's about relevancy, and relevancy only. If Dave at some point thinks that he should be relevant for motorcycle clothing, he'd better get working on a new business strategy to become relevant for that term. But you know what? He's better off dominating his own little niche first.
Try and see if you can describe your company as eloquently and succinctly as Dave:
Maple Motorcycle Apparel are a feedback driven, design led, fashionable motorcycle jeans startup.
So, do you have a promise like that? If so, what is it? You might have noticed mine on my homepage:
Tweaking websites is what we do here at Yoast, from search engine rankings, to speed to user experience.
That's what I do. It's what I do for my clients, what I blog and speak about, it's what I'm good at. What are you good at? What are you offering people? Figure that out, and keyword research becomes a whole lot easier. There's always a niche you can win at, find that niche, own it, and then go up one level if you still want to.
P.S.
Doug is the guy that runs the mentoring club I spoke about in an earlier post, in which I am also one of the mentors. If the idea of getting advice from him, myself and other experts in the fields of HR, Social Media, Law etc. with the sole goal of improving your business appeals to you, you should sign up, we're starting in October.
P.P.S.
The day to day manager of the mentoring club is Nancy Fulton, one of the best writers I've ever had the pleasure of working with, and very experienced at what I've just been talking about. For the coming few days, Nancy and myself will be monitoring the comments on this post, and helping you craft your identity. So, fancy some free help? Get into the comments and give us the best you've got.